Just a few years ago it was much harder to find great microgreen seeds online.
Recently, as more and more people realize the nutrient-dense benefits of growing microgreens, long-running seed suppliers are stocking more microgreen seeds and products than ever.
At the same time, entirely new businesses are popping up that specialize in growing microgreens and selling them.
However, there are only a few sources of microgreen seeds that I trust.
These are brands that have outstanding quality control, customer service, prices, and selection.
Best Places to Buy Microgreen Seeds Online
I really like SeedsNow because they have a pledge against any/all GMO seeds and support local growers.
So when you shop their site for microgreen seeds, you can be sure that none of the seeds are genetically or chemically modified.
In fact, here are all the statements they make on their site about the seeds they sell:
Quality Seeds. All Fresh. All Tested.
Long-Term Shelf-Life.
All 100% GMO-FREE.
100% Natural. 100% Non-Hybrid.
Easy-to-Grow.
Your Satisfaction. Our Promise.
---
True Leaf Market is another large-scale business that caters to growers of all sizes. Based out of Salt Lake City, Utah, TrueLeaf has been offering great seeds for great prices since 1974.
Known for its great customer service and outstanding online Learning Center, True Leaf is so confident you will be happy with their service and products that they offer a 30-day satisfaction guarantee.
True Leaf has one of the best selections of seeds on the market. All seeds are non-GMO. Because True Leaf specializes in microgreen products, you will find a huge number of varieties on their site, including many open-pollinated and certified organic seeds.
One of the top reasons to shop at True Leaf Market is the rewards program. Every dollar you spend earns points that translate into discounts on future purchases.
Depending on how much you spend per year, you get more reward points per dollar.
---
The Living Seed Company was started by a husband and wife duo (Matthew and Astrid Hoffman) in 2011.
Their farm, located in Weaverville, NC, produces organic and heirloom seeds, all of which are planted, harvested, and packed by hand.
Their current selection of seeds includes Vegetables, Herbs, Flowers, and a series of variety packs.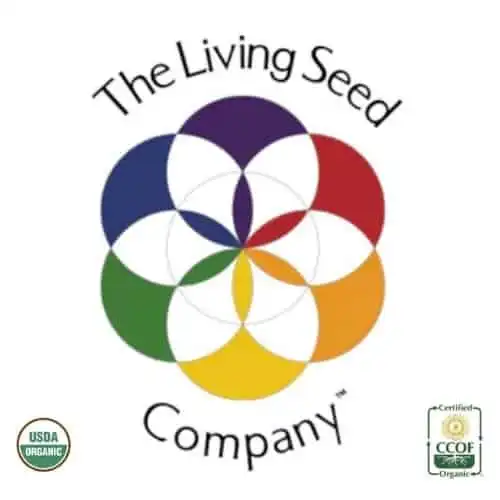 ---
Rainbow Heirloom Seed Co. is a top-rated supplier of heirloom microgreen seeds. Nearly all of the seeds sold by Rainbow are specially selected for use in microgreens and almost all are beautiful heirloom varieties. None of the seeds are genetically modified.
The company guarantees all of its seeds are grown and packed in the USA.
The best thing about Rainbow Heirloom is the selection of microgreen mixes they offer. Things like the "Spicy Sprouting Mix," "Mellow Microgreen Salad," and "Eastern Sun Asian Microgreen Mix" are special combinations of seeds that grow well together and harvest into wonderful, ready-made salads.
At Rainbow Heirloom Seed Co. seeds and service come from real family farmers. They work with customers to provide the best growing experience possible.
---
Located in Vancouver, British Columbia, West Coast Seeds has been sourcing and supplying high-quality seeds to home gardeners since 1983. Today, they carry 1,000 varieties of untreated, non-GMO, non-GEO, open-pollinated, and hybrid seeds.
Great news – last I checked, all of their microgreen seeds are able to be shipped to the U.S. (and Canada). Payment will be in Canadian Dollars, but not a big deal.
While stock may vary, they are known to carry the following varieties of seeds:
Fenugreek
Basil
Kale
Pac Choi
Swiss Chard
Amaranth
Beet
Kohlrabi
Pea
And several mixes…
Arugula
Broccoli
Mustard
Sunflower
---
Mountain Valley Seed Co. is a brand of TrueLeaf Market. You'll find the same quality of customer service, passion for food and farming, and 30-day satisfaction guarantee at Mountain Valley as you will at TrueLeaf.
Mountain Valley is proud to still be one of the "little guys" at heart, even after growing over a great 40 years of business. They cater to the local grower and support the local growing movements of the Salt Lake City area.
---
---
Johnny's Selected Seeds
Johnny's Selected Seeds is one of the most popular and most respected seed suppliers in the country.
Johnny's is based out of Winslow, Maine. It's been helping growers to find the seeds they need for over 48 years.
"Johnny's" is a legendary name for farmers in the North East in particular. The company comes from humble beginnings back when founder Rob Johnston Jr. started the company out of a farmhouse attic with just $500.
Fast forward to today, and that same company is a major success at a national level.
Even so, the company stays true to its values by contributing to agricultural and educational programs that foster the communities that grow our food.
Johnny's Selected Seeds only carries non GMO seeds. It was one of the original signers of the Safe Seed Pledge back in 1999.
On the company site, you can find loads of organic seeds, heirloom, and uncommon and interesting varieties.
The many professional seed breeders that work at Johnny's create new hybrid varieties through traditional, painstaking methods, never through genetic modification.
Whether you are a first-time microgreen grower or a professional one, Johnny's Seeds is a great option. They have products for everyone and some of the best educational and instructional videos for growers around.
---
Kitazawa Seed Co.
UPDATE: As of January 2022, Kitazawa has merged operations with TrueLeaf Market. While they will maintain their own brand, TrueLeaf will handle the day-to-day operations (order fulfillment and customer service).
Kitazawa Seed Co. predates every other seed company on this list. The Oakland, California-based company was founded all the way back in 1917.
The founder, Gijiu Kitazawa, worked for many years as an apprentice at a seed company in Japan before relocating to the U.S. and founding Kitazawa Seed Co.
From the beginning, Kitazawa Seed was the premier source of rare and specialty Asian seeds in the country. At first, most of Gijiu's customers were Japanese-Americans who purchased his seeds to get access to important ingredients used in traditional recipes.
Over the many years of its business, Kitazawa Seed Co. has evolved into a nationally recognized brand that not only intrigues growers with an unparalleled collection of Eastern seeds but also provides staple American and international seeds.
Everything on the Kitazawa site is 100% non gmo. You can find great heirloom, open-pollinated, and certified organic seeds, and a solid collection of seeds.
---
Mumm's Sprouting Seeds
Mumm's Sprouting Seeds is a great site that specializes in sprouting seeds for microgreens.
When you focus on one thing, you get really good at it. And it's that devotion to and understanding of sprouting seeds that keeps so many customers coming back again and again.
The company is run by a proud fifth-generation farmer, Lisa Mumm. For over 35 years Mumm's has provided some of the best organic seeds around.
Operating out of Saskatchewan, Canada, Mumm's sources the majority of its seeds from local farmers. And despite being Saskatchewan-based, Mumm's ships to all of Canada and the U.S.
All of the seeds sold at Mumm's are non GMO.
Country Creek Acres
Country Creek Acres is a relatively new find for me. I did a little poll on the Microgreens sub-Reddit to see where others liked getting their seeds and CCA was mentioned.
They do offer a ton of seeds, seed mixes, and assortment packs including many you'd expect to find and other more unique varieties.
---
Where To Find Specific Seeds
If you have specific types of microgreen seeds you're looking for, I've got you covered. The table below lists popular seed types and links to the websites that usually stock them.
Where to Order Microgreen Seeds In Canada
Microgreens aren't just popular here in the U.S – they've seen massive growth in Canada, too. So for all you Canadian growers out there, here are a few seed suppliers in Canada.
Microgreen Seeds vs Regular Seeds
There is some debate around the difference between microgreen and regular seeds. Are they the same thing? Do you need to buy seeds that specifically say "microgreens" on the label? What really matters when buying seeds anyways?
I'm going to go into detail and answer all of these questions and more.
Can normal seeds be used for microgreens?
Normal seeds, the ones you would use for gardening, hydroponics, or any other type of growing, can be used for microgreens. There isn't a special type of seed out there grown just for microgreens, seeds are seeds.
Lemon Basil Seeds and Lemon Basil seeds For Microgreens are the same seeds!
However, the important difference between the two is how the seeds have been bred, tested, and treated. More on this in the next section…
Why are microgreen seeds more expensive than regular seeds?
Microgreen seeds are tested and selected to be of higher quality in terms of germination rate. This means that companies select seeds with the highest chance of sprouting.
Bulk bags of regular seeds contain many nonviable seeds. In a small tray of microgreens, even if just 20% of seeds fail to germinate, their absence will be seen and felt.
Furthermore, most seeds come with a coating of chemicals, usually antimicrobial or fungicidal. These coatings can be useful for seeds that will grow for many months or years, but undesirable for microgreens that will be consumed in a matter of weeks.
This is because the chemicals don't have time to wash off and break down. With microgreens, chemical coatings will end up on your plate and in your body!
By buying seeds labeled "microgreen," you avoid these potentially harmful chemicals.
Also, microgreen seeds are never genetically modified, or GMO.
Lastly, not all plants or varieties of plants do well in microgreen systems. By buying seeds specially selected for microgreens, you can be sure they make sense to grow that way.
Most Important Terms For Microgreen Seeds
Even within the classification of "microgreen seeds", there are differentiating factors. Here are the terms you need to know when shopping.
What are non-GMO seeds?
GMO, or genetically modified organism, refers to a plant or seed that has been manipulated through modern biotechnical methods. Instead of being bred in a field or garden, GMO seeds are bred in a laboratory.
Because of the controversy surrounding GMO plants and seeds, as well as their possible risks to human health and the environment, almost all microgreen seeds are non GMO.
When you buy from Johnny's, TrueLeaf, Kitazawa, or another reputable seed supplier, you can be sure that your seeds are 100% free of GMOs.
What are organic seeds?
Organic seeds come from plants grown organically and sustainably, without the use of synthetic chemicals or GMOs. To be considered an organic seed, the farm that grows it must be certified organic by the USDA or another reputable organization.
What are heirloom seeds?
An heirloom seed has a special heritage. It has been passed down for generations usually within a family or farming community. These seeds haven't been hybridized and retain their original traits from generation to generation. Also, heirloom seeds must be open-pollinated.
Heirloom seeds are painstakingly collected, preserved, and sold because they contain unique genes that create great flavors and other desirable characteristics.
What are open-pollinated seeds?
Open-pollinated seeds come from plants that are pollinated by insects, birds, wind, or other natural mechanisms. Natural pollination leads to greater genetic diversity in plants, which leads to greater variation, which, over time, increases the speed at which plants adapt to local conditions and weather patterns.
Not only is open-pollination beneficial to local ecosystems, but it can result in plants with unique and favorable adaptations.
All heirloom plants are open-pollinated, but not all open-pollinated plants are heirlooms.
List of Popular Microgreens to Grow
There are hundreds of varieties out there that work well as microgreens. Some are incredibly easy to grow, and others take a bit of practice to get right.
Luckily, all types of microgreens are considered incredibly easy to grow—anyone can get started with microgreens without much experience or technical knowledge.
One of the first steps in your microgreen journey is figuring out what you want to grow.
The seed variety out there these days is crazy.
Here are some of the most popular and interesting microgreens out there, grouped by level of difficulty.
Easy Microgreens
Radish

Kale

Arugula

Wheatgrass

Broccoli

Cress

Cabbage

Cauliflower

Lettuce

(and other baby greens with a sweet, great flavor)

Edible marigold

Kohlrabi

Mustard

Clover

Salad Greens mixes
Intermediate Microgreens
Celery

Cilantro

Sorrel

Leek

Dill

Spinach

Fennel

Anise

Peas

Amaranth

(including red garnet amaranth)

Chives

Beets

Basil

Carrots
Don't be discouraged if your dream microgreen is in the intermediate category. The difference between an easy and intermediate microgreen is usually just getting the watering right.
At the end of the day, all microgreens are fairly easy to grow. Start small and give it a try!
Related Questions
How are microgreen seeds made?
Microgreen seeds, just like regular seeds, are made mostly on seed farms.
Growers of all sizes, from home gardeners and small family farmers all the way up to large corporations, grow plants specifically for seed production.
An entire field or a portion of it will be set aside for seed. The plants grow just like any other, but when they are harvested and processed, the seeds are saved and readied for selling.
From there, seed growers either package and sell their seeds directly to consumers or sell them wholesale to larger seed companies.
Microgreen seeds, being non GMO and often heirloom, are more likely to come from small, local farmers with sustainable practices than some other types of seeds.
And by buying from a great retailer like Johnny's, TrueLeaf, or one of the others listed above, you can be sure that you're getting only the best seeds and supporting agricultural businesses in the process.
How many seeds are in a Microgreen tray?
The number of seeds that go in a tray depends on the species and variety of the plant you want to grow. The most accurate way to measure microgreen seeds is by weight. While most types of seeds fall in the region of 20-30 grams per tray (10×20 tray), it all comes down to the size and weight of the seeds themselves.
For example, if you are seeding a tray with basil seeds you should spread 7 grams of seed evenly atop the growing media. But, for corn, you will need 200 grams of seed for the same tray size.
This is simply because individual basil seeds weigh much less than individual kernels of corn. A similar number of seeds will go into each tray, but the two types of seeds have different weights.
Also, some varieties need to be sowed at slightly higher or lower densities.
The best way to know exactly how many seeds to put into your tray is to use a seed density calculator.
Calculators can tell you the optimal seeding density and the recommended number of seeds to put in whatever size tray you have.
I hope this helps you start growing microgreens or replenish your seed supply.
Here's to growing your own food!