Is It Profitable To Sell Microgreens?
Not only can selling microgreens be profitable, but there has never been a better time to get started.
The market is growing as more and more people learn about their health benefits, exceptional flavors, and ease of growth.
The best argument for a microgreen business is that overhead is low, production is fast, and it is easily scalable.
Also, compared to the costs associated with growing microgreens, the product itself is quite valuable.
How much fresh microgreens sell for depends on your location and the inner workings of your business.
That being said, here are some examples of the types of revenues real businesses have brought in on a weekly basis:
Michael Braman of Utah has made $3,000 per week selling to restaurants after just one year of business.

Michael Regina of Ontario, Canada has made $1,200 per week in just 240 square feet of growing space.

David and Kirstin Barchard of Alberta, Canada grew their microgreen business from $10,000 per week to $20,000 per week in just one year.
*As with any business venture, there's NO guarantee of success or the results shared above. Starting any business is risky. Do you research and don't invest anything more than you can afford to lose.
Is There A Market For Microgreens?
There is a large and growing market for microgreens.
Because microgreens have higher nutrient and antioxidant densities compared to adult plants, many people buy them specifically for their health benefits.
Microgreens are some of the healthiest foods in the world and more and more people learn about their benefits each year.
Others buy microgreens for their culinary uses.
Chefs love microgreens as they make the best garnishes and can be included in loads of recipes.
Restaurants also buy microgreens for smoothies, salads, and toppings, among other things.
And for every one chef that uses microgreens, there are probably twenty home cooks that use them.
There are many ways to sell microgreens and get them in the hands of your customers.
Firstly, farmers markets are one of the best ways to get eyes on your business and sell directly to customers.
Next, many restaurants buy fresh microgreens daily or weekly.
Sometimes, getting a deal or contract with a restaurant is as simple as bringing a sample of your product to the back door or picking up the phone and calling.
Also, many health food stores and local grocers now buy microgreens to stock in the produce section.
This can be another steady source of income if you can land the deal.
And lastly, more and more growers are creating direct-to-consumer programs and actually delivering right to their clients.
Pairing this with some sort of weekly subscription could be a recipe for success.
How Much Does It Cost To Start A Microgreens Business?
The initial investment of starting a microgreens business is so low, you could start it for as little as $100.
Of course, the more you spend, the larger and more sophisticated your operation could be, but a barebones setup to get started is dirt cheap.
To start a legitimate microgreens business, all you need are trays, seeds, lights, and soil.
All of these things can be purchased online (True Leaf Market is a great place to start) or at your local gardening or hydroponics store.
If you want to go a step further, you could start a serious microgreens business for under $1,000.
This price would include trays, seeds, lights, racks, soil, fans, and more.
With just $1,000 of capital, you could build a business that has the potential to bring in $1,000+ per week, given the right market.
Do I Need A License To Sell Microgreens?
In general, you do not need any license or permission to sell uncut and unprocessed produce that you have grown yourself.
If you plan on cutting the microgreens before selling them, you may run into some regulatory issues that will require you to upgrade your operation or gain permission.
This is because in most cities, cut or processed produce can not be stored in a residential refrigerator.
You can get around this by only cutting the product immediately before selling it so that you never need to refrigerate it.
Alternatively, you can build yourself a commercial kitchen by following the specific guidelines in your local area and applying for a license.
This would allow you to cut, process, and refrigerate all of your produce and give you more flexibility with your business.
Having said this, many growers do just fine without any permission or licensing whatsoever.
Especially when starting out, there are very few regulatory roadblocks that prevent you from growing and selling your microgreens.
Just be sure to check your local laws first.
Benefits of a Microgreens Business
Compared to other agricultural businesses, and other businesses in general, microgreens have several advantages.
First of all, the overhead to start a microgreens business is incredibly low. Going all-in and outfitting a small space with all of the necessary equipment and materials—even including the cost of courses or books to learn the business—runs under $1,000.
From there, microgreen systems are incredibly easy to scale as long as you have enough growing space. Additional lights, racks, fans, and trays are cheap and easy to implement.
And growing on racks makes very efficient use of your space. Using racks to grow microgreens is a form of vertical farming. By using vertical and horizontal space, very small growing rooms can bring high profits.
In terms of revenue, money comes in fast because microgreens grow so quickly. From seed to sale, most microgreens only take a week or two. This keeps things moving quickly and makes for some very flexible systems.
The best part is, your money is never tied up for too long.
When it comes time to sell, the profit margins are high. Once you get rid of the overhead on things like racks, lights, fans, and trays—which can all be used again and again—the expenses are super cheap.
For just the cost of seeds, soil, and labor, you can grow very high-value crops.
A serious grower should have no problem turning a profit within a few weeks to months, and beyond that, the sky's the limit, only depending on your local market.
Once you establish a customer base, it's easy to get a steady income. This is because customers tend to buy microgreens regularly, not just a couple of times a year.
The plants are consumed fresh and don't have a very long shelf life.
While this can be a challenge for growers, it also means that customers will be coming back regularly if they like your product.
In my experience, the way most people consume microgreens, you are likely to find many customers who shop weekly.
Things To Consider Before Starting
Before getting ahead of yourself, it's important to learn the hard realities of starting a microgreens business. This business can be fun, profitable, and rewarding, but it's not without its challenges.
While many videos and blogs make microgreen businesses look like easy money, I'm here to tell you that it's difficult, time-consuming, and not for everyone.
Here's what to expect from a real microgreens business.
First of all, you need to understand basic business principles. There is no quick and easy to make money, it takes knowledge and discipline. Experience in running a business or marketing is a huge plus.
Next, if you don't have a passion for growing things, you aren't going to enjoy this business, even if it sounds good on paper.
Running a horticultural business involves long hours, monotonous work, and a scientific mind. Be prepared for lots of trial and error!
Successful farmers devote themselves to studying their craft through books, courses, blogs, mentorships, and groups.
You need to be always looking for better ways to do things. Be ready to learn from your mistakes and the community of growers around you.
Lastly, most businesses take some time to get off the ground. It will likely take you months to reach profitability and even longer for your business to reach a point where it can support you financially.
To succeed in this business you should study and invest before buying anything, be in it for the long run, and have a real passion for entrepreneurship or horticulture.
If that doesn't scare you off, I'd say a microgreens business could be an incredibly rewarding and lucrative business for you!
Microgreens Business Success Stories
Here are some real stories from real growers about their microgreen businesses.
I'll summarize each grower's story and business model from their video to give you a better picture of what success in this market looks like.
The REAL TRUTH About Growing Microgreens For Profit
Donny Greens has been growing microgreens for over three years. He has been mentored, mentored others, taken classes, and contributed to classes.
Even after making numerous rookie mistakes at the beginning of his business, Donny was still net positive after nine months. After two years, he was doing six figures.
Back when he started, there wasn't much information available on growing microgreens. He bought a course or two, but much of the work came down to trial and error.
Here's the hard truth of Donny's success: he admits that his position in life was conducive to starting a business, and not everyone is there.
He was debt-free and living rent-free with his parents, who even allowed him to start his microgreen business in their basement. If he didn't have these advantages he says it would have been much harder to succeed.
Today, Donny has a successful microgreens business, website, and YouTube channel. He also sells information and courses to help others learn the business.
Microgreens Business Selling $3000 Per Week To Restaurants
In this video, Microgreen Farmer talks to Michael Braman of Brickhouse Growers in Orem, Utah about his success.
Michael is currently selling to twenty restaurants and pulling in around $3,000 per week.
He started this business on a single shelf in his living room. After this trial period, he took a big step up, outfitting a 40 foot by 9 foot shed for his microgreen operation.
The whole process from start to $3,000 per week happened in just over a year.
Now, Michael has moved his operation into an even larger warehouse to produce and sell more microgreens.
$1200/Week Growing Microgreens In A 240 Square Foot Room!!!
Michael Regina from The Little Farm that Could manages $1,200 per week with just 240 square feet of grow space.
Mikey only has four shelving units that hold a total of 16 flats of microgreens each. For such a small space to be bringing in revenue like that is incredible!
One unique thing he does is harvest his microgreens live at the market. He hits two farmers markets per week, lugging all of his microgreen trays along with the help of a trailer.
Because he live-harvests, his market stand looks incredible, customers feel involved in the process, and the product stays as fresh as possible.
Mikey gives freshly-cut samples to customers and makes juices on the spot.
He has only about $1,000 of infrastructure in his business.
He has also started making private sales to customers who swing by his growing spot. This part of his business is now almost as strong as the farmers market component.
And he says a huge chunk of those private sales come from his friends and family which have become a surprisingly reliable stream of income.
The path that brought Mikey to this success started with just a small garden in his backyard in Toronto. He wanted to make a difference, helping the environment through local small-scale agriculture.
From there, he upgraded to a small plot of land in Ontario where he farmed with his friend.
This all led him to microgreens, which after taking an online course and reading a book on the subject, he knew he could start small and cheap, and get profits fast.
From inception to completion, it only took Mikey a couple of weeks to get things running. He popped into Costco and a local hydroponics store and got everything he needed to get up and running.
$20,000 A Month Growing Microgreens (Started in a Basement!)
In this video, Curtis Stone gives us an update on a microgreen operation called Micro Acres.
Last year, David and Kirstin Barchard, the owners of Micro Acres, were farming out of their basement selling about $10,000 of microgreens per month.
Now, they have moved to a new location and have doubled that revenue to over $20,000.
This growth was all made possible by a huge jump in their growing real estate, from 8,000 cubic feet to 75,000 cubic feet.
That's over nine times the growing space, but what they quickly found was that filling that massive space brought new challenges.
Getting airflow, humidity, electricity, and temperature right in a space that large took some serious brainstorming and investment.
Despite what anyone will tell you, doubling your revenue to pull in $20,000 per week will always take some serious capital and challenge you as a grower!
They were crafty and thrifty, saving wherever possible. For example, they worked out a deal with their electrician friend to sort out the electrical plan for their massive grow space, saving them a pretty penny.
Over the next year, Micro Acres plans to scale the operation further, doubling revenues again.
With so much room to stretch their wings in that 75,000-foot space, they could scale well beyond that.
Steps To Starting A Microgreens Business
Step 1 – Research
The first step in starting a microgreens business should be researching.
You should learn everything you can about the business of growing and selling microgreens from videos, books, courses—whatever you can get your hands on.
Step 2 – Market Analysis
From there, you will need to do market research. Even great growers won't succeed if they don't have a market to sell to.
Study your market first, buy your equipment second.
Potential outlets for your future microgreens include restaurants, farmers markets, and farm stands, or other on-site pickups. This will all present itself during your market research.
A great place to start at the very beginning of your journey is to just ask friends and family if they would have any interest in buying microgreens from you.
Step 3 – Your Growing Space
Before you go investing anything, you should lock down a growing space. This can be a basement, shed, garage, warehouse, or even a closet.
The more space you can get the better, but be aware that many thousands of dollars of microgreens can be grown each week in just an average-sized garage.
If possible, start with free space and learn the ropes before renting, buying, or building a large permanent space.
Step 4 – Building Your Microgreens Setup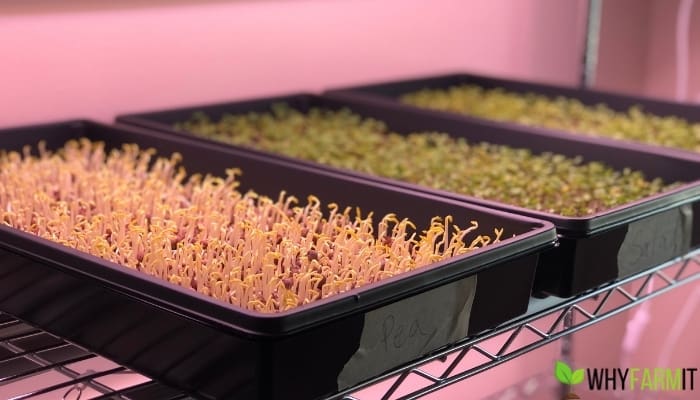 The next step involves getting everything you need to set up and run a microgreens system.
Here is everything you need to build a lean but incredibly capable system:
Step 5 – Other Considerations
You will also need to consider your water source and electrical hookups, as water and light are two of the most important parts of your business.
Other things to think about include storage, processing, and delivery. In most places, commercial food products can't be stored or processed in residential kitchens.
For example, if you wanted to sell wheatgrass shots on-site, you would likely need to build a commercial kitchen and get a license.
But for selling fresh microgreens that you grew yourself, you shouldn't need any permission or licensing.
You can bring customers to your grow space to pick up the produce, meet them at the farmers market, or deliver it directly to them.
While it may sound complicated at first, a microgreens business is very straightforward.
If you study the craft and do your market research first, you will save yourself many headaches along the way.
Start small and work your way up to a larger operation. With some hard work and a great product, you will have customers coming back again and again!