According to predictions by Accenture Forecast, it's estimated that 12% of American households will be living off-grid by the year 2035, so if you're reading this, you are far from alone in your ambitions to live off the land!
To give you a taste of which states fare best for homesteaders and the off-grid life, we've scrutinized 15 of the most popular choices, including the pros and cons of each, according to government stats complied by Lawnstarter and Off Grid Permaculture.
1. Tennessee
Tennessee's low cost of living, four seasons, and earning potential make it a top choice for living off the land. With over 69,000 farms across 10 million acres, new homesteaders will be part of a well-established and well-connected community.
Pros:
Minimal regulations in terms of water rights and building codes
Low taxes and property costs
Excellent soil quality
Great for off-grid water access
Cons:
Prone to tornados in certain regions during July, September, and December. Inclement weather can also make flooding more likely.
2. Alaska
Alaskan homesteaders can enjoy a low cost of land, although this is counterbalanced by a higher cost of living compared with most states. If you're prepared well for the harsh winters, this state is hard to beat for natural beauty and isolation.
Pros:
Easy-going gardening and farm animal laws
Low taxes
Great hunting opportunities
Relaxed homeschooling laws
High annual rainfall
Cons:
Severely harsh winters
Short growing season
Low projected growth in solar power
3. Wyoming
Dubbed the "Cowboy state," this is a very comfortable place to live off-grid thanks to great ranch purchase/rental availability and low living costs. The weather can be trying, but it's a good way to test and perfect your homesteading skills!
Pros:
Low farmland costs
No state income tax
Low population means a slim chance of neighbors (if you prefer that!)
Few construction laws and building codes
Great hunting opportunities
Relaxed homeschooling laws
Cons:
Harsh winter weather and risks of wildfire
Little rainfall (making rainwater harvesting illegal)
Short growing season
4. Montana
Affordable land, low crime rates, and a low cost of living make Montana a pretty favorable state for off-grid life.
While its growing season isn't the best, livestock can enjoy prime grasslands, and its super windy nature makes Montana made for wind turbine use.
Pros:
Liberal building codes and regulations
Great for green wind power
Diverse hunting opportunities
Casual homeschooling laws
Cons:
Very little annual rainfall (illegal to harvest)
Illegal to sell/consume raw milk
5. Texas
Texas provides great land affordability for aspiring homesteaders (even in the most remote regions). High-quality infrastructure and incentives for farming productivity are other big advantages.
Just note that water access and hunting/fishing opportunities will be slim in desert areas.
Pros:
No state income tax
Excellent for solar power and wind power (top state for highest 10-year projected growth)
Long growing season
Sufficient rock and timber availability for building materials
Large number of critical-access hospitals
Cons:
High property taxes
Low annual rainfall
6. Michigan
Once you start farming in Michigan, the state protects homesteaders under a "Right to Farm" act from things like nuisance complaints relating to noise and livestock.
Other advantages are a mild set of four seasons, amazing fishing opportunities, and a well-established homesteading community.
Pros:
"Right to Farm" and financial hardship protections
Great for trout and salmon fishing
Rich, fertile soil
Low on the Natural Hazards index
Cons:
Fairly high taxes and living costs
Short growing season
Read: Homesteading in Michigan
7. Arkansas
Homesteaders can be faced with heavier restrictions in Arkansas compared to other states mentioned, but on the flip side, there's a booming economy, affordable land, and highly fertile soil — not to mention long growing seasons.
Pros:
Affordable cost of living
Unlimited homestead exemption
Great off-grid water access
Thriving economy
Perfect for lovers of nature and outdoor activities
Cons:
Rainwater harvesting has some restrictions relating to plumbing codes, safeguards, etc.
High state income and sales taxes
Prone to flooding and thunderstorms
8. Oregon
Homesteaders with a love of hiking, surfing, fishing, and everything outdoorsy will relish the beautiful forests and beaches here, not to mention the Cascade Mountain range.
Oregon is also home to the Three Rivers Recreation Area — an off-grid community operating shared solar and wind power systems!
Pros:
No state sales tax
Fairly low property taxes
Ample hunting and fishing opportunities
Readily available natural resources
High annual rainfall
Large, established off-grid communities
Cons:
Steep cost of land
Rainwater can only be collected from rooftop systems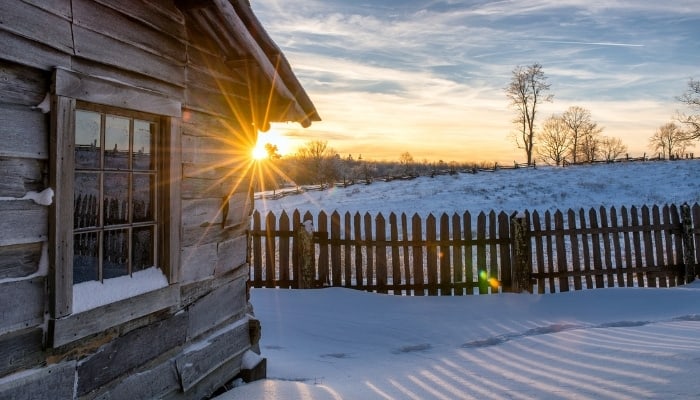 9. Idaho
Farmers make up 15% of Idaho's population, so new homesteaders are in welcoming, helpful hands.
Land prices are high in this state, but this is justified by low living costs and stunning natural beauty, which certainly helps attract more locals and tourists to the farmers' markets!
Pros:
Multiple tax incentives for solar installation
Low living costs
Highly fertile soil
Great state for outdoor activities
Very relaxed homeschool laws
Lower crime rate compared with many homesteading states
Cons:
High taxes
Harsh winters
Prone to occasional flooding, earthquakes, and wildfires
10. Missouri
Missouri homesteaders can enjoy all four seasons with milder winters than most. It's also awash with popular farmers' markets and is home to some of the largest plots of land, with farm sizes averaged at 289 acres as of 2021.
Pros:
Booming farmers' market economy
Ample natural resources available for building/structure materials
Tax rebates offered for solar and wind power installations
Long growing seasons
High annual rainfall
Rich in natural resources
Cons:
Prone to natural disasters
Home to many nuclear power plants
11. North Carolina
If you steer clear of the coastal regions, NC provides affordable and high-quality land for off-gridders. You can also take advantage of high levels of protection under the Homestead Exemption and a long, reliable season for growing all manner of crops.
Pros:
Low cost of living
Property taxes are lower than the national average
Long growing season
High rebates for installing solar power systems
Home to diverse flora and fauna (great news for foraging!)
Cons:
Strict building codes, specifically requiring "approved" wastewater systems
Moderate homeschooling laws
Bad for those with allergies — yellow pine pollen tends to be so thick in the spring that cars and bodies of water turn yellow.
12. Florida
Land in the "Sunshine State" is surprisingly affordable and boasts beautiful natural scenery with its miles of white sandy beaches. Florida is also big on organic produce, which is made easy for homesteaders thanks to the highly fertile soil available.
Pros:
Great for off-grid water access
Highest 5-year projected growth in solar power
Highly rich and fertile land
Booming market for organic produce
Ideal for growing exotic, tropical crops
Vegetables can be grown year-round in South and Central Florida
Cons:
Ranks high on the Natural Hazards Index
Fewer local resources to help new homesteaders compared with other states
13. Iowa
Iowa isn't without its restrictions and zoning laws, but as long as do your homework in these areas, this is a stunning state to homestead in with programs offering free unclaimed land, a large farming community, and a low cost of living.
Pros:
Free land available
Large number of critical-access hospitals
High solar tax incentives
Great freshwater access due to multiple lakes/rivers
High 10-year projected growth in wind power
Cons:
Multiple zoning laws and restrictions, including limits to the number of animals kept on rural-residential land
Certain building codes, including requiring permits for systems and structures built on your property
14. Indiana
More than 80% of Indiana is devoted to farmland, so there's no shortage of the resources and community you'll crave as a new homesteader.
Opt to set up your off-grid property in the southern half of the state as this is home to longer growing seasons and fewer people.
Pros:
Low state income tax
Relaxed homeschool laws
Low cost of living compared with most states
Tax incentives for wind and solar power systems
Diverse wildlife for hunting and fishing
Cons:
Prone to frequent tornadoes and flooding
High crime rate
Read: Homesteading in Indiana
15. Georgia
Beautiful Georgia is home to consistently comfortable weather conditions, super hospitable locals, and considerably low living costs.
It's also home to various "Freedom Village" locations — self-contained off-grid networks welcoming artisans and those seeking sustainable lifestyle practices.
Pros:
Great off-grid water access
Breathtaking natural beauty
Mild weather conditions
Low living costs
Great historical and cultural interest even in the smallest towns/cities
Accommodating community
Cons:
Harvested rainwater may only be used for outdoor purposes
In most areas, you're required to connect to the general public sewage system
Multiple zoning and livestock regulations
Conclusion
Honing in on the ideal state to start up a homestead or go off-grid can't be done lightly, but as you can see, there are many states with well-established farming communities and affordable living costs, not to mention warm and resourceful locals to help make the move easier.
At the end of the day, your ideal state will depend on many things, including your budget, preferred climate, scenery (coastal, woodland, etc.), and your unique requirements off-grid in terms of homeschooling your kids, how much livestock you intend to raise, and so on.