Michigan is not just famous for its lakes; it's also a great place to start your homesteading plans. As an agricultural state, Michigan has a wide variety of farmers' markets and offers a great diversity in the crops you can grow on the land.
Is Michigan a good state for homesteading? Michigan has fertile land and a moderate climate tempered by its proximity to four of the Great Lakes. It's one of the right-to-farm states where being a farmer is protected by law. Michigan encourages homesteading and has many laws that make it easier for novice homesteaders to find an affordable parcel of land.
The perks Michigan offers to homesteaders are plenty, but there are also kinks and caveats in the law that you need to be aware of. Read more to find all the information you need before you start homesteading in Michigan.
Homesteading in Michigan
Michigan famously has long coasts along four of the five Great Lakes. That not only makes its climate moderate but also protects farmers against unpredictable weather conditions.
Additionally, Michigan ranks third in the number of farmers' markets you'll find there. These markets make it easier for you to sell your products. In short, Michigan has plenty of advantages for the budding homesteader.
Michigan Homestead Laws
Michigan homestead laws allow any resident of the state to set aside up to 40 acres of farmland as a homestead. If you live in an urban setting, then a property whose value may not exceed $3,500 can be designated as a homestead.
Michigan Livestock Laws
The livestock laws in Michigan make it the responsibility of the homesteader to have all the animals enclosed in a fence. Animals may not roam free outside the perimeters of the homestead.
Moreover, the homesteader must provide shelter for the livestock they own on the homestead including cattle, sheep, poultry, hogs, and other farm animals.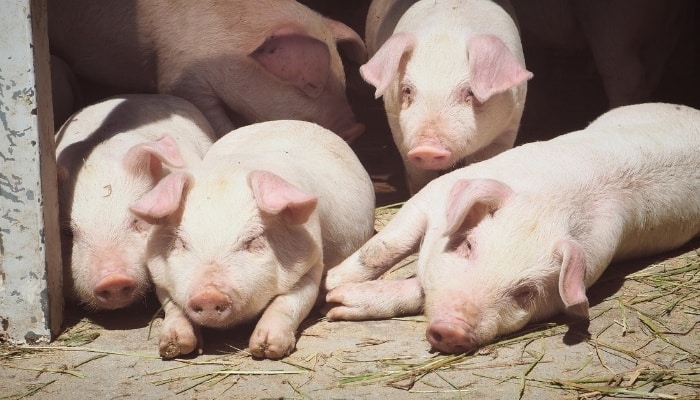 Michigan Zoning Laws
Zoning in Michigan is optional. It's not a requirement under state law for the counties, cities, townships, or villages to implement zoning. This is why some local authorities will have a master plan but not zoning maps.
Others will have zoning ordinances that need to be implemented and followed by property owners, yet some don't have either a master plan or any zoning codes. It all depends on where you buy your land within the state.
Michigan Cottage Food Laws
Michigan cottage food laws allow homesteaders to produce food in their kitchen and sell it without having to apply for licensing or undergo safety inspections.
However, this only applies to hazard-free foods that don't have time limitations or need controlled conditions to keep them from going bad.
Another caveat is that you can only sell those food products in the farmer's market or on the side of the road but not to restaurants and retailers or sell them online.
Michigan Homestead Exemption
Michigan is a state that protects homesteaders and offers exemptions of up to $27,900 in case of bankruptcy and as a protection against creditors.
Moreover, these exemptions are applied automatically to each homestead. You don't have to file papers to get these protections. Once you designate your parcel of land as a homestead, the law protects you from day one.
Michigan Gun Laws
Michigan respects the Second Amendment and the people's right to bear arms. Once a person turns 18, they have the right to buy a handgun from a private seller, but the person will need to obtain a license first.
People 21 or over can buy a firearm from a licensed dealer. Rifles or firearms 26 inches long or more don't require a license to purchase them. Only those over 21 years old can obtain a concealed carry permit.
Available Land in Michigan
As an agricultural state, Michigan has about 9.8 million acres of farmland available for homesteading and farming. The number of farms in the state grows more and more every year.
It is estimated that Michigan has well over 47,000 farms. Each farm averages about 209 acres including the buildings. If you plan to start a homestead in Michigan, you can either buy a parcel of land or look for a farm for sale.
Michigan Land Prices
The land prices in Michigan are a little above the national average. In 2021, the average price for an acre of land including buildings was $5,300.
Pasture land is slightly cheaper than farmland, which in turn is a lot cheaper than urban parcels of land. The average rural parcel of land in the state would set you back around $325,232.
Michigan Climate
Michigan's climate is mostly moderate leaning toward cold. The average temperatures range from 17℉ in the winter to 82℉ in the peak of summer. The weather is partly cloudy and windy all year round.
Temperatures don't go below 0℉ or above 82℉. Annual rainfall ranges from 30 to 38 inches across the state. The first frost is as early as September and the last frost is around mid-May.
Michigan Growing Season
The growing season in Michigan is not long compared to other states in warmer zones. It averages about 140 days in total. The growing season starts with the last frost, which can be in early or mid-May, and ends with the last frost in September.
The northern parts of the state have the shortest growing season compared to the regions in the south or near the coast of the lakes.
Number of Homesteaders in Michigan
In Michigan, the number of recorded homesteaders in 2021 was 19,861 homesteads taking up 2,321,937 acres of land across the state. That's still a small number, and homesteading accounts for 6 percent of the total area of Michigan.
That means that there's plenty of land for homesteaders and the competition is still relatively low in terms of selling food and agricultural products.
Is Michigan Good for Off-Grid Living?
Michigan laws allow you to live off-grid as much and as long as you like. You can disconnect from everyone and live on your own without being disturbed.
The only requirement under state law is that you connect your property to the nearest sewage line if there's one close by. Other than that, you have no obligation to connect to or report to any entity or authority.
Can You Homeschool in Michigan?
You can homeschool your children in Michigan without any requirements or providing notification to the school. You can also enroll children between 6 and 16 in a nonpublic school of your choice.
How To Find Land for Homesteading in Michigan
You can find land for homesteading on real estate websites such as landwatch.com and landsearch.com among others. You can also find farms and homesteads for sale on these websites that you can snap for a good price.
Tips for Homesteading in Michigan
Make a list of all the important things you need to achieve in the first 2 to 3 years of homesteading, pick one, and start with it.
If you have little experience with farming or gardening, start small. A small patch of potatoes or tomatoes is easy to maintain and provides a low learning curve.
Join forums and homesteading groups that help you get through the first few difficult years until you get the hang of things.
Learn about the various state laws related to and regarding homesteading in Michigan to avoid any potential run-ins with the law.
Make sure to provide and maintain a strong fence around the pasture for your livestock.
Unless you want to live totally off the grid, it pays to have strong friendships with the neighbors. In case of emergencies, the next-door neighbor will get to you before first responders can.
Educate yourself as much as possible before getting started. There are numerous books that can prove invaluable.
List of Helpful Resources
Related Questions:
Is Michigan Good for Hunting?
Michigan is a good place to go hunting. Between the gun laws and the vast hunting grounds, you'll have many enjoyable hunting trips in the state.
Some of the game you might be interested in include bear, elk, deer, turkey, waterfowl, and others.
You'll need a license to hunt whether you're going after large or small game. License fees and applications vary between the two types of game hunting in the state.
Is Michigan Good for Retirees?
In a 2022 study, Michigan ranked top of the most affordable place to live in the US. The state tax laws are little compared to other states such as New York, and the cost of living is quite affordable considering that prices of gas and groceries are low.
Whether you live in a city or in a rural area, rent is within reach, and you'll be able to stretch your money while living comfortably in your retirement.
Conclusion
Michigan is an agricultural state with state laws that encourage and protect homesteading.
With long coasts on four of the five great lakes, the state has a moderate climate and a growing season that averages 140 days a year. This allows you to grow a wide variety of crops and raise livestock.