So you've decided to grow sprouts, and now you need to find the best online places to buy seeds for sprouting because you have no idea where or if they are available for purchase locally.
Read on below to explore 20 of the very best online places to find your sprouting and microgreen seeds!
True Leaf Market brand seeds have been around since 1974. These independent-brand seeds are produced/provided by Mountain Valley Seed and Handy Pantry.
The outfit produces high-quality organic and non-GMO seeds for sprouting for commercial and hobby growers. They also carry seeds for most vegetables, herbs, grasses, and flowers.
True Leaf Market's seeds are recommended by professional growers and institutions/services such as the Utah State University Cooperative Extension Service.
The online store even carries wildflower seed stock and seed storage supplies as well.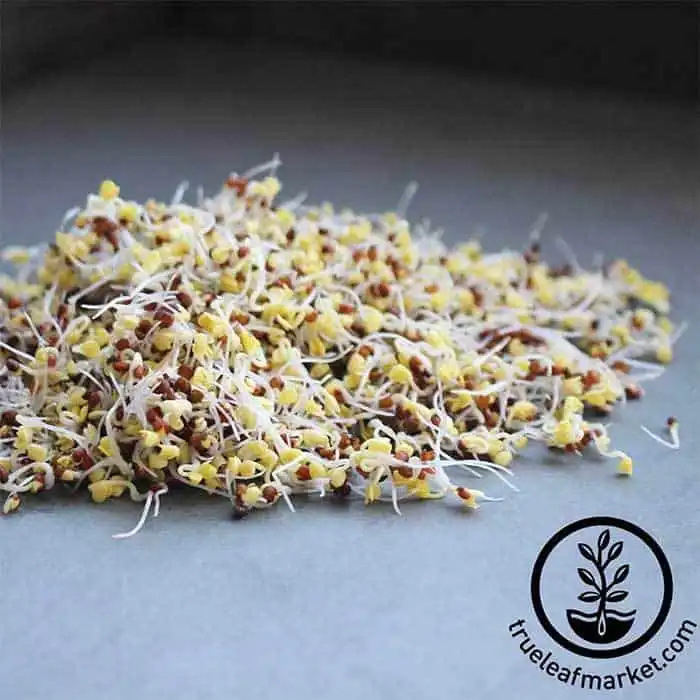 If you're looking for multipacks for growing microgreens and sprouts, few places online offer a better selection or price.
The folks who run SeedsNow.com know that each and every seed has the ability to grow into a plant and that not all plants are harvested at the same time or for the same purposes.
Furthermore, SeedsNow.com has a focus on seeds that can be germinated at home and grown as sprouts and microgreens.
That means their seed menu includes all the species with high levels of vitamins, minerals, protein, amino acids, and phytochemicals.
We also suggest this site to beginners who are just getting started on their journey to sprouts and microgreens due to their premium seed sampler packs.
The Living Seed Company is another great place to go online for buying sprouting seeds. The outfit was created by husband and wife team Matthew and Astrid Hoffman over a decade ago in 2011.
Their seeds are organic heirloom varieties grown by the family-owned-and-operated company.
This green-hearted and green-thumbed couple enjoy nothing more than the peace and beauty that is only possible through harmonious and healthy nature.
They believe in empowering others to achieve individual and global prosperity through agriculture.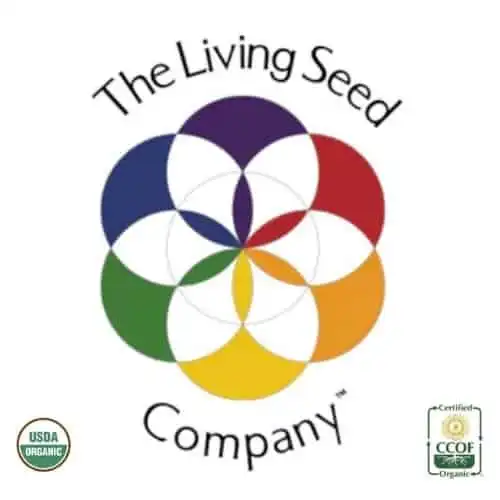 The second place on our list to buy seeds for sprouting is the Sprout House, another great site for getting your hands on organic and non-GMO seeds.
For nearly a decade, the Sprout House has been certified organic and provides organic seeds produced in New York.
Their website has countless seed varieties listed for sale, including everything from sunflowers to red clover or alfalfa.
They even have some species of seeds that come with shells and without shells (like sunflower seeds).
If it can be grown and consumed as a sprout or as microgreens, this site offers it. They also offer a bunch of flowers and grasses you won't find for purchase in many other places.
Rainbow Heirloom Seeds is a website and company run by a family that comes from a long line of farmers. Its mission is to provide gardeners and growers with the finest-quality seeds possible.
The outfit stands firmly behind its commitment to organic and non-GMO heirloom seed varieties. Furthermore, they seem to be genuinely passionate about it.
Knowing that each seed planted makes an impact on the planet, the family chooses their seeds carefully and wisely.
One of their main goals is to help make a positive impact on the world through supporting/encouraging good agricultural practices.
The Sprout People is a one-stop-shop of sorts for those interested in home sprouting/growing with 100% non-GMO organic seed.
The main goal of the company is to produce and provide the community with the best seeds for sprouting possible.
The Sprout People got their start back in the 1990s and have been at it ever since. The seeds you buy on their website are the very same ones that they plant and sprout in their own home.
The company is committed to making your sprouting experience as successful and enjoyable as possible.
Their site has a very long list of seeds available as well as instructions, tools, and recipes. They also offer complete technical support to their customers.
Looking for a seed supplier online that covers all your needs (vegetables, perennials, fruits, seasonal, flowers, herbs, sprouts, and microgreens)? Look no further than Burpee.
Few seed suppliers have remotely as much experience like this one founded way back in 1876 (yes, 1876, not 1976).
Burpee knows from experience that each customer has their own individual tastes and that no two gardens are similar.
That's why they are proud to provide such a vast collection of organic seeds for all your growing needs.
Burpee produces their organic, heirloom, and non-GMO seeds at their historic farm in rural Pennsylvania.
Seeds from Mountain Rose Herbs are another excellent choice.
The founder, Rosemary Gladstar, started the business in 1987 as a means to provide her students at the California School of Herbal Studies with premium seeds.
The company has evolved over the years in terms of seed quality, management, and ownership.
Today, the site offers a wide variety of organic, non-GMO, and hybrid seeds for herbs, flowers, and other plants that are good for sprouting and microgreens.
The Sow True Seed staff is a small but dedicated one. These guys are self-proclaimed worshippers of the dirt.
It is one of their highest missions in life to provide the highest-quality open-pollinated seeds to those who support themselves and their families through their own food production.
When it comes to seed species that are great for sprouts and microgreens, Sow True Seed has you fully covered.
These heirloom varieties would become extinct in the world were it not for horticulture enthusiasts in the mountains of Appalachia.
As you may have guessed, their seeds are trusted old-school varieties that are organic and non-GMO.
Rohrer Seeds and Supplies is another family-owned-and-operated business that's passed down through several generations of family members in Pennsylvania.
The Rohrer family's business has provided Lancaster County, PA with quality seeds and equipment since 1919.
Today the Rohrer family sells seeds and supplies online as well. They offer heirloom, organic, and non-GMO seeds as well as greenhouses, hardware, and other equipment for sprouting and gardening.
If you're looking for an older grass species that's hard to find, check with these guys! Also, look for their mixed packs and other specials.
Practically everyone with access to the internet has at least heard of Amazon by now, the powerhouse retail company that Jeff Bezos started from his garage back in the 1990s.
Today Amazon is one of the very largest and most trusted online retailers in the world.
The beautiful thing about Amazon is that it hosts thousands of individual stores as well as its own products from companies they create or acquire.
Whether it's organic, heirloom, non-GMO, or hybrid seeds for sprouting or microgreens, you'll find it on Amazon.
Sungarden Seeds is an interesting place to buy seeds online for sprouting.
The company is into sprout research and development as well as sprout industry consulting. In other words, these guys are true-blue experts.
Sungarden Seeds is yet another one-stop-shop for seeds for sprouting that you can trust. They are even geared toward commercial sprouting.
They provide seeds for shoots, sprouts, pulses, and microgreens as well as everything you could possibly need for farming various species.
If you're planning on growing big, do yourself a favor, and check these guys out.
The High Mowing Organic Seeds outfit is a certified organic seed supplier for a massive range of shoots, sprouts, and microgreens. They cater both to home gardeners and commercial growers.
For those who are new to sprouts and related types of growing, they have a bunch of great information that will help get you up to speed and understand how to choose the best seeds for your needs.
Furthermore, all of their seeds are tested for E-coli and salmonella. Safe handling of their seeds is one of their points of pride.
Todd's Seeds is a great place online to buy seeds for sprouting, especially if you're into a little bit of everything.
These guys take seed selection for sprouts to a whole new level. They take top care of their stock and test it for any type of contaminants.
Whether you're looking for organic non-GMO seeds or something in between, like a hybrid species, Todd's more than likely has it.
Heirloom seeds that are known to stand the tests of time are Todd's specialty.
They know you can have all the knowledge in the world about gardening/sprouting, but without good seeds, you won't be successful.
Johnny's Selected Seeds is another excellent consideration for where to buy your seeds online for sprouting. Having been in business for roughly half a century, the company has a well-proven track record.
When you buy your sprouting stock from Johnny's, you can rest assured that your sprouts, microgreens, or seedlings will be happy and healthy.
The company stands behind the fresh and superior quality of its seeds with a sprouting guarantee.
Johnny's was also one of the nine original signers of the Safe Seed Pledge, something they take with the utmost seriousness and pride.
What does that actually mean? It means they promise to never buy or sell GMO seeds or plants! The website offers tons of organic non-GMO varieties to choose from.
The West Coast Seeds company was founded back in 1983 in Canada. Their goal was to be a supplier of the highest-quality organic seeds to home gardeners.
Today, they offer more than 1,000 types of open-pollinated, non-GMO, non-GEO, and organic seeds.
The company is organically certified via the Pacific Agriculture Certification Society, so you know your seeds are safe and tested.
No matter how big or small your supply demands are or of what variety, West Coast Seeds has you covered.
They believe in supporting farmers and gardeners with only the highest quality seeds possible.
One of the oldest and biggest seeds and plant suppliers on the internet is the Park Seed company. The company was founded back in 1868 by the then 15-year-old George W. Park.
They are another of the great seed suppliers founded and operated in the state of Pennsylvania.
The company has one of the largest selections of online seed retailers as well as a mail-order catalog. They carry organic, heirloom, and non-GMO seeds of just about any variety you can imagine.
If you're buying for sprouting or microgreens, Park Seed has what you need.
In addition to garden-variety greens, grasses, flowers, and other seeds, the Park Seed company also carries a wide selection of live plants and bulbs.
Cheryl and Jason Miller founded Hometown Seeds as a way to provide gardeners with a resource for high-end vegetables, flowers, herbs, and other plants.
The couple's true passion is the gardening life, enjoying the great outdoors, working the land, and all the little things in between.
The couple produces their seeds on a 2-acre farm in Northern Utah.
They believe there is no better accomplishment than helping others to grow their own food – not just any food but healthy beneficial food like sprouts and microgreens.
Whether you're an off-grider or an urban gardener, Hometown Seeds is definitely worth looking into.
Mumm's Sprouting Seeds provides organically grown non-GMO seeds that have been grown on family farms for generations.
Maggie "Mumm" and Jim began their venture into organic farming in Canada during the mid-1970s.
Today, Mumm's ships high-quality sprouting seeds and microgreen seeds to customers across the world. If your order is over $50, they even knock the shipping charge off the total price.
Maggie and Jim believe that organic agriculture can heal the planet and that sprouts and microgreens have the ability to heal our bodies.
It's their mission to enable anyone who wants to grow fresh organic food at home to do so!
GrowOrganic.com is the online home of Peaceful Valley Farm & Garden Supply. It is one of the largest independent retailers of organic seed and garden supplies in the United States.
The company is located in the Sierra Foothills and does most of its business via the internet.
They offer everything you need for growing organic sprouts and microgreens, including seeds, tools, irrigation, pest control, and just about anything else you can think of.
The company is dedicated to helping protect the future of the earth and its environment through careful and organic agricultural practices.
In addition to what they produce on their own organic farm, GrowOrganic is partnered with several producers of high-grade organic, heirloom, non-GMO, and hybrid seeds across the United States and Europe.
Go Get Your Sprouting Seeds!
Making the decision to grow sprouts and microgreens is one of the best ones you'll ever make as far as your diet and health are concerned. It's also an easy one.
Choosing the best seed for your sprouts and microgreens is a bit more of a challenge. Hopefully, with all of the great selections reviewed above, the task with be an easier and more well-informed one!