Maples represent some of the most prized ornamental garden trees available and are naturally suited for many climates found in America.
With a range of colors extending from greens to yellows, oranges, reds, and purples, these vividly shaded trees are appreciated worldwide, and with some careful planting, they can be the jewel of a garden.
What maple tree has purple leaves? While many maples sport purple leaves at some point during the year, there are two varieties of European maples that have purple leaves year round: the Schwedler Norway Maple and Crimson King Maple. However, almost all purple-leaved varieties are Japanese Maples, and there are hundreds of them!
For your convenience, we have picked those which are widely available, eye-catching, and suited to many different home gardens.
14 Maple Trees With Purple Leaves
Although somewhat similar, these 14 maple trees all have unique characteristics, which gives each variety the ideal application for different purposes.
1. Crimson King Maple (Acer platanoides 'Crimson King')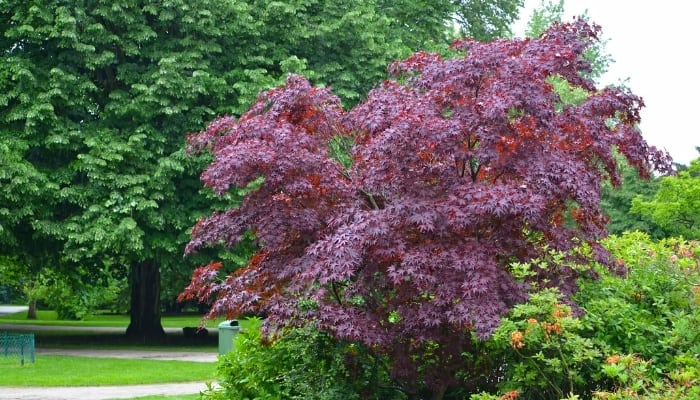 There's a good chance that you have seen this tree growing in urban areas.
It has been widely used in urban landscaping throughout the US and is tolerant to a large number of conditions, such as drought, heat, and pollution.
While this is a beautiful and hardy specimen, plant carefully, and expect the tree to reach heights of 50 feet.
2. Purple Leaf Japanese Maple (Acer palmatum 'Atropurpureum')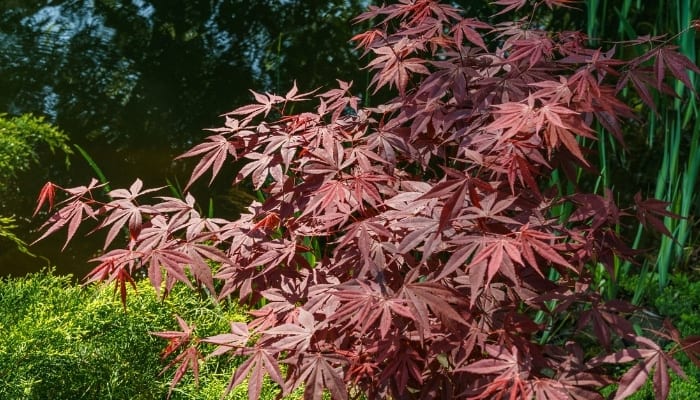 This Japanese maple has leaves that are a striking, intense purple color, turning a strong red hue with the onset of winter.
This variety is well suited adjacent to lawns and in smaller landscape settings.
It is a fantastic option to use in complement with shrubs and trees that have a more natural, green tone as the contrast can be quite spectacular.
3. Burgundy Lace Maple (Acer palmatum 'Burgundy Lace')
A real star, this cultivar demands attention with bright red to green leaves in summer that shift to shades of orange and purple in fall.
With large and brightly colored leaves, this variety is highly desired as a focal point in landscaping.
4. Ever Red Japanese Maple (Acer palmatum 'Ever Red')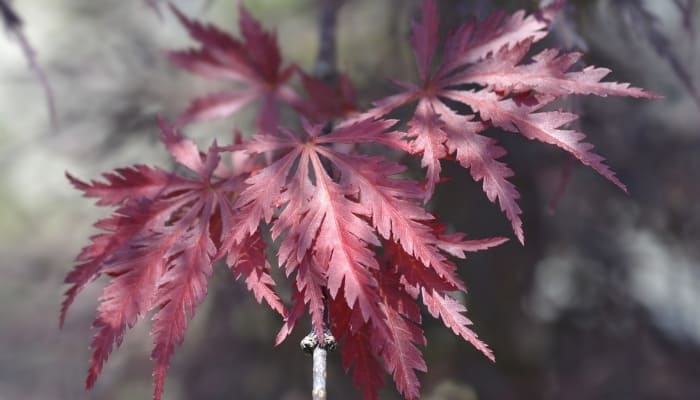 A stunning variety of Japanese maple, this tree displays deep purple to crimson colors throughout summer.
The leaves on this tree are highly segmented and create a cascading, flowing illusion, which lends itself to gardens wishing to achieve a tranquil, orderly look.
5. Moonfire Maple (Acer palmatum 'Moonfire')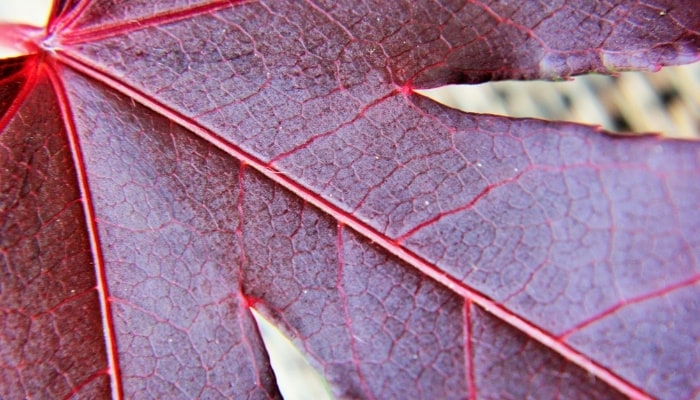 The Moonfire Maple is ideally suited to warmer regions of the United states where even in hot summers, a deep purple color can remain.
The name refers to the almost translucent appearance of its leaves, and a bright sunny day shining through them gives the appearance of fire.
6. Sherwood Flame Maple (Acer palmatum

'Sherwood Flame')
Preferring a cooler climate, the Sherwood Flame maple is an ideal candidate for gardens that receive less sunlight and can be planted in areas that receive shade from taller, existing trees.
7. Tamukeyama Japanese Maple (Acer palmatum 'Tamukeyama')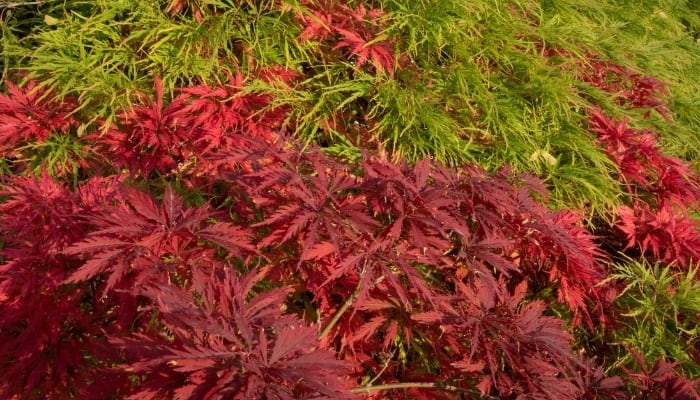 Well suited to be grown in containers, the Tamukeyama variety exhibits an elegant, mounding shape with densely packed leaves.
This tree is desirable for smaller gardens and exceedingly beautiful when grown over large boulders.
8. Red Filigree Lace Maple (Acer palmatum 'Red Filigree Lace')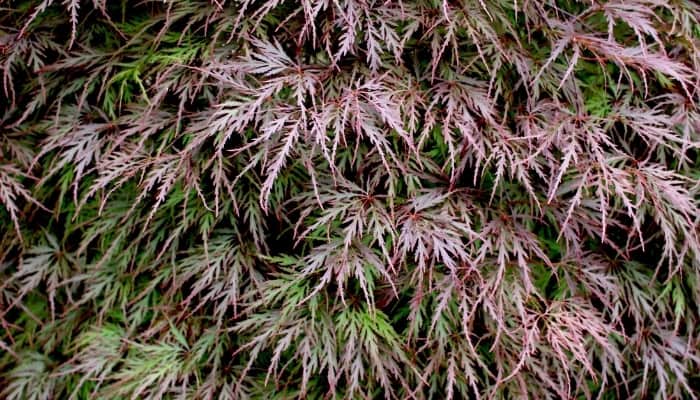 Among the smallest of all maples, the Filigree takes its name from the superbly delicate structure of its leaves. In winter too, the bare branches retain a shape that will continue to add a wonderful, flowing look.
9. Red Feathers Japanese Maple (Acer palmatum

'Red Feathers')
This Japanese Maple continues to please with an exhibition of colors all year long, beginning with red-orange in spring, then developing green centers, and ending in an outstanding purple-crimson in fall, making this variety an attractive option for all gardens.
A useful application for this tree is when planted as hedges or in a mass planting.
10. Red Dragon Japanese Maple (Acer palmatum

'Red Dragon')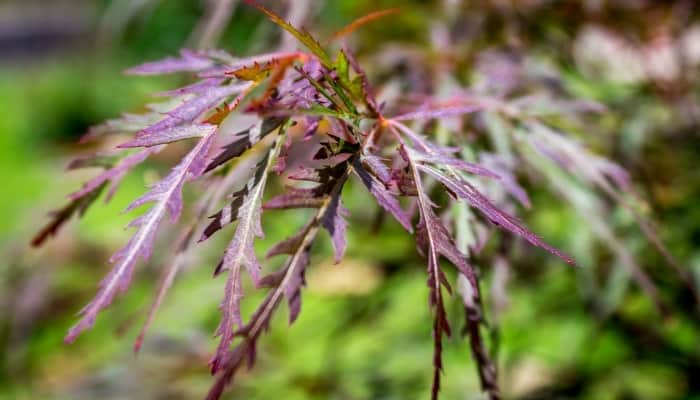 The foliage of the Red Dragon is a brilliant cherry-red in spring that develops into a deeper, reddish-purple and finally scarlet in fall.
Twisting itself upwards, the trunk of this variety can become a real winter centerpiece.
11. Inaba Shidare Japanese Maple (Acer palmatum

'Inaba Shidare')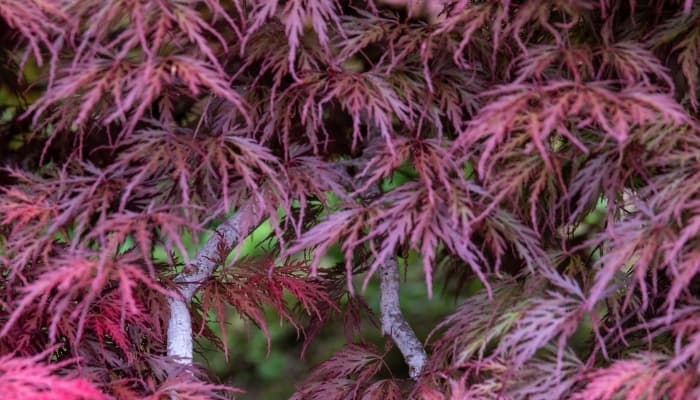 Visually stunning, this Japanese maple has wonderful lacy foliag that forms an intense purple, almost appearing black on some specimens. It is a hardy variety that can tolerate temperature lows of -4°F.
12. Purple Ghost Japanese Maple (Acer palmatum 'Purple Ghost')
True to its name, the Purple Ghost Maple exhibits foliage that is striking and unusual. Prominent black veins cut through deep purple or red leaves, which are fringed with delightfully ruffled edges.
This variety is easy to grow in a variety of soils and tolerates heat.
13. Frosted Purple Maple (Acer palmatum

'Frosted Purple')
With highly contrasting foliage, this pink, to red, to purple maple is a go-to for creating visually impressive landscapes.
Best sheltered from hot conditions, it will do well in partly shaded areas of the garden and is an excellent contender for planting by water features.
14. Bloodgood Japanese Maple (Acer palmatum

'Bloodgood')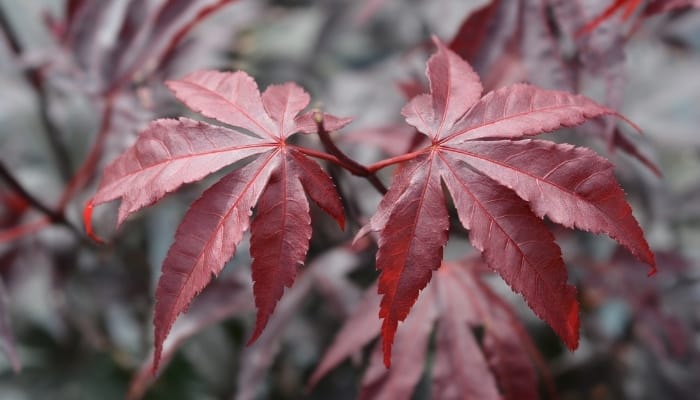 The Bloodgood is royalty when it comes to Japanese Maples. The classic foliage shape is adorned with a pleasant, soft, red-purple hue.
Having low maintenance and eye-catching qualities, the Bloodgood holds a place in any Japanese maple garden.
Related Questions:
Planning ahead when deciding where to place maples is key. Too much sun can cause damage to foliage, while too much shade may leave your beautiful purple leaves looking rather green.
Paying attention to soil needs and keeping trees out of harsh winds is also important for happy and healthy trees.
Also keep in mind that because of the high number of varieties, nurseries will not stock all maples; so be prepared to order ahead.
How Many Types of Maple Trees Are There?
There are approximately 130 different varieties of maples; however, there are many more cultivars that have been specifically bred for their respective qualities.
What Trees Can You Tap for Syrup?
Although most of us are familiar with maple syrup, Japanese maples are low in yields and are best left as ornamentals.
Other tree species that can be tapped include birch and walnut varieties, but there are many more, and even palm trees can be used for collecting syrup.
Final Thoughts
As you can see, there are a good number of purple-leaved maples to choose from, and provided your growing space receives at least some sunlight, there should be no reason why a maple can't thrive in your garden, on your patio, or on your balcony.