The Badger State may not be the first place you think of when you think about places to build a homestead, but why not?
Is Wisconsin good for homesteading? Wisconsin is a great choice for homesteading. From relaxed homeschool regulations and open-carry gun laws to simple zoning, the homestead exemption, and low land prices, Wisconsin is a better choice for settling down, building a homestead, and raising kids than several of the nearby US states.
Read on and discover all there is to know about homesteading in Wisconsin!
Homesteading in Wisconsin
Wisconsin is a Midwestern state with a population of 5.82 million people and two coastlines with the Great Lakes. It was the 30th state to enter the United States, back in 1848.
In the following sections, we break down everything you need to know before attempting a homestead in the state, including laws, available land, climate details, and more.
Wisconsin Homestead Laws
The state of Wisconsin has its own unique homestead-related laws, as do all US states. The good thing is that the state is far more lenient toward homesteading than many other states.
For example, Wisconsin law permits you to declare a property as a homestead even if you're renting it rather than being the actual owner.
However, the legally protected homestead part of the rented property may only consist of the home you occupy and between ¼ acre and a single acre of land.
Owners of their own property may claim up to 40 acres as homestead land.
The exception is if the land is agricultural and the homestead is declared as a farm. In this case, the homestead may be as much as 120 acres of property.
The great part about Wisconsin homestead laws is that even if the home you occupy is a rented room, apartment, house, or mobile home, you may declare it as a homestead.
Wisconsin Livestock Laws
In Wisconsin, livestock laws are relatively relaxed. There are very few state-wide mandates on how many animals you may keep as livestock.
Cows, sheep, goats, poultry, horses, and other farm-raised animals, like pigs, alpacas, or rabbits, qualify as livestock.
Pets are another story; you may only have up to three pets total per home in residential areas. In agricultural and rural zones, however, this rule doesn't apply.
If you plan to raise any uncommon animals, you may require a license from the Wisconsin DNR.
This includes squirrels, porcupine, some mice and rats, cougars, bears, wolves, and wolf-dog hybrids, as well as some birds and endangered/threatened species.
Wisconsin Zoning Laws
The state of Wisconsin, like all US states, has various zoning laws that homesteaders must consider before purchasing land.
The most popular zones for homesteading are various Agricultural and Rural Residential zones.
Urban, commercial, and industrial zones are not suitable for homesteading in Wisconsin except on rare occasions.
Wisconsin Cottage Food Laws
In Wisconsin, there are two main methods for selling food that's homemade, aka cottage food:
Selling baked, canned, and pickled goods, which is legal to sell directly from home to anyone.

Obtaining a retail-food license/food-processing-plant license so that you can sell to customers directly or via other venues.
There is no limit to the amount of canned, baked, or pickled goods that can be sold to consumers, even from home, by homesteaders following the law.
That said, the state has banned the sale of cottage foods, candy, and goods such as chocolate or roasted coffee beans by homesteaders or anyone else who produces said goods at home in their kitchen.
That's why you'll need a retail-food license if you want to take your products to market.
If you prefer, a food-processing license allows you to make said goods and sell them directly to markets, instead of individual customers.
Failure to follow the cottage food laws in Wisconsin carries a maximum fine of $1,000 or 6 months in jail.
Wisconsin Homestead Exemption
The homestead exemption in the state of Wisconsin allows you to exempt up to a whopping $75,000 worth of your property.
That means that if you own a $175,000 property and have a $100,000 mortgage, ¾ of the debt is fully exempt by the law.
To qualify for the homestead exemption in Wisconsin, you must:
Be a legal resident of Wisconsin for the entire year.

Be a legal 18-year-old adult.

Have a low income (roughly less than $24,500).
You must also meet one of the following conditions as well:
Have positive earned income.

Have a disability.

Have not received more than $400 of county relief payments or any amount of Wisconsin Works payments the same year.

Are older than 62 years of age.

Are not claiming Wisconsin farmland preservation credit the same year.

Rent or own the property, which is subject to state property taxes.

Are not claimed as a dependent on someone's taxes the same year.

Are not claiming the veterans and surviving spouses' property tax credit the same year.

Are not claiming on the behalf of someone after their death.
Each year these requirements are liable to change, so make sure to look into the most current information directly from the county/city in which you are thinking about filing for homestead exemption.
Wisconsin Gun Laws
The gun laws in Wisconsin are very relaxed compared to some of the states you may have thought about homesteading.
For example, all long guns are legal to carry in the open without a license or permit.
That means you can tote your rifle and shotgun along, whether in the truck, on the tractor, or on foot.
In fact, you can also carry your pistol with you in Wisconsin, as long as you keep it out in the open. If you want a concealed weapon, you're free to obtain a CCW permit.
Making things even more relaxed, there are no background checks required for private gun sales in the state.
Available Land in Wisconsin
We found over 15,000 listings for suitable homesteads in Wisconsin in just a few minutes via a thorough Google search.
From Craigslist and Zillow to Facebook groups and direct ads from regional real estate groups, there is no shortage of potential land for sale in Wisconsin to look through online.
Wisconsin Land Prices
The average cost of a one-acre piece of agricultural land last year was approximately $4,750. This price is rather low compared to other states, but it is up almost 11% from the year before.
The most affordable areas to search for land in Wisconsin include the following counties/cities:
Appleton
Racine
Madison
Milwaukee
Wauwatosa
The following resources may help point you in the right direction to finding the Wisconsin land you're looking for:
Wisconsin Climate
The climate in Wisconsin is a bit cooler than other regions you may be considering homesteading.
In comparison to places that see their last hard frost in February, March, or April, Wisconsin might as well be a winter wonderland, seeing its last hard frost all the way in May.
The main Grow Zones are Zone 3, Zone 4, and Zone 5. The northern and western areas of the state stay the coolest all year. The southern and eastern areas of the state get a bit warmer.
Some of the most important information about Wisconsin climate includes:
First frost: October 6th
Last frost: May 3rd
Annual rainfall: 34 inches
Annual snowfall: 38 inches
Average spring temp: 51°F
Average summer temp: 79°F
Average fall temp: 45°F
Average winter temp: 38°F
Wisconsin Growing Season
Generally speaking, the Wisconsin growing season officially begins on the first week of May and ends on the first week of October. That's a total of 155 to 160 days on average.
If you ask the locals, they'll tell you to wait until after Memorial Day to start planting crops. For many farmers, this sounds ludicrous, as the entire spring season is practically over at this time.
However, if you use greenhouses or indoor gardening techniques, the seasons may begin early and be extended beyond the 157-day season it is outdoors.
Number of Homesteaders in Wisconsin
There is a surprisingly high number of legally recognized homesteaders in Wisconsin compared to other states: approximately 29,250.
The total amount of homestead acres in the states is recorded at roughly 3,111,000 acres. That means almost 10% of the entire state of Wisconsin is certified homestead land!
This, of course, doesn't include all those who are living a homestead lifestyle but aren't legally recognized.
Can You Live Off-Grid in Wisconsin?
Living off-grid isn't an issue in Wisconsin, technically or legally. Collecting water, generating power, raising livestock, and farming are all allowed under the law.
The main problem with off-grid living in the state is with the semi-urban homesteaders. Typically, these homestead locations fall within the jurisdiction and additional rules of the nearest city.
That means there may be issues with ordinances or zoning at the least, and at the worst, some part of your homesteading routine may actually be illegal.
Is Wisconsin Homeschool Friendly?
Wisconsin has some of the most common-sense and approachable homeschooling laws of all the states.
Parents who wish to educate their children via homeschooling are required to file a PI-1206 Homeschool Report with the DPI, confirming that their homeschooling program complies with the law.
Parents are held legally responsible for the education of their homeschool children. It's as simple as that.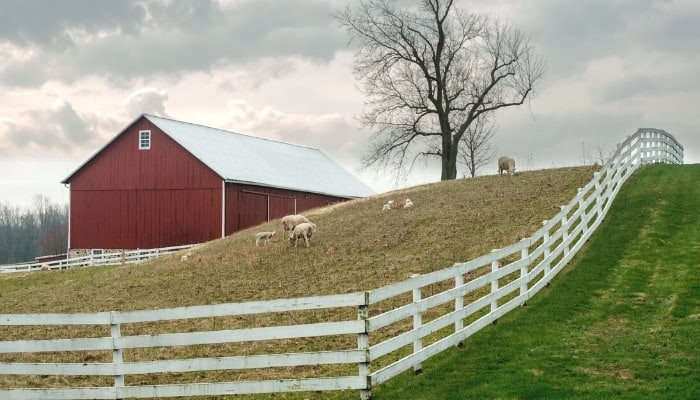 How To Find Abandoned Farms for Sale in Wisconsin
Like many of the rural places in America that were abandoned during the last century for one reason or another, Wisconsin is full of old abandoned farms ripe for the picking.
The problem is finding the right one for you and your potential homestead site!
The websites below may be a good place to start an online search:
You can also reach out to local authorities for lists of property for sale, lease, or auction.
Homesteading Classes in Wisconsin
With so many homesteads in action, there are more than enough active homesteaders to teach the lifestyle to the next generations in Wisconsin.
Some of the most helpful classes/programs about homesteading in the state are:
Related Questions:
Is There Free Homestead Land in Wisconsin?
No, there is no completely free homestead land in Wisconsin as there is in some pro-homesteading states.
The best you can do is buy an abandoned farm or discounted agricultural land via a private sale.
Can You Homestead in City Limits?
Technically, yes, you can homestead in city limits, but it depends on the county, city, and other local laws of the municipality.
Some cities, for example, don't allow chickens or goats in the city limits, let alone pigs, cows, or horses.
Furthermore, growing crops may even be an issue; in some towns, it's illegal to have garden plants in your front yard.
Conclusion
Homesteading in Wisconsin is a much better choice than attempting the same in some of the surrounding states.
From relaxed livestock and zoning laws and being an open carry state to the fact that there's a large community of other homesteaders already living in the state, there are far more pros than cons to choosing to build a homestead in Wisconsin!