Attracting bees to your yard isn't as hard as you might imagine; in fact, it's quite straightforward and easy to do.
Bees are generally attracted to native plants in the region, as well as colorful flowers. Blue, purple, yellow, and white flowers are the most effective because bees can't see the color red.
In addition, growing other bee-friendly plants and using only organic pesticides that are not harmful to bees also helps by leaps and bounds.
Read on below and explore our list of the top 34 blooming plants bees love!
1. Bee Balm (Monarda spp.)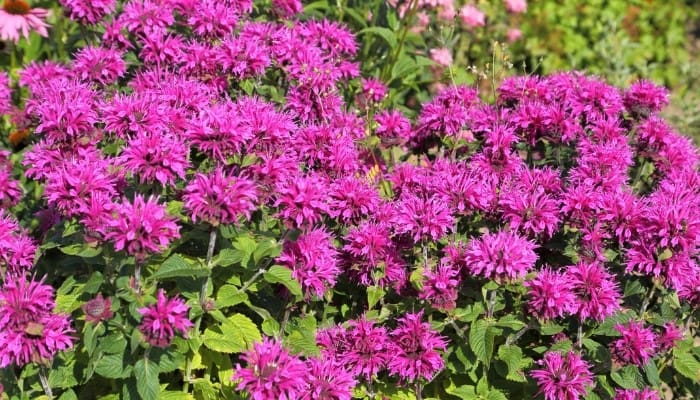 Bee balm is one of the best blooming plants bees love due to its bright and beautiful colors. The flowers are pink, white, purple, and red.
They bloom from early to midsummer until late summer. However, it is also the foliage of this plant that attracts bees thanks to its strong bee balm scent.
2. Purple Coneflower (Echinacea purpurea)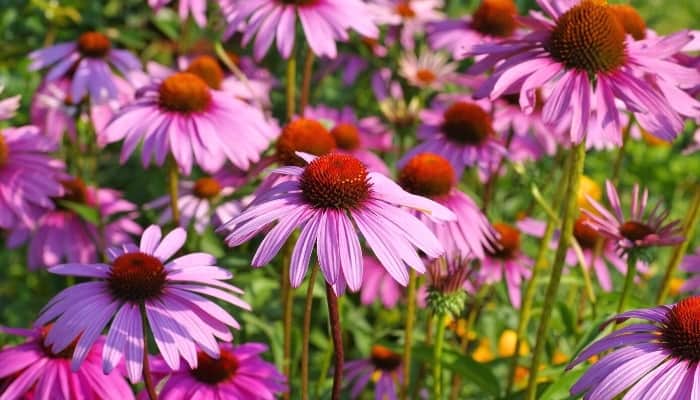 Echinacea purpurea, better known as the purple coneflower, is another of the top plants that bees love. These beauties are native to North America and belong to the same family as sunflowers.
They are much more attractive than typical sunflowers, growing 24 to 48 inches tall and 24 to 36 inches wide.
In addition to purple, the flowers also can have reddish or pinkish-colored petals as well.
3. Black-Eyed Susan (Rudbeckia hirta)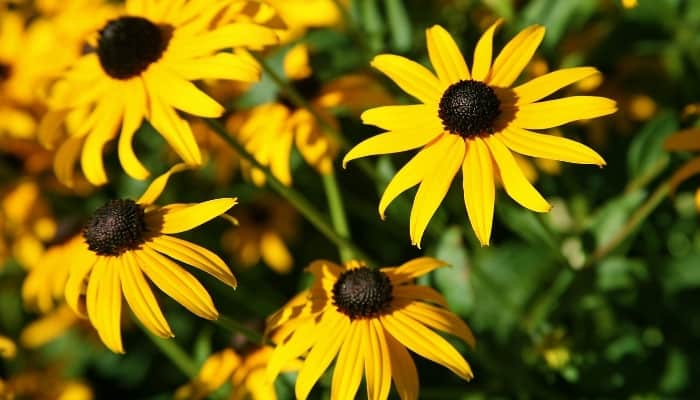 Few flowers that attract bees are better known than the black-eyed Susan. This North American blooming plant is so popular that it is now naturalized in many parts of the world, including Asia.
The flower blooms in the summer, though depending on the sub-species, bloom times vary.
Typically, black-eyed Susans grow around 24 inches tall and have yellow and orange petals with dark centers.
4. White Wild Indigo (Baptisia alba)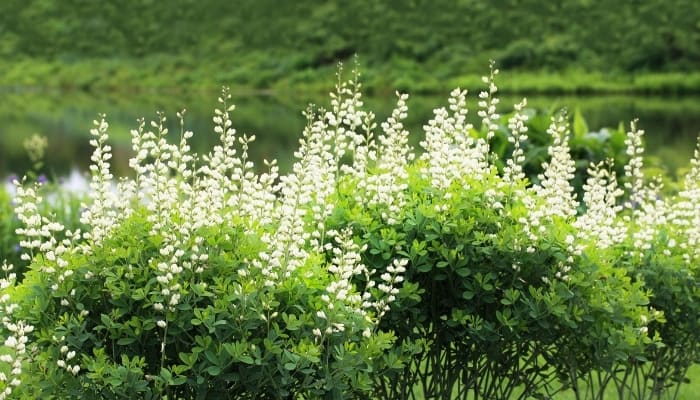 The Baptisia alba, also known as the white wild indigo, is a perennial flower that grows to heights of between 24 and 36 inches, but it isn't likely to be first on your list if you like colorful blooming plants.
Although it is white as can be, besides grayish-blue colored stems, the plant is quite adept at drawing in bees from the local vicinity.
5. Asters (Symphyotrichum spp.)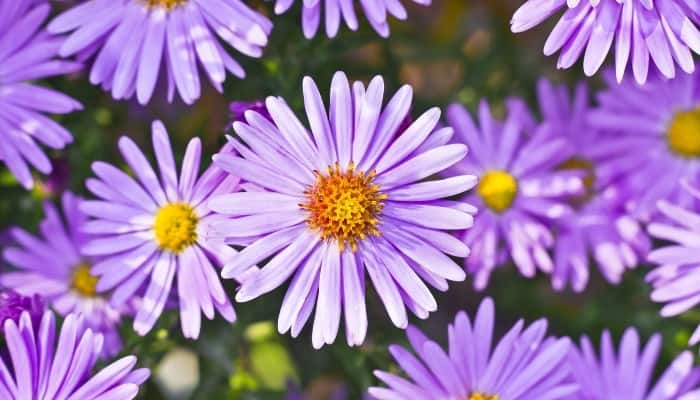 Asters are another gorgeous flower species that grow back each year. They come in pinks, blues, whites, and purples.
Most importantly, their lovely scent does an amazing job of getting the attention of local bees (as well as butterflies). The best part? There are nearly 200 species of asters to choose from!
6. Blue Giant Hyssop (Agastache foeniculum)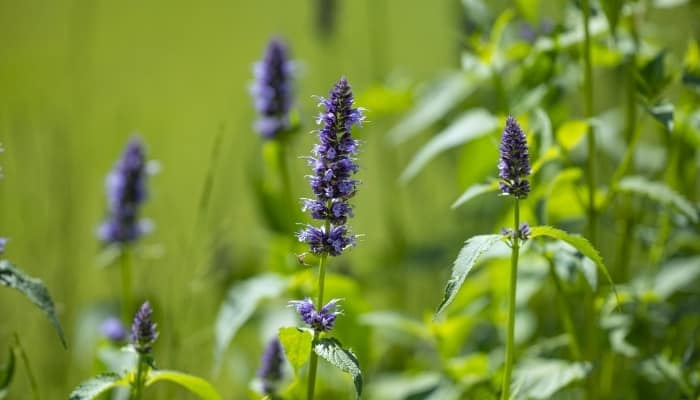 The blue giant hyssop is a fan favorite for those who enjoy Northern American flowers with bluish-purple hues and a strong scent.
These interesting bee-attracting flowers don't smell much like the flowers your grandmother grows. Blue giant hyssops smell like peppermint and anise.
7. Joe-Pye Weed (Eutrochium spp.)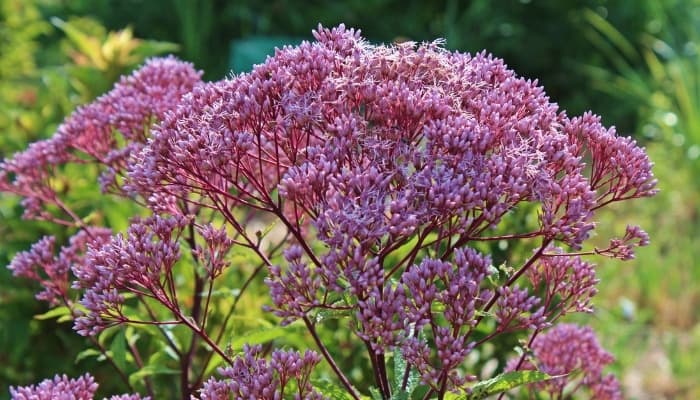 Eutrochium spp., more widely known as Joe-pye weed, or sweet-scented Joe-pye weed, is another native Northern American blooming species to consider planting in your yard or garden.
The species does a great job of attracting bees and looks really great too; they are basically clusters of dainty pinkish-purplish flowers belonging to the sunflower family.
8. Sunflowers (Helianthus spp.)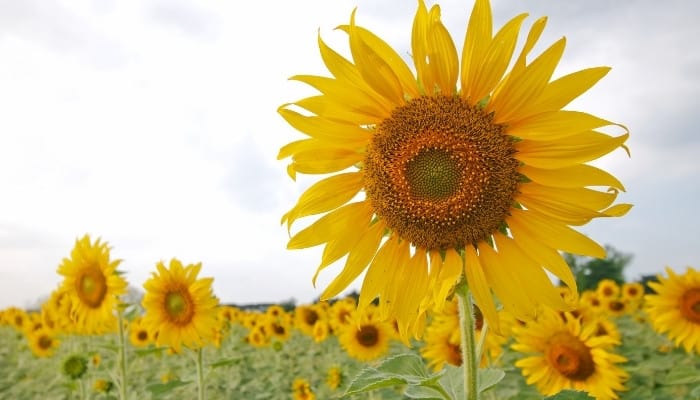 Sunflowers are one of our personal favorite blooming plants that bees love.
There are over 70 various species to choose from, and they range from browns and yellows to whites, reds, and purples.
They also vary in size from 12 to 24 inches up to 48 to 56 inches or more. Blooming mostly occurs in the summer, but bloom times depend on the specific variety.
9. Marsh Blazing Star (Liatris spicata)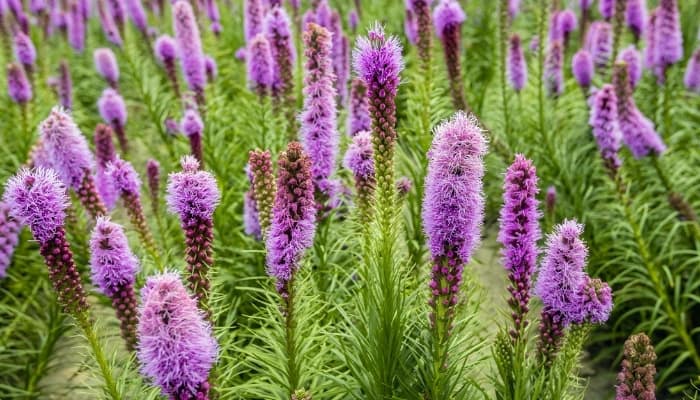 Liatris spicata, also known as the marsh blazing star, besides having one heck of a cool-sounding name, is also one of the best herbaceous perennial plants bees can't seem to resist.
The flowers come in various colors and reach heights of up to 48 inches tall.
10. Goldenrod (Solidago spp.)
Goldenrod is an unlikely addition to the list of blooming plants to consider planting in your yard or garden to attract bees, but it is a good one nonetheless.
In fact, goldenrod should probably be in your top 10 list. There are well over 100 species of goldenrods, and they are all bright yellow and attractive to bees.
They bloom in the summer after growing to heights of 18 to 56 inches tall.
11. Lavender (Lavandula spp.)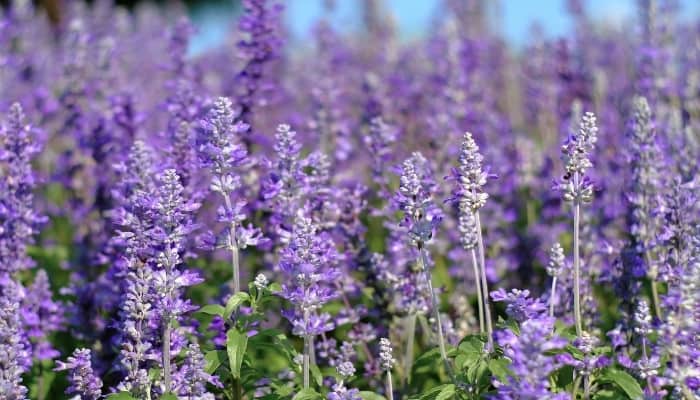 Lavandula spp., better known to most as simply lavender, is one of the best purple blooming plants for attracting bees.
The flower is native to the mint family and originates from Europe, Asia, the Mediterranean, and Africa.
The flowers bloom in the summertime and have a strong and delightful scent that bees love.
12. Yarrow (Achillea millefolium)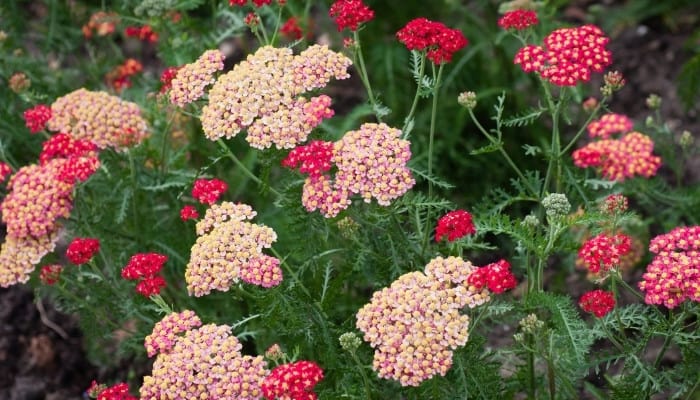 Yarrow is another of the most common blooming plants that bees can't stay away from, though many people overlook them as such an option.
Yarrow comes in vivid oranges, golds, yellows, and reds. It is native to North America, Asia, and Europe. The flower grows between 24 and 36 inches tall before it blooms.
13. Horsemint (Monarda punctata)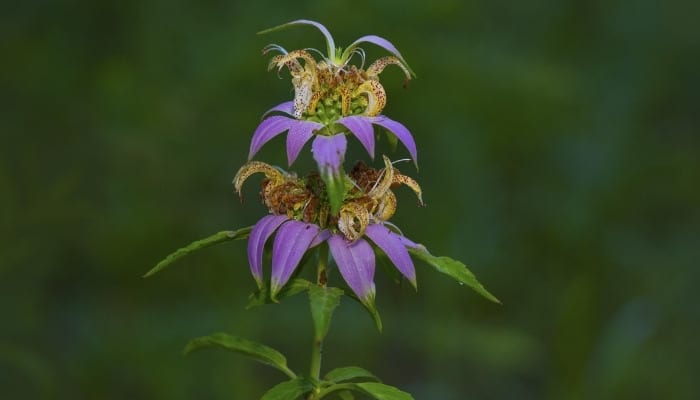 Speaking of unlikely plants easy to overlook, horsemint should perhaps be at the top of the list. It is one of the most popular flowers of all, at least where bees are concerned.
It comes in whites, reds, pinks, and purples. Bees love it because even the green parts of the plant smell nice.
14. Pale Purple Coneflower (Echinacea pallida)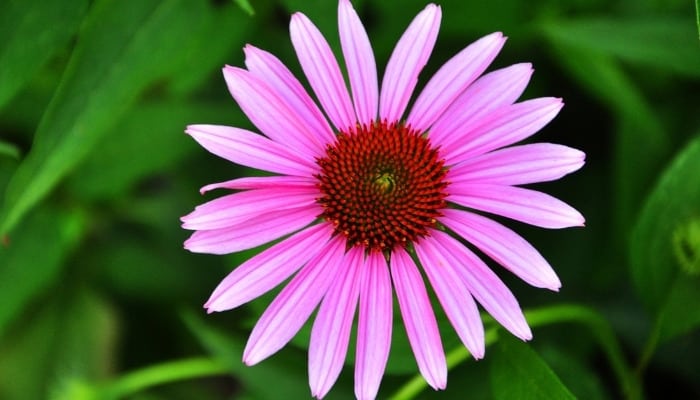 Echinacea pallida, also known as the pale purple coneflower, is one of the many subspecies of coneflower.
It just so happens that it is also one of the greatest light purple-colored flowers for attracting bees into your yard and garden.
15. Mint (Mentha spp.)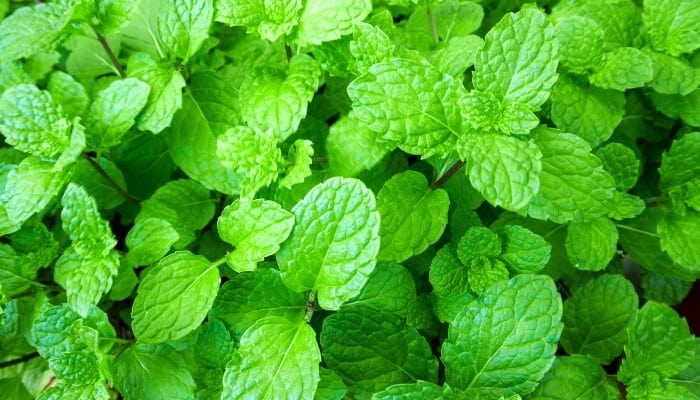 Mentha spp., better known to most folks as mint, belongs to a family of plants called Lamiaceae. These are some of the most attractive blooming plants besides larger flowers.
There are at least two dozen species of mint that are currently documented, all of which seem to bring the bees a-hummin' into the garden!
16. Bluestar (Amsonia spp.)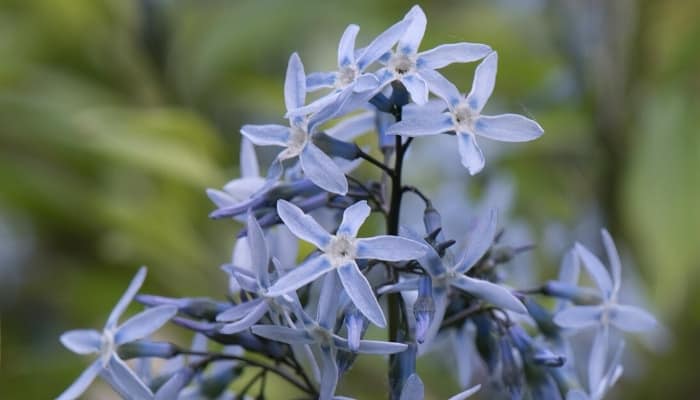 Another of our personal favorites, the Amsonia flower, or bluestar, is an old-school flower that looks exactly as it is named – blue in color and shaped like stars.
The various species attracts bees right alongside the best of 'em, including sunflowers and asters. Typically they grow to heights of 36 inches or less.
17. Basil (Ocimum basilicum)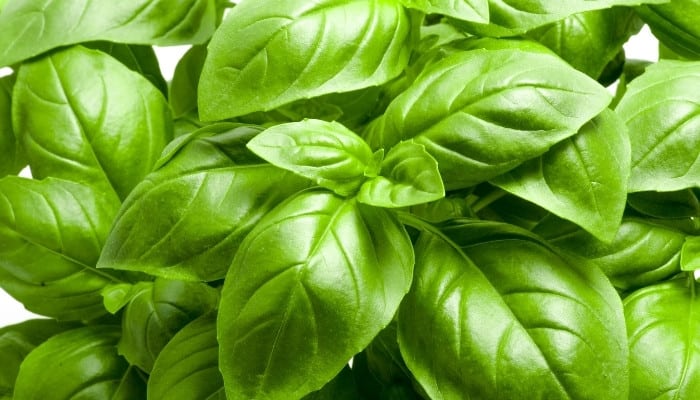 Ocimum basilicum, best known as basil, is a blooming herb that bees equally love as much as mint and lavender.
There are numerous species available to choose from, so regardless of the climate zone you live in, you should have no problem finding a suitable variety.
18. Anemone (Anemone spp.)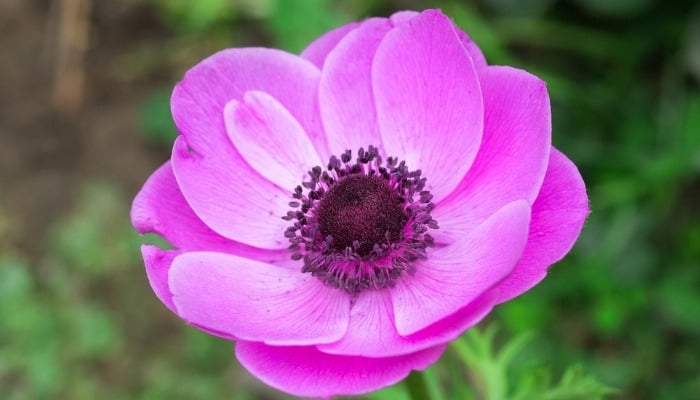 Anemone, like basil, is a blooming herb that bees enjoy that doesn't grow very tall. Most of the time these low-lying plants don't reach heights of more than 12 to 24 inches.
They're also extremely easy to care for, making them a great choice as a bee-attractant species for your yard or garden.
19. Fennel (Foeniculum vulgare)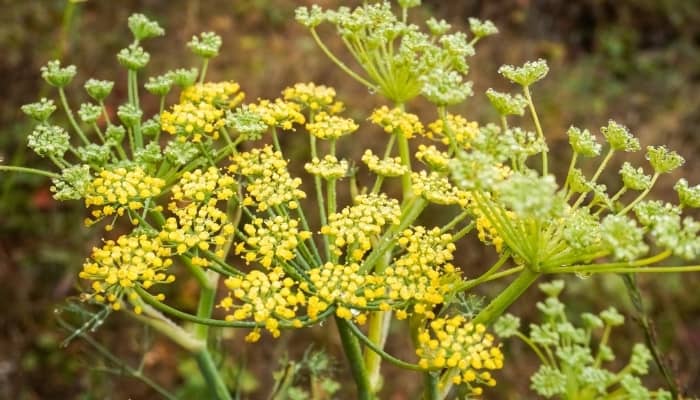 Fennel is a classic culinary special ingredient. However, did you know that it is also a special ingredient for your garden to attract bees and other beneficial insects into the area?
Well, if you didn't, now you do! Another fun fact: Fennel belongs to the carrot family.
20. Lupine (Lupinus spp.)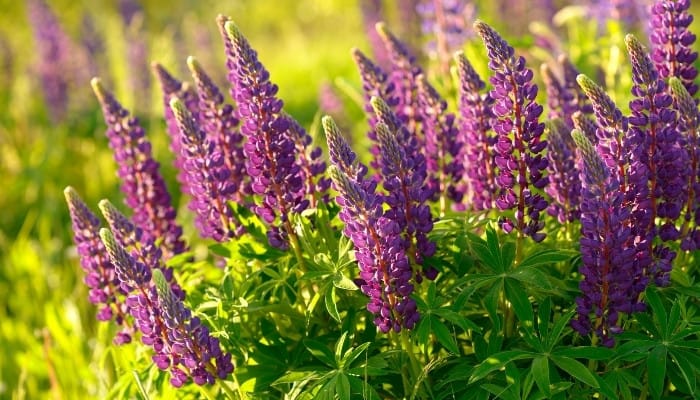 Lupinus, bluebonnet, or simply lupine, is another genus of blooming plants that work like bee-magnets.
There are almost 200 individual species to pick from, and the flowers vary from blues, purples, and pinks to whites, yellows, and reds. Lupine may also be bicolor.
21. Columbine (Aquilegia vulgaris)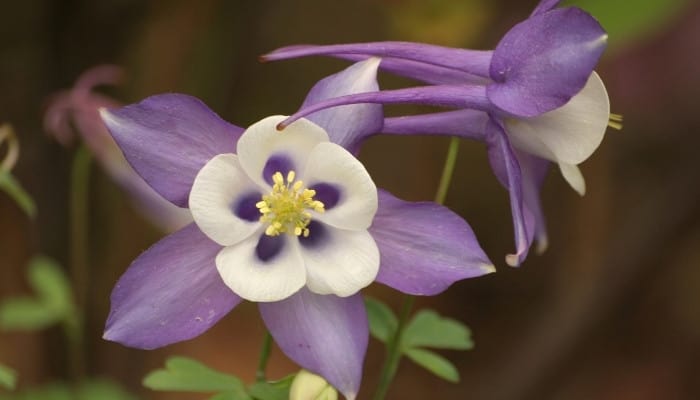 Another colorful one that may bloom in either the spring or summer is Augilegia vulgaris, or columbine. The flowers are best known for their cowboy spur-like appearance.
They come in pinks, reds, oranges, purples, blues, whites, and yellows. One of the best parts about this flower is that not only do they attract bees, but they also actively repel deer.
22. Larkspur (Delphinium spp.)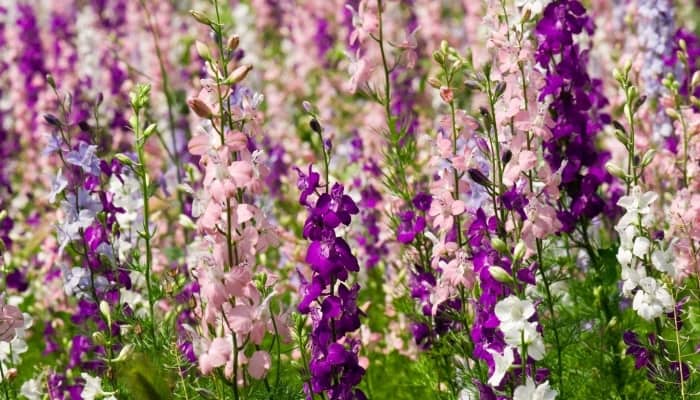 An excellent flower for bringing in bees is the larkspur, or as it is botanically known, the Delphinium.
This genus includes around 300 various species of flowers in lavender, scarlet, red, pink, purple, blues, white, and sometimes yellow.
The centers of the flowers are sometimes black or striped but more often than not are brown, tan, or plain white.
23. Zinnia (Zinnia elegans)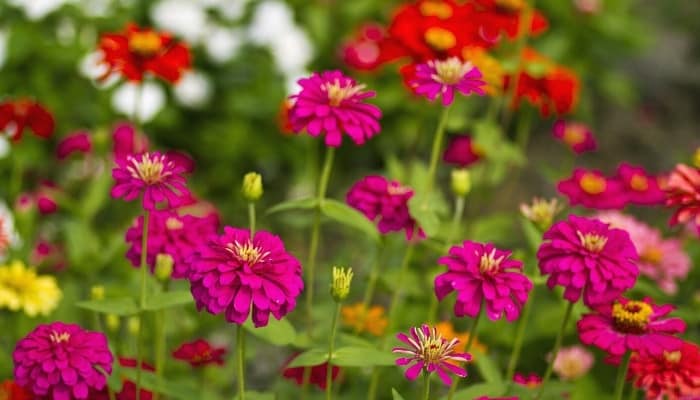 Zinnia elegans, or zinnia for short, is another daisy-type flower that fits into the sunflower family. They are unique to the United States and Mexico and draw bees to flowers like kids to the cookie jar.
The flowers are available in whites, greens, purples, pinks, yellows, reds, and just above everything in between (just not blues).
24. Common Sage (Salvia officinalis)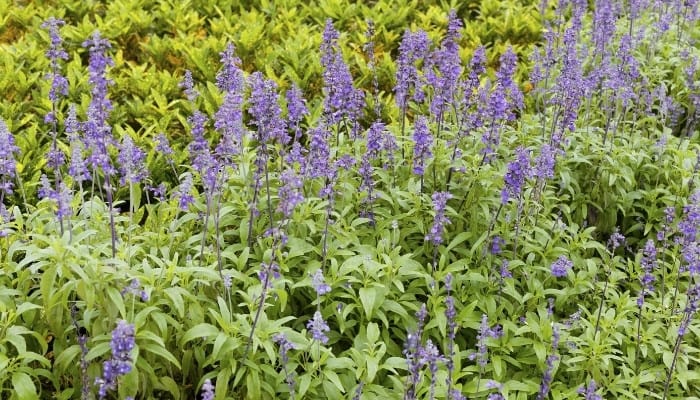 If you have plenty of space in your yard or garden that gets plenty of sunlight, Salvia officinalis, or common sage, may be just the sort of plant you're looking for to help attract bees to the locale.
They are easy to care for, basically take zero effort on your part, and grow up to 30 inches tall and 24 to 36 inches wide.
25. Verbena (Verbena officinalis)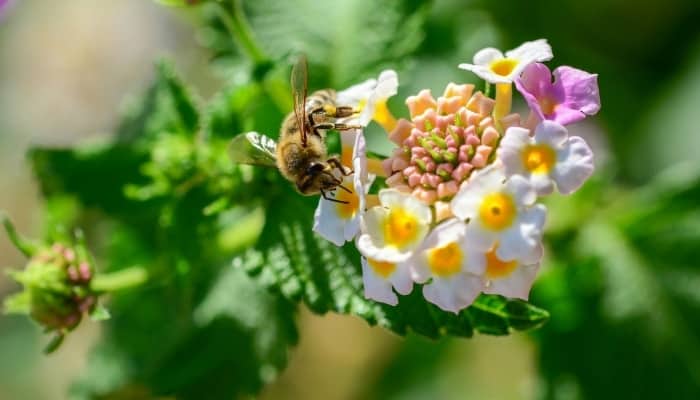 Verbena officinalis is another popular herb that is known for drawing in bees from the surrounding area.
There are approximately 150 species of these flowers, a mixture of seasonal and perennial plants. Their colors range from blues and purples to reds, pinks, whites, and lavender.
26. Sweet Alyssum (Lobularia maritima)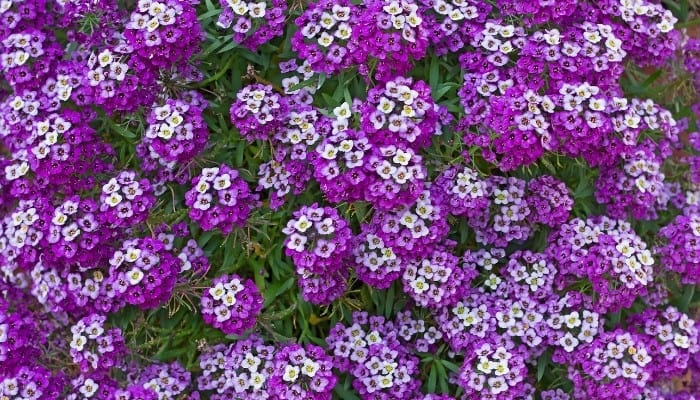 Lobularia maritima, or sweet alyssum as you may know it, is a good plant for those looking for a low-growing shrub-type bloomer.
These plants grow in both partial sun and full sunlight and attract bees from spring until fall. They are pinkish, white, or purple in color and rarely reach heights of more than 6 to 12 inches.
27. Cleome (Cleome spp.)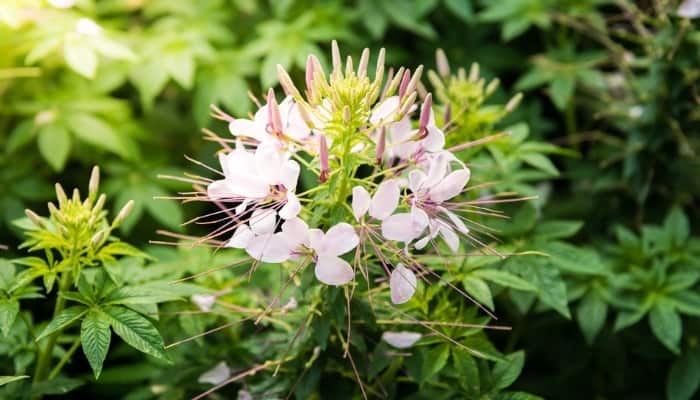 Cleome is better known as bee plant or spider weed, hence it has landed smack-dab onto our list of plants bees are attracted to.
Most of these cultivars are pink, white, or lavender and grow up to 56 inches tall, and 12 to 24 inches wide. However, some of these species top out between 12 and 48 inches in height.
If you're considering planting containers, cleome is a great choice.
28. Calendula (Calendula officinalis)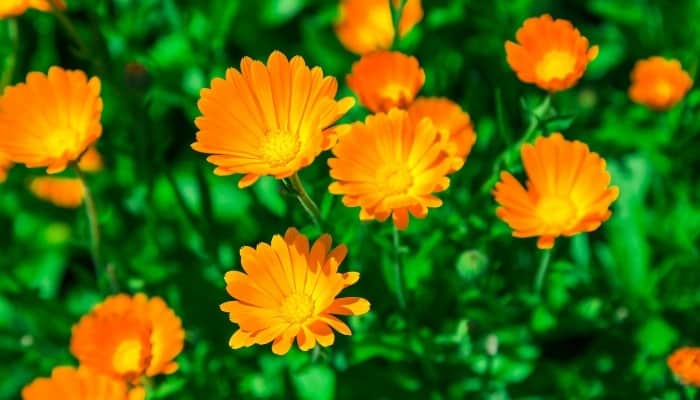 Calendulas are some of the prettiest bee-attractant daisy-type flowers around. Furthermore, they are available in both season and perennial versions.
Sometimes, folks get them confused with marigolds because they look so similar (low-lying and in yellows, golds, oranges, and white).
29. Borage (Borago officinalis)
Borago officinalis, also known as starflower, or borage, is a seasonal flower that does a wonderful job of looking awesome and drawing in bees at the same time.
It hails from the Mediterranean but is now naturalized in many regions of the world. They are star-shaped, delicate, bluish, and lavender colored flowers that reach heights of up to 36 inches.
30. Pulmonaria (Pulmonaria spp.)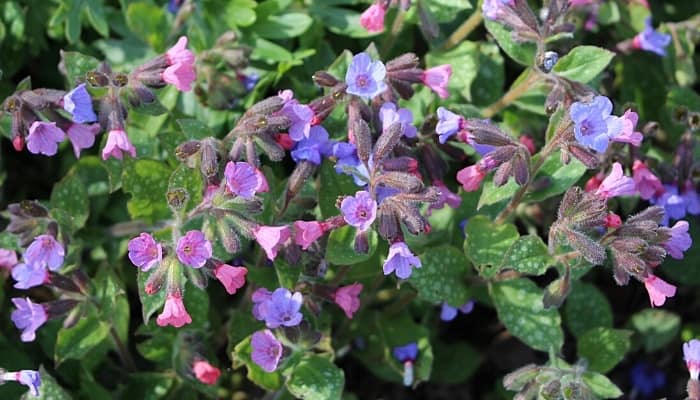 These blue, pink, red, white, and purple flowers with bluish-gray and silver foliage are some of the earliest blooming spring flowers for attracting bees.
The flowers are low lying, reaching heights of just 18 inches. There are over a dozen species, some of which bloom in the summer or winter as well as the spring. They are native to Europe and Asia.
31. Blue False Indigo (Baptisia australis)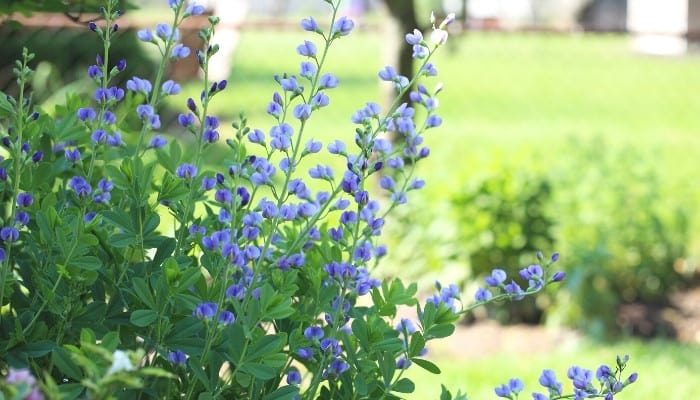 Baptisia australis, also known as the blue false indigo or blue wild indigo, is a blooming plant that belongs to the Fabaceae family.
The flower is technically a blooming herb, and the plant grows back each year, making it a perennial flower as well.
It grows between 36 and 48 inches tall and roughly 36 inches wide. As you probably guessed, its blue color is one of its most well-known features.
32. Honeysuckle (Lonicera spp.)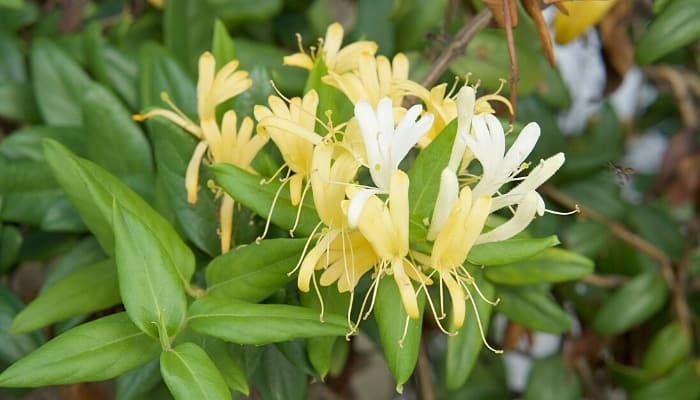 Honeysuckle is a classic blooming plant that bees can't get enough of. If you've got honeysuckle on your property, literally anywhere, you have bees on your property as well.
That said, there are over 180 species to choose from. Whites, peaches, pinks, yellows, and reds are commonly available.
However, unlike most of the plants on our list, this one is a vining flower that may grow up to 30 feet or more in length/height.
33. Phlox (Phlox spp.)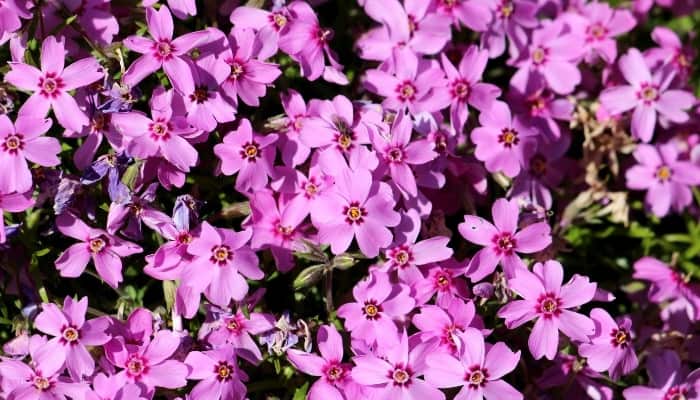 There are nearly 70 species of seasonal and perennial belonging to the Polemoniaceae family, including one that bees are attracted to – phlox.
These flowers come in various colors, ranging from crisp blues and light violets to whites, pinks, and reds. They grow to heights of between 24 and 48 inches, typically blooming in the summer and fall.
34. Oxeye Daisies (Leucanthemum vulgare)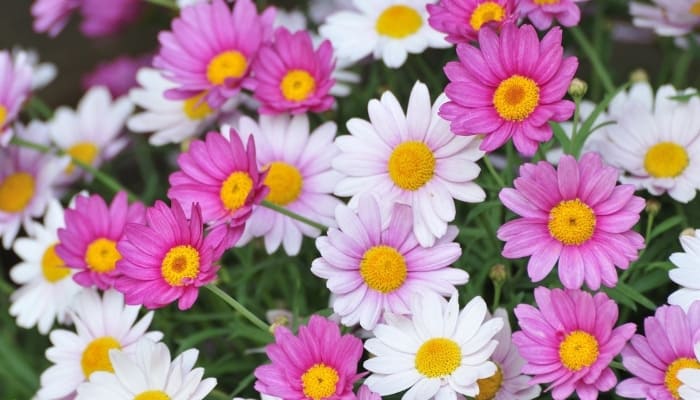 These summer and autumn bloomers known botanically as Leucanthemum vulgare are often referred to as oxeye daisies, marguerites, and dog daisies.
They are native to Europe and Asia but are now widely growing in most of the world, including North America. The flowers typically have white petals and orange centers, and bees can't resist them!
A Final Word
From classic flowers like bee balm, sunflowers, and coneflowers to herbs such as lavender, mint, and basil, there is a wide array of blooming plants that bees love.
Hopefully, our list helps make your decision about which plants to add to your yard or garden as well informed as possible. Good luck!