Meet the SF2000 – a full-spectrum pro-grade LED grow light with high-end authentic Samsung diodes produced by Spider Farmer.
Searching for a new grow light/replacement light for your 2'x2', 2'x3', 2×4', 3'x3', or 3'x4' grow tent?
Read on below for the full review including specs, instructions, pros, cons, and more!
Key Takeaways
The SF2000 LED grow lights draw less power than other lights, put out as much or more light, work well for all growth stages of plants, and cost less than other pro-grade lights.
For personal-sized grows, this light is literally perfect inside the average grow tent. The downside is that it's a tad bit too small to be a solo grow light in the largest-sized grow tent.
Who Should Buy the SF2000?
The SF2000 is perfect for those who are setting up their first grow tent or are replacing/expanding the grow lights in their current grow tents, grow rooms, or hydroponic grow systems.
Spider Farmer SF2000 Pros & Cons
SF2000 Key Features
Full-spectrum LED

Authentic Samsung diodes

3 feet by 4 feet vegetative footprint

2 feet by 4 feet flowering footprint

Runs on 200 watts

Puts out the equivalent of 2000 watts

Dimensions of 25.5-inches x 10.5-inches x 2.3-inches

Weighs 10.2 pounds

Meanwell driver and dimmer switch

In-line passive cooling

Protective/water-resistant membrane over LEDs

Easy to install, learn, and operate

5-year warranty and customer service
SF2000 Size & Weight
The dimensions of the SF2000 are 25.5 inches long, 10.5 inches wide, and 2.3 inches thick/tall. It weighs approximately 10.2 pounds.
SF2000 Wattage
The SF1000 runs on 200 watts, believe it or not. That means it takes up to 50% (or more) less power than old-school grow lights such as HPS and MH bulbs.
The low wattage is remarkable for the output and spectrum of the unit.
SF2000 Lights & Light Output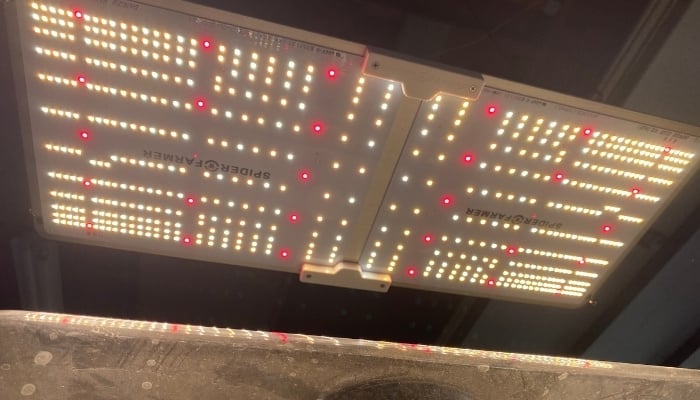 There are exactly 606 lights in the SF2000, including two types of white light, red, and IR (we discuss this more in the next section). The frequency of the light ranges between 50 and 60HZ.
SF2000 Lighting Spectrum
The lights on the SF2000 are quite impressive: warm white 3000K and 5000K, deep red 660nm, and 760nm IR diodes, all in one.
That means the light output is prime for everything from basic vegetative growth stages to full-on flowering.
SF2000 Energy Efficiency
The SF2000 is one of the most impressive lights of its type and size, drawing just 2.7 umol/J.
The unit draws approximately half the energy other lights do and throws out enough light to produce a 50% larger yield.
SF2000 Cooling
The SF2000 doesn't have an old-school cooling system, its very design is its cooling system. The light's passive-cooled layout prevents the unit from overheating like older 2000W grow lights.
An exhaust or mini-fan helps keep the light even cooler during times you're running it longer.
SF2000 Flowering Footprint
The light's flowering footprint measures out to roughly 2 feet by 4 feet, enough for several medium plants or one or two large ones.
For the average grow tent, the SF2000 is the only light you'd need for flowering the plants inside of it.
SF2000 Vegetative Footprint
The vegetative footprint of the unit is approximately 3 feet by 4 feet. That's enough for at least two large plants if not half a dozen medium-sized ones.
For most grow tents, there's no need for additional vegetative light when you're using the SF2000.
What's Included in Package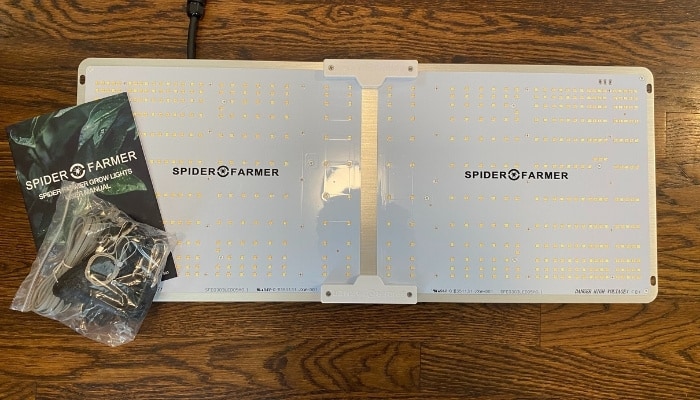 When you purchase the SF2000, the box includes:
The SF2000 LED grow light itself

Wire hangers

Ratchets and ropes

Instructions manual

Warranty information
Compatibility With Growing Systems
Whether you're growing with soil, hydroponic systems, aquaponic setups, or even aeroponic towers, the SF2000 is compatible.
Even more, it saves you money on your power bill compared to similar lights and is dimmable.
The light also works well with automatic timer systems. All you need to do is plug the main power cord into the timer, set the timer, and plug it into a wall outlet or surge protector.
The unit also works great as an over-wintering light for your outdoor plants that are sheltering inside for the cold winter months.
SF2000 Main Drawbacks
The main drawbacks of the SF2000 are relatively straightforward; it isn't quite as bright as some pro-grade 2000W grow lights, and its footprint is a foot or two smaller than that of similar units.
Aside from those two minor disadvantages, the light is rock solid and exactly as advertised.
SF2000 Installation
The SF2000 is super easy to install: take it out of the box, attach the provided hanger and ratcheting system to the corners of the light, and place it on the bar in your grow tent or whatever mount you have prepared.
Plug it in, adjust the dimmer, and you're ready to rock and roll!
SF2000 Operating Instructions
The SF2000 is designed with growers of all skill levels in mind. That means it's easy to use this unit no matter how much experience you have growing.
After installing the light and rig into your tent or grow space, simply flip the power switch to turn it on. The dimmer knob turns left and right, allowing you to adjust the light's output from 0 to 100%.
If you want to automate your light, simply plug it into a digital timer. Program your timer, and then just sit back and let technology do its thing!
SF2000 Warranty Information
The SF2000 comes with a solid warranty as well. For the first 30 days, the light may be returned or replaced for free. Repairs and components are also free for the first 3 months.
Depending on your purchase and warranty options, free parts, repairs, and other services are included for between 1 and 5 years.
Spider Farmer Customer Service
Depending on your purchase and warranty options, your SF2000 comes with between a year and up to 5 years of repairs, customer service, and more.
For common questions about your warranty, or purchase in general, visit the Spiderfarmer

FAQs page

.

For direct inquiries, follow the instructions on their

Contact page

.

For those who ordered their equipment on Amazon, you can email the

Spider Farmer Customer Service

.
Conclusion
The SF2000 is one of the many entry-level professional-grade products offered by Spider Farmer.
The unit is bright and energy-efficient, comes with a dedicated driver and dimmer, and even includes nice warranty options.
It is a great choice for replacing old 1000-watt or 2000-watt HPS, MH, or LEDs as it is powerful, draws less electricity, and has a diverse full-spectrum light output that works well for vegging, flowering, and everything in between.