This elegant barrier tree has been recognized as an "Elite Plant" since 1998 by the US National Arboretum for its superb tolerance, beauty, and disease resistance.
And thankfully, bringing this grand evergreen to your landscape won't come with the elite price tag or level of hassle you might expect!
Here are 15 of the best sites to order your Thuja Green Giant trees from…
Operating since 2005, FastGrowingTrees stocks a wide variety of small shrubs/bushes and large privacy trees that are hand-picked by experts.
Thuja Green Giants ship in pots and run from 1-2 feet to 6-7 feet tall (with a modest oversize fee for trees 5 foot+).
Trees typically ship within 1-2 days, free shipping is offered for orders over $119, and their Alive & Thrive Guarantee™ offers a replacement within 30 days.
Note: they don't ship to Arizona.
Thuja Gardens is a family-run company established in 1999 that grows their trees on the premises in Chesnee, South Carolina to provide consistent quality.
Thuja Gardens sells potted Green Giants ranging from 2-3 feet to 4-5 feet tall in addition to Thuja Virginian and Thuja Can Can varieties and offers free shipping on all orders.
A one-time, 1-Year Replacement Guarantee is offered, though guarantees are void if planted outside the advised hardiness zone.
The world's best-known online marketplace also sells trees and shrubs, offering a small selection of real and artificial potted Thujas and Thuja seeds through the brands Green Promise Farms, Plants by Mail, and Red Supply Solution.
Varieties include Green Giant and the more compact 'Emerald Green'/'Smaragd' which are shipped in 2.25- to 3-gallon containers between 1-2 feet tall.
Shipping is fast, though unique rates/shipping restrictions are not disclosed by individual vendors.
This family-run plant nursery started up in 2014 and sells a large variety of shrubs, flowering trees, and privacy trees.
Thuja trees arrive potted and range from 1-2 feet to 6-7 feet tall, normally shipping within 1-2 days.
Shipping is free for orders over $119 and for $3.95, PlantingTree provides PlantSafe Shipping Protection, which ensures high-priority replacements for any trees delayed/stolen or damaged in transit.
Note: PlantingTree can't ship to Arizona.
First founded in 1972, this non-profit organization has distributed over 350 million trees worldwide and sells an extensive variety of flowering, fruit, and shade/privacy trees, offering free shipping on all orders over $75.
Thuja Green Giants are shipped in bare-root (dormant) and potted form (in 1-gallon containers) ranging from 6 inches-1 foot tall.
Local laws prohibit shipping to the following states/locations: AS/AZ/CA/FM/MH/MP/PW/VI/HI/GU/PR.
Gurney's family-run company in Indiana has been operating since 1866 and sells a wide variety of tree species, seeds, and gardening supplies.
Thuja trees are shipped in bare-root form in spring between early February and late April, but they are unable to ship to AE/AK/GU/HI/PR.
Trees measure 1-1.5 feet tall and are sold individually or in bundles of 5/10. All Gurney's trees are guaranteed for 1 year.
Set up in 2015, The Tree Center is the culmination of three generations and 40 years horticultural experience, selling a vast range of perennials, shrubs, hedges, and tree species.
They sell 2-3 feet and 4-5 feet tall potted Thujas and offer a discount for first-time orders.
Trees usually ship within 2 days, and The Tree Center has a 30-day Arrive & Thrive Guarantee™ for unsatisfied buyers of full replacements for DOA trees, simply asking that customers fill out a Sad Plants Form.
Due to restrictions, they can't ship to AK/CA/HI/PR.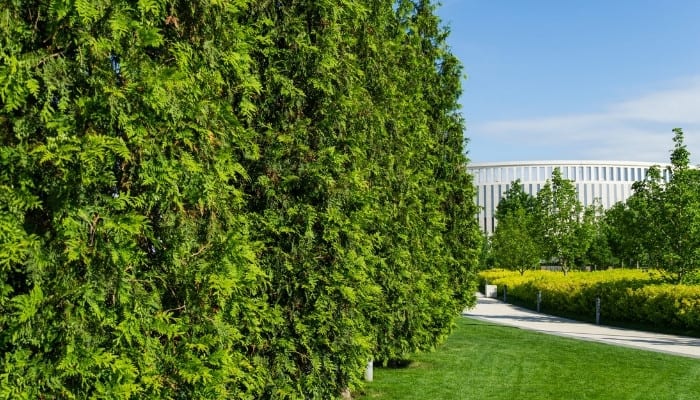 Going since 2005, Brighter Blooms specializes in rare flowering houseplants and fruit trees in addition to hedges, shrubs, and evergreens, and all products have a 30-day Happy and Healthy Guarantee™.
Trees arrive potted with sizes ranging between 1-2 feet and 5-6 feet tall and are also available in bundles of 10 for the smallest/largest sizes.
Shipping is expected within 1-2 days and is free for orders over $119.
Note that Brighter Blooms can't ship to AZ.
Taylor's Nursery in North Carolina was established in 1950 and currently stocks a vast catalog of tree and shrub varieties plus various vine, grass, and groundcover species.
Taylor's sells to Wholesale account holders only and must be contacted for a quote regarding unique shipping rates/delivery estimates.
Thujas are shipped potted in sizes 7, 8, 9, and 10 feet tall. Late possession of orders or canceled orders can result in 25% restocking/cancellation fees.
Michigan-based company Great Garden Plants established in 2008 and sells a substantial selection of rare tree and shrub varieties in addition to perennials and climbing plants.
Thuja trees ship within 3 days and are available in one size only – 1-gallon pots/3 feet tall. (Note: A minimum order of four 1-gallon trees is required!)
Delivery is free for orders over $95, and a generous 60-day guarantee applies to all plants grown within the recommended growing zone.
Based in east Tennessee, this family-owned company grows every variety they offer in containers at their nursery.
They specialize in evergreen trees but also sell fruit/berry plants, shrubs, and ornamental grasses.
Evergreen Nursery grows over 31 Thuja cultivars, and Green Giants run in three sizes – approximately 1 foot, 2 foot, and 2 foot+ tall.
Trees arrive in secured quart or gallon pots (without soil) and ship within 3-5 days. (Note: doesn't ship to CA/ AK/HI).
Founded in 1943, the Michigan Bulb Co. has become one of the largest mail-order plant nurseries in the world, selling an extensive range of tree, shrub, and flower varieties in addition to garden kits.
Thujas are shipped in spring as 1-1.5 feet tall bare-root trees, available individually or in bundles of 5/10 or 3 packs of 1.5-2 foot trees.
Shipping is free over $50 with an email sign-up or between $9-14.95 for orders under. Note they can't ship to AE/AK/GU/HI/PR).
The Monrovia Nursery Co. was founded in 1926 on a 10-acre plot in South Carolina before relocating to Foothill Ranch, CA where it now distributes over 4,000 varieties of trees, shrubs and more to nurseries throughout the US/Canada.
Thuja trees are shipped free of charge to a participating local garden center for pick up or home delivery and are typically shipped in 1- to 6-gallon pots, but this could vary across garden centers.
Refunds/replacements are subject to policies set by individual garden center store locations.
First established in 1938, this rural supply giant has 2,000 stores nationwide selling all manner of gardening, DIY, farm, ranch, and tradesman/contractor products.
Potted Thujas are available in 2-3 foot, 3-4 foot, and 4-5 foot sizes and can be delivered for free to your local TSC store or home delivered for $10.99 as standard with a 30-day return window.
Note that Tractor Supply Co. can't ship to AK/AZ/CA/HI or Canada.
This online nursery has been operating for over 30 years and hand-grow all stock at their Maryland farm – currently selling an extensive range of annuals, perennials, shrubs, trees, and houseplants.
WGG's potted Thujas run in sizes 1-2 feet tall up to 5-6 feet, and there are multi-save bundles of 5/10 trees in each size category.
Trees are shipped for free within 3-5 days for most orders exceeding $130. Note: Agricultural laws prohibit shipping to ID and MT.
Conclusion
There are many places to easily order healthy Thuja Green Giants for your much-coveted private garden!
Just note that shipping rates/times will vary based on your location and whether you buy from small nurseries or wholesale garden centers.
Where possible, opt for tree directories that sell potted Thujas since vulnerable bare-root trees have narrow planting windows and may struggle to root as quickly. Happy planting!