The clematis plant seems to have it all. It has a high tolerance to unfavorable growing conditions, it offers a wide variety of bloom shapes and colors, and it stays in bloom for a relatively long time.
However, on the downside, clematis can be unpredictable when it comes to their bloom time.
When do clematis bloom? Many clematis plants bloom from early summer to late fall. However, depending on the variety, the time of blooming and the duration can vary widely. Some, like Clematis armandii, start blooming in the early spring, while others, such as Clematis cirrhosa, only bloom in the winter.
With so many clematis species and hybrids to choose from, one of the first things to enquire about at the local nursery is when to expect that specific plant to bloom.
Read on to find out more about the various clematis species and their expected blooming times.
Understanding Clematis Blooming Times
For gardeners, nothing is more frustrating than waiting for the clematis to bloom but not a single flower opens.
While the foliage is attractive enough, without flowers this climber is no different from any other vine.
Before you uproot the clematis and replace it with another climber, you need to give the plant some time to mature and start blooming. The name of the game is patience when it comes to clematis.
Early-Blooming Clematis
Most of the early-blooming clematis fall under a group called the Evergreen Clematis. With evergreen foliage and small flowers, this group dazzles with its flowers that start opening in midwinter.
Two species stand out in this group. They are Clematis cirrhosa, which blooms from January onwards, and Clematis armandii, which starts flowering in March or April.
They both have small creamy-white flowers with fluffy seed heads.
They grow up to 40 feet tall and can be trained on fences, walls, and trellises. They require well-drained soil but not much pruning.
Pruning Guide
The flowers only grow on one-year-old stems so you don't need to prune them. Just regular maintenance and care will do after the end of the flowering season.
Repeat-Blooming Clematis
Repeat-blooming clematis is a group of species and hybrids that start blooming in the late spring or early summer on old wood.
The new stems that started growing in the spring will bear flowers sometime in the late summer and early fall.
As climbers, they grow to 10 feet tall and include Clematis florida, Clematis lanuginosa, and Clematis patens. The star-shaped flowers can grow to 6 inches in diameter.
This group of repeat-blooming clematis can grow in full sun or partial shade.
Pruning Guide
The plants need to be pruned twice a year. The first pruning should occur in the late winter or early spring right before the first signs of new growth.
The second pruning should be after the first blooms have faded.
Late-Blooming Clematis
The late-blooming clematis is a herbaceous category that often starts blooming sometime in the late summer and early fall.
Although this group is mainly perennials, the plants tend to die back after the last flower has faded only to come back the next spring.
They are easy to grow and are best suited as border plants. Most popular plants in this group include Clematis stans, Clematis recta, Clematis integrifolia, and Clematis heracleifolia.
The bell-shaped flowers are creamy white and can grow back about 45 days after you deadhead them.
Pruning Guide
When the plant dies after the last blooming wave in late fall, you need to cut it down to the ground. This drastic pruning is crucial for the survival and success of the plant.
That's the only time you need to prune late-blooming clematis.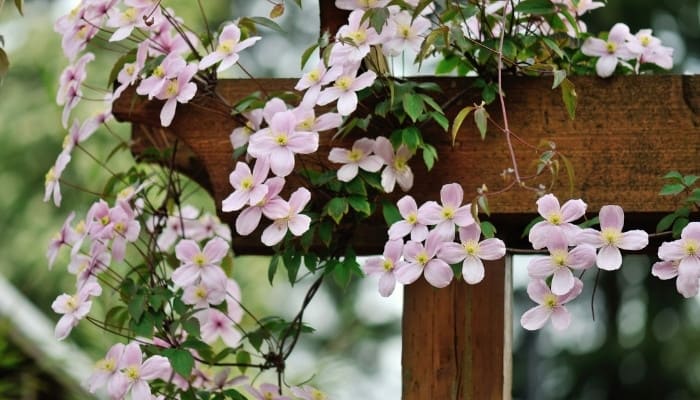 Clematis Varieties With the Longest Bloom Time
Although known for their bloom season longevity, not all clematis species are created equally. In general, the early spring blooming groups are the ones that bloom the longest.
However, sooner or later, they will fade, leaving the garden looking colorless and barren.
A good idea is to mix a few long-blooming clematis hybrids with different blooming times to enjoy colorful flowers all year round.
Some of the top popular clematis varieties to consider in your garden are:
Vancouver Starry Nights:

The purple-blue flowers are about 8 inches wide. They start blooming in the early spring and repeat again in the fall.
Pink Champagne:

Suitable for Zones 4 to 9, these cultivars have 8-inch pink flowers and start blooming in the early summer with a repeat in the fall.
Jackman Superba:

The violet flowers start blooming in the summer and continue until the fall. They grow to 12 inches tall and are hardy to Zones 4 to 9.
How To Increase the Blooms on Your Clematis
Clematis prefer to have the roots in cool, shaded soil while the foliage enjoys the full sun.
To get more blooms out of your clematis, apply a nitrogen-low fertilizer, such as this 5-10-10 bloom enhancer, once when the buds have emerged. Repeat once every 4 to 6 weeks depending on the variety.
Some hybrids can repeat their blooms if you deadhead the flowers. They take between 30 to 45 days to grow new flowers after you deadhead them.
Related Questions:
Is There a Clematis That Blooms All Summer?
Some clematis cultivars, such as 'Jackmanii' hybrids, will bloom all summer. They have large flowers and come in different colors including white, pink, and purple.
The most popular hybrids in this group are 'Star of India', 'Comtesse de Bouchard', and 'Alba'.
Which Are the Easiest Clematis To Grow?
The group that blooms in the early spring is usually the easiest clematis to grow. They are hardy plants that can tolerate drought, partial shade, and even poor soil.
However, to get the most blooms out of them, you need to give them a mild, 5-10-10 fertilizer once every 2 weeks and make sure the soil drains well.
Conclusion
With over 200 species in the wild and hundreds more hybrids, clematis are ornamental climbers with stunning flowers.
Some species start blooming in the early spring while others bloom in the summer, fall, or winter. With the right combination, you can have clematis blooms in your garden all year round.