There's a science to shading your garden plants beyond preventing sunburnt leaves and crisp flowers.
Did you know that, for most plants, between 50 and 68°F is the optimum range for photosynthetic enzymes to work their magic?
As self-defeating as it seems, shading your plants in the right way can actually increase plant production and extend the growing season!
Here are 16 different ways of throwing your plants some much-appreciated shade.
This is a woven stretchy fabric that provides different levels of sun protection, depending on the cloth density and color.
Cloth-density percentages usually range from 30% (for heat-tolerant plants like tomatoes and cucumbers) up to 75% (ideal for shade-loving ferns and orchids).
A 40-60% shade cloth is generally recommended for most flowering plants, fruit, and veggies though.
Cloth colors are typically black and green, but blue, red, orange, white, and silver shades are also available, delivering cooler/warmer or shorter/longer wavelengths to meet the specific needs of some plants.
See how cloth color affects production here.
If you have a concentrated area of garden plants in need of shading, then a shade sail can be an attractive alternative to netting, and it doubles up as a nice sun shelter for your patio or backyard too!
These shade sails often come in square, rectangle, or full and half-triangle shapes to accommodate your specific garden area.
Like a traditional sail, it's made with slightly curved edges to prevent the material from sagging in rain or harsh winds and keep it taut long after use.
Love to keep a container garden of shade-loving veggies and plants on your porch or rear decking? A pretty patio awning could be just the ticket.
These cover a generous area and can be mounted more or less anywhere on the side of your house.
Find super-durable models like this one made with UV, rust, and rain-resistant materials – not to mention a retractable feature for when the heatwave has passed!
A pop up canopy tent is a hugely versatile piece of plant shade since you're able to easily erect and remove it as often as you need to throughout the growing season, especially modern tent designs with a one-person setup like this one.
Look for ones constructed from 50+ UPF coating (Ultraviolet Protection Factor) and 150D Oxford polyester fabric to block 99% of the sun's rays and prevent seeping rainwater.
5. Sun Tracking Shelter
A great way to protect highly heat-sensitive plants from the specific glare of the morning or afternoon sun is with a shade that allows you to manually track the sun.
A sun tracking shelter is essentially a fabric shade attached to two metal arches, allowing you to slide the shade along the arches in relation to the sun's position in the sky, giving you much greater control over your plant's needs.
Find out how to make your own shelter here!
6. Use Vining Plants
Go au naturel with your shade cover, and consider planting some gorgeous vine plants! You can train many climbing and trailing vine plant varieties onto the overhead lattice framework of an arbor or pergola.
Depending on the scope of shade needed and the size of your garden, you may decide to train some climbing roses around a small arched trellis or go all out with a green arbor tunnel covered with climbing hydrangea and wisteria.
If you have a wide area to cover, then your garden plants could probably benefit from a large-scale privacy screening, usually made from rugged high-density polyethylene to create 90% visibility blockage.
These can be fitted over chain-link fences or above wooden fences for added shade, or they can be used as a greenhouse covering.
You can normally order custom-fitted screenings too if you want to shade a small row of nursery plants. (See #14 in our list for nature's privacy screen!)
Like a sturdier patio awning with higher opacity, polycarbonate panels can be mounted to your porch or backyard wall.
Because of their lightweight design, they're also safer and easier to install than glass sheeting and 20 times tougher than traditional fiberglass greenhouse panels!
Their multi-layered structure provides plants with 99.9% protection from UV rays, and multiple panels can be easily joined together to suit your shade needs using epoxide glue.
When you need to "spot shade" specific plants rather than large areas of the garden, shade dots are ideal.
These are semi-transparent discs made from UV-coated white plastic with stakes attached to them, so you can place them into any potted or ground-growing plant and provide soft, diffused sunlight.
These kind of look like spinning plates or colorful vinyl discs and look far less obtrusive in your garden than generic shade covers!
Floating row covers are used primarily for keeping pests out and shielding crops from frost, but they also provide excellent shade by permitting around 30-50% light transmittance so shade-happy plants can still flourish.
These are made from spun bonded polyester fabric or "horticultural cloth" and can be placed over metal frames and arches or laid loosely to float over plants, as the name suggests, so the lightweight cover can move up as the plants grow.
11. Tall Fencing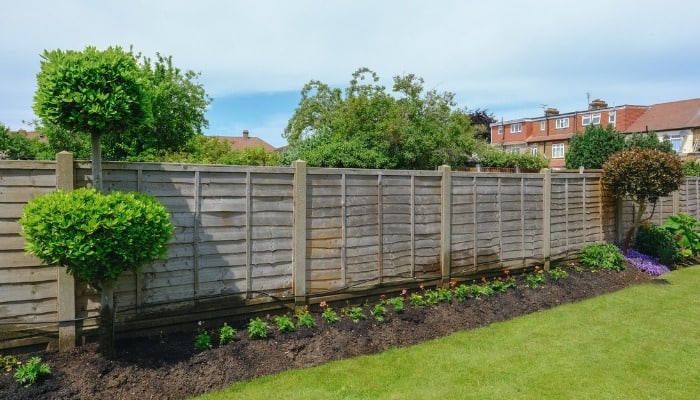 An attractive and permanent shading solution can be to add tall fencing panels.
Most backyard fences total around 4 ftee high on average, but you can invite extra privacy and superb plant shade with a 6- or even 8-foot fence with shade-loving greenery lined up along the base.
Just be sure to check your local zoning laws to see what fence height is permitted as certain states can carry different restrictions.
Consider painting your fencing gray or another dark shade to create the illusion of extra garden space!
Who says roller blinds are only for windows?
These are giant outdoor shades that can be mounted to the wall or ceiling of your patio and are made from similar high-density knitted fabric to block out 90% UV rays and reduce glare.
Ideal if you need to shield your container plants from the midday sun without completely blocking out the natural light.
13. Custom Cabanas
Treat your shade-loving plants to their own little hideaway from the sun by setting up a custom-made cabana.
These needn't be a grand structure like you'd find on a beach or hotel poolside – just a three-walled shelter like these cute DIY designs, only measured to fit the length of your plant bed or crop row.
You could either keep these as a permanent shade feature for your plants or convert them at a later date into an actual daybed or reading nook!
14. Tall Plants and Shade Trees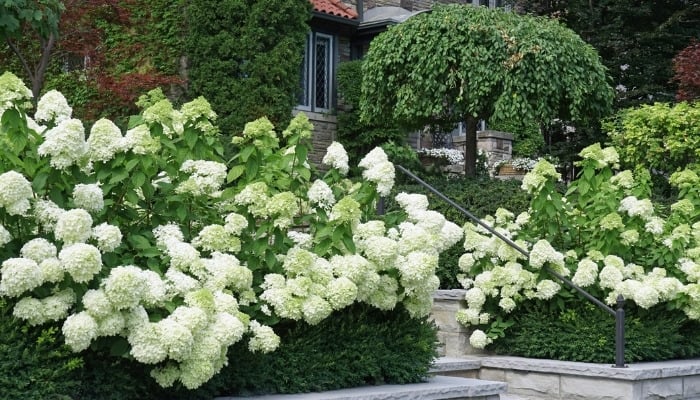 In addition to providing your garden with privacy (and even increasing your home's value), trees and tall plants in your yard cast a generous amount of shade over your sensitive flowers and plants below, giving them gentle, filtered sunlight as nature intended.
If you opt for shade trees, green living expert Derek Markham over at Treehugger recommends the speedy varieties such as American sycamore and hybrid poplars – "poplars especially as these add 8 vertical feet per year."
15. Hoop House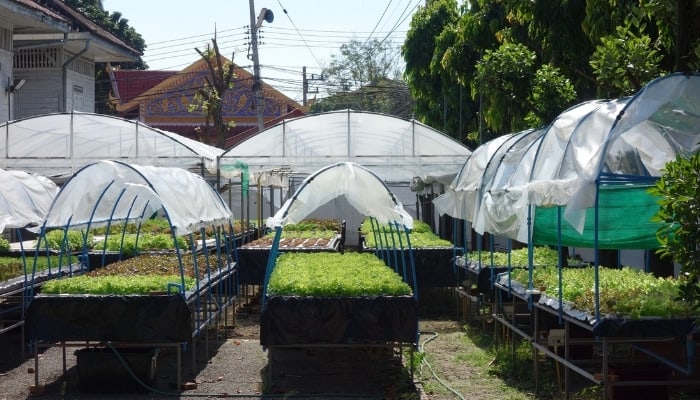 Hoop houses are an easy, cost-effective way to provide your plants with shade and many of the same benefits of a greenhouse, just on a smaller scale and without the heat-trapping element as the arched roof-style covering leaves the ends open.
You can easily construct these by bending ½-inch PVC pipes into arches and lining them in a row over your chosen garden bed with a dark row cover or shade cloth attached.
The great thing about this shade style is that you can customize the hoops to your plant's height, so it can suit low flower beds and tall climbing vegetables.
When in doubt, get your garden umbrella out!
Like a pop-up canopy tent, a heavy-duty outdoor umbrella provides the durable sun shield your heat-sensitive greenery needs along with the free movement so you can spot-shade where needed.
Consider a patio umbrella like this one with an adjustable 6-tilt setting to ensure your plants are covered from various angles.
Conclusion
As you can see, there are various ways to keep your plants shaded from the sun's rays to suit every garden size, and many of them won't break the bank!
For those on a tight budget, shade cloth, row covers, and pop-up canopies make very effective plant shade, but if you fancy a more permanent approach, planting a shade tree or installing tall fencing may be your best bet.