One of the benefits of the rise in popularity of houseplants is the availability of information and new products. "Plant parents" are familiar with the term propagation and many have tried their hand at it already.
Propagation is growing a new plant from a piece of a parent plant. This is a great option when you prune an unruly plant or if you want more plants (for free!).
At the risk of sounding too literal, a propagation station is a station that you use to propagate plants. This can be a simple cup of water or a large decorative piece. A majority of propagation stations are made of glass or clear plastic to allow you to see the root growth in the water.
Without a propagation station, you can end up with cuttings all over your home in random cups. It can be hard to keep track of which ones need fresh water or how long they have been growing. In addition, a decorative propagation station can enhance the beauty of your home.
Propagation Station: The Basics
Propagation stations are fairly basic in their design. Most are small, glass containers that are held in a structure to keep them secure. The idea is to have a container for each individual cutting, so there is no competition for resources.
What Plants Are Best for a Propagation Station?
The best plants for water propagation are from the "aroid" family. This family includes philodendrons, pothos, and monsteras. The ancestor of modern aroids survived on the swampy forest floor, so these plants do a great job of putting out new roots in water.
Some examples of other plants that propagate well in water and will look good in your propagation station include:
Any "string of" varieties

Sansevieria "snake plant" family

Tradescantia family

ZZ plant

Arrowhead plant

Peperomia (Watermelon & Caperata)
You can always experiment with the plants you currently have. Many houseplants can be propagated in water, but it might take some adjustments to get it right.
Most "plant parents" like to propagate a variety of different plants at the same time. Just like curating a bouquet of flowers, setting up your propagation station with a variety of plants can make it more beautiful.
How Do You Use a Plant Propagation Station?
To use a propagation station, you simply put room-temperature water in the containers and place a cutting in each container. Cuttings are pieces of a parent plant that contain at least one leaf (and a node, as necessary for some species).
I also like to add a little SUPERthrive plant vitamin to my water to help expedite the rooting process. By no means necessary, though!
After some time, you will be able to see new roots forming. Once those roots are a few inches long, you can transplant your cutting into the soil.
To maintain your propagation station, all you need to do is change the water in the containers every few days. Just be careful not to damage the young roots during the water change.
What's the Best Location for a Propagation Station?
The best location will depend on your home. Ideally, your propagation station will be near a window that receives bright, indirect sunlight. The area should be fairly warm and free of any drafts or heat sources.
Do You Have To Propagate in Glass?
You do not have to propagate in glass, but it is the preferred material for propagation station containers. Part of the beauty and fun of water propagation is being able to see the new roots form on your cuttings.
Being able to see through the glass also makes it easy to check when the water needs to be changed or more water needs to be added.
It is also possible to use plastic or acrylic see-through containers for your propagation station. However, this is not as ideal because plastic can become opaque over time due to scratches, hard water, and sunlight. While the plastic still functions for propagation, it is not as enjoyable when you can not see the roots.
Can You Use Soil With a Propagation Station?
Yes, you can use soil with a propagation station. However, the glass container set up used for water propagation is not the best option for soil propagation.
Many people use a container with a clear lid to propagate in soil. Take-out containers make the perfect propagation station for soil propagation and this is a great way to repurpose this single-use plastic.
The clear lid allows the cuttings to receive plenty of sunlight but the enclosed space maintains a high humidity, which is crucial for soil propagation.
I prefer water propagation because it allows you to transplant your rooted cuttings into any kind of growing setup from traditional soil to a semi-hydroponic system.
How Long Should Cuttings Be?
The size of your cuttings will vary depending on the plant. The most important factor is that the cutting should have at least one leaf. If the species requires, the cutting should also have at least one node (located where the leaf meets the stem).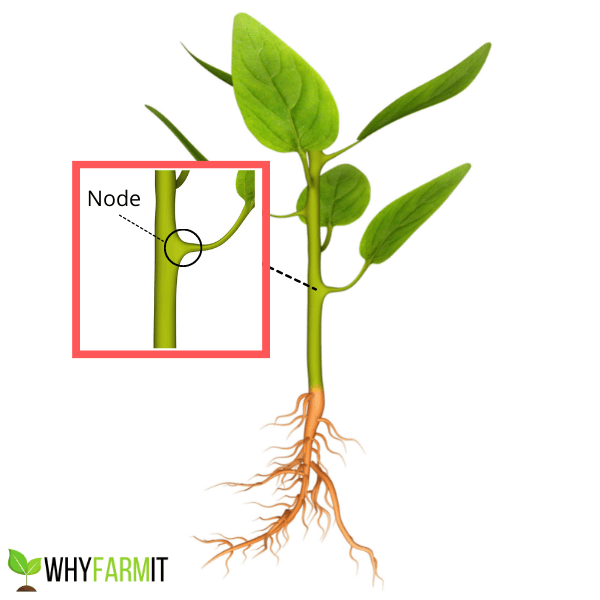 How Long Does It Take for Roots To Grow?
The amount of time until roots start to grow will vary depending on the kind of plant. For example, pothos can start putting out roots within a couple of weeks but a snake plant might take a couple of months before you see any root growth.
When Do You Transplant the New Plants?
Once your roots are a few inches long, the cuttings are ready to be planted in soil. The exact length of the roots will depend on the size of the cutting though. Larger or heavier cuttings will do better with longer roots.
It is important not to leave your cutting in the water for too long after roots have formed. If the roots become too well acclimated to living in water, the plant may have trouble transitioning to soil or the transition will be unsuccessful.
How To Make a DIY Propagation Station
Remember dealing with test tubes in your high school chemistry class? Well, those tubes make the perfect containers for a propagation station. You could even buy a test tube stand and start propagating right away.
Here are directions to create a floating test tube wall-mounted propagation station to add a little pizzaz to your plant area. A piece of wood with hooks is mounted to the wall and test tubes are hung below. To get started you'll need:
A 2"x1" piece of wood, any length

Embroidery floss or thin twine

2" screws

Drill Driver (or drill and screwdriver)

Level
1. Create Your Design
You can use as many test tubes as you like in this design, as long as the wood mount is long enough. You can also decide if you want all your tubes to hang parallel or at varying heights. The wood can be painted to match your decor or left natural.
2. Screw Your Hooks Into the Wood
Once you have your design, space out your hooks and screw them into the wood mount. Make sure to leave room on either end so the screw can be placed to mount the wood. The 2" side of the wood should be against the wall on one side and have the hooks on the other.
3. Mount the Wood on the Wall
Use the drill to create a small guide hole approximately 1" in from both sides. Using the level, place your mount in the desired location on the wall. Use the screwdriver attachment on the drill (or a screwdriver) to secure the wood to the wall.
4. Hang the Test Tubes
If you want all of your test tubes to hang parallel, cut your floss/twine to identical lengths. Create a loop and tie the floss tight below the rim of the test tube. Create a loop at the other end to hang on the hook. For a more creative look, braid the floss or use different colors.
5. Begin Propagating!
Now that your DIY propagation station is all set up, you can fill the test tubes with water and begin propagating your cuttings. To clean the tubes or refill the water, carefully slip the loop off the hook and replace it when finished.
More Creative DIY Propagation Station Ideas
Repurposed candle votives and holders

Collection of vintage bud vases

Hanging lightbulbs

Macrame hanger

Hanging glass ornaments

Magnetic containers on a refrigerator
Best Propagation Stations
Size: 8.7" L x 2" W x 5" H
Number of Stations: 5
Materials: Wood, glass
Best Feature: can be wall-mounted or free-standing
The Mono Modern Wall Planter has a simple, clean design that will blend with any decor style. Due to the shape of the base, this wall hanger can also be displayed on a tabletop, adding to the variety of decor options.
The 7-inch tall glass tubes are the perfect size for propagating any of your house plants. However, heavier cuttings may cause the propagation station to be unstable if it is not mounted on the wall.
Pros
Versatile Design

Small enough for windowsills or shelves

Easy-to-clean glass

Includes spare test tube
Cons
Not stable for heavier cuttings

Wood can warp with humidity
Best Wall-Mounted Propagation Station: UMEIED Globes
Size: 2 – 6", 2 – 4.8", 2 – 4"
Number of Stations: 6
Materials: Glass
Best Feature: Varying size for different plants
The mounted UMEIED Globes are a gorgeous way to turn your cuttings into artwork. The package includes specialty nails to ensure that your glass containers are securely attached to the wall. Add some pebbles or aquarium rocks to make your propagation station even more decorative.
Pros
Easy-to-mount nails

Save space on tabletops
Cons
Glass is thin and fragile

Hard to get additional nails from the seller
Size: 5.5" H x 9.5" W x 4" D
Number of Stations: 3
Materials: Wood, glass
Best Feature: Attractive design
The vintage design of the Maghat Bulb Vase Set is what many people might imagine a propagation station to look like. This set is easy to assemble and the decorative effects on the wood make it look homemade. It will be as if an antique botanist was displaying your cuttings.
Pros
Durable glass

Vintage design
Cons
Some disassembly needed to clean bulbs

Only 3 stations
Best Free-Hanging Propagation Station: OrganicSun Planter
Size: 30" H x 10" W x 2.3" D
Number of Stations: 6
Materials: Wood, macrame, plastic
Best Feature: Two-tiered design
The OrganicSun Planter will add a boho-chic element to your home and plant collection. The two-tiered, hanging design allows plenty of space for cuttings to trail or show off their large leaves. Plastic test tubes mean you never have to worry about the tubes breaking if they fall.
Pros
Unique design

Plenty of space for cuttings
Cons
Plastic is not eco-friendly

Macrame knots can loosen
Size: 4.7" W x 1.6" D x 4.7" H
Number of Stations: 4
Materials: Wood, Glass
Best Feature: Two pieces
Not only are the IVOLADOR Tube Stands a great price for a propagation station, but they allow for versatile use. Two stands each hold two tubes, allowing your cuttings to be placed in different locations around your home or together for a larger design. The test tubes come in two different sizes that you can mix and match.
Pros
Affordable price

Versatile design
Cons
Unsealed wood

Fragile glass
Get Cutting, Start Propagating!
Regardless of which propagation station fits your needs and style, these are all great options to get you propagating. There is something very satisfying about growing your own plant from a cutting and seeing it flourish.