Peonies come in different varieties, and some are more fragrant than others. It's one of the key reasons that peonies are so popular. Not only do they have bright colors, but they tickle the senses in more ways than one.
Which peony is the most fragrant? The most fragrant peonies are white peonies, pink peonies, and double peonies with a wide variety of cultivars in each group. Top choices include Athena, Lovely Rose, and Kansas. You can mix and match peonies in the garden to create a festival of colors and scents.
If you're looking for the most fragrant peonies to plant in your garden, this guide is for you.
Most Fragrant Peonies
Not all peonies are equal in beauty and scent. Some have exquisite scents, although not that strong. Others will overwhelm you with their rich and layered fragrances.
The top three most fragrant peonies are the white, pink, and double peonies, but even among these groups, some varieties are more fragrant than others.
White Peonies
Contrary to popular belief, white flowers are not limited to wedding coronations. You'll need those white shades to round out a flower bed popping with vibrant colors.
Think of white peonies as the frame for other more colorful varieties and species. Since they have a very strong scent, they'll always have a place in any garden.
White peonies can be single or double blossoms, and they have different sizes. The flowers range from medium to large.
The large white flowers do best on the edge of the flower bed while the medium-size flowers can be mixed with other flowering plants to cut down on the bright colors and create a more subdued atmosphere.
Popular Varieties
Athena: This hybrid grows to 3 feet tall and has large white flowers with pink shades in the middle and a yellow disc. They bloom for 10 days on average and are easy to grow and maintain.
Bowl of Cream: The fluffy petals of this peony are a sight to see, and with a strong fragrance that matches its beauty, this white peony is hard to pass up. The plant is 3 feet tall and grows in full sun or partial shade.
Bridal Shower: The name says it all. This double-blossom peony has a wonderful scent and is pure white. The petals have ruffled edges and make a great floral arrangement.
Pink Peonies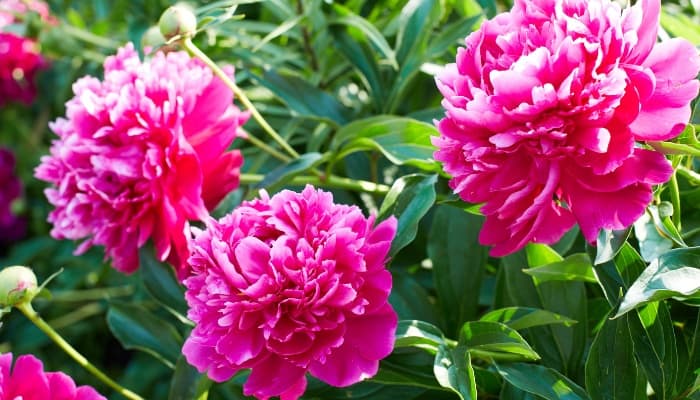 Like many other peonies, pink peonies grow in Zones 3 to 8, and they stand out with their delicate colors and strong scents.
They usually bloom longer in cooler seasons. Even though the flowers need full sun, the bloom season is shorter in hot climates than in colder zones.
Some pink peonies bloom early in the spring while others wait until the summer to open up. You can mix those varieties to enjoy a longer bloom season that lasts until midsummer.
However, you should make sure that the late bloomers can grow in your Grow Zone since peonies are not heat-tolerant.
Popular Varieties
Roselette: A hybrid known not just for its pink petals but as an early bloomer as well. The flower is the first to bloom among all the peonies, and it has a yellow disc. The single flower has a strong fragrance and grows to 3 feet tall.
Rosea Plena: The ruffled deep-pink petals of this flower are always the focus of attention. It's one of the oldest peony cultivars, and it also blooms early. It's a double blossom, and for peony lovers, it's a must-have in every garden.
Lovely Rose: Don't let the name fool you. This peony has nothing to do with roses. Its petals are pink, and the center is yellow and fluffy. This is a semi-double cultivar with silky blooms that attracts attention with both its colors and fragrance.
Double Peonies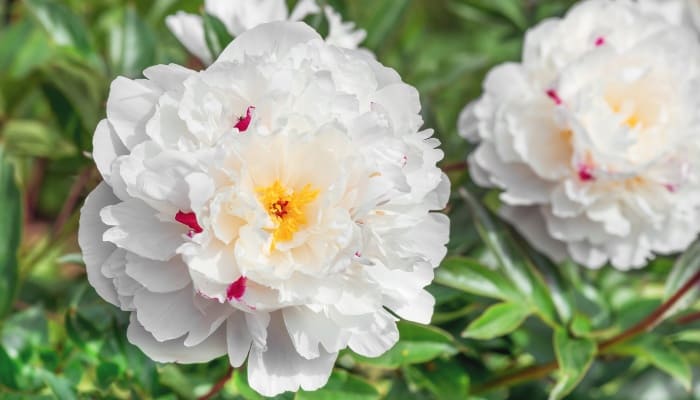 As the name implies, double peonies are those hybrids and species of peonies that produce flowers with double layers of petals.
There are many varieties of double peonies, and some have no center at all as the petals take over every part of the flower.
Some will have smaller outer petals as the middle petals stand out, and a third type will have large outer petals and smaller center petals.
For peony aficionados, double peonies are the ultimate prize in the garden. You can plant the varieties in a way to create an impressive visual effect with not just different colors but different flower shapes and sizes as well.
Popular Varieties
Sarah Bernhardt: A popular variety with pink petals and an attractive scent. The color is delicate for such a double blossom, but this only adds to its charm. The plant needs to be staked or caged and should be sheltered from strong winds.
Festiva Maxima: This double hybrid is pure white with pink lines lacing the edges. The ruffled petals cover the center and give it a fluffy and soft appearance. When planted alongside more colorful peonies, they create a wonderful contrast. As with other double peonies, it needs to be staked.
Kansas: This hybrid is a true show-stopper. Between the double petals and the loud pink shades, it takes center stage in any floral arrangement or flower bed. Kansas is actually semi-double and doesn't require staking since the flowers grow on top of sturdy stalks.
What Do Peonies Smell Like?
Peonies have different fragrances that correspond to the different varieties and types. Most peonies smell like roses, but others have a citrus smell, and some have spicy scents.
Why Don't My Peonies Smell?
Not all peonies have fragrance. Some peonies don't have a smell at all. If your peonies used to be fragrant and now they don't smell, this might be a sign of a disease.
Best Peonies for Cut Flowers
The best peonies for cut flowers are:
Boule de Neige
Vogue
Madame Calot
Honey Gold
Claire de Lune
Doreen
Related Questions:
Why Do My Peonies Smell Bad?
If you cut peonies, put them in a vase, and then notice a bad smell, this could indicate a dirty vase or dirty water. You'll need to wash the vase with soap and rinse it thoroughly.
Change the water every couple of days to prevent bacteria and fungi buildup.
Why Do Some Peonies Not Smell?
Some peony varieties have no smell at all. If you want a fragrant peony, choose one or more from the above lists.
Closing Thoughts
Peonies come in a wide variety of options. Some peonies are more fragrant than others. Pink, white, and double peonies are some of the most fragrant peonies you can grow in the garden.
Mix early bloomers with those that open up late to enjoy a long bloom season of peonies that extends from early spring until midsummer.