The decision to homestead is not one to make lightly, and there are a hundred smaller decisions to be made before you decide to make the plunge.
Everything from which plants and animals to raise to educating your children to what type of tools you need are all decided by that first choice of where you will start.
And by "where," I don't mean where you will begin your research. I mean what location will you physically decide to build this thing.
North Carolina is ideal for homesteading. There are a variety of climates from which to choose, and with relatively mild winters and hot, humid summers in most areas, you can expect a long growing season. There is an abundance of natural resources, and regulations are generally loose.
As to where you should begin your research, the answer is right here.
In this post, we will give you a basic rundown (with links!) of all of the basic dozen or so bits of information you will need before you begin.
We will focus on North Carolina specifically in our State-by-State series on Must-Know Key Information for homesteading in various states.
Homesteading in North Carolina
When considering any state as a possible homesteading option, you must consider the varying laws that will impact you.
Second to that will be access to the land itself and finally the climate itself, as all three of these factors will determine what you can actually do.
North Carolina Homestead Laws
According to USLegal.com, Homestead laws "are designed to protect small individual property owners, such as homeowners, from the ever-changing economic climate of the United States."
This means that if you can get your homestead recognized as such by the state, it will be immune to certain types of foreclosure and seizure from certain types of creditors.
For North Carolina, you can register a portion of your land, tools, or resources with a combined value of $1,000. Sadly, this isn't much.
If you choose to follow this route, it may even cost you more in fees than you are likely to save in the unlikely event of a credit seizure.
You might be better off burying your tools and hoping the tax man doesn't find them.
North Carolina Livestock Laws
North Carolina is a "fence-in" state, which means there are no public lands on which you can allow your livestock to roam freely.
That being said, there is virtually no restriction as to what type of animal counts as livestock.
In short, if your animal is being used for commercial or production purposes, it is considered livestock.
Recently, a case was decided in North Carolina that goats can be considered pets if they are not being used to produce or sell anything.
This loophole was used to get around a homeowners association that disallowed livestock.
Therefore, if you want chickens but some self-important neighbor thinks you shouldn't, just don't eat them (the chickens, that is) until the court case is settled. That way, they will be considered pets.
For a more complete Livestock Law rundown, check with the National Ag Law center.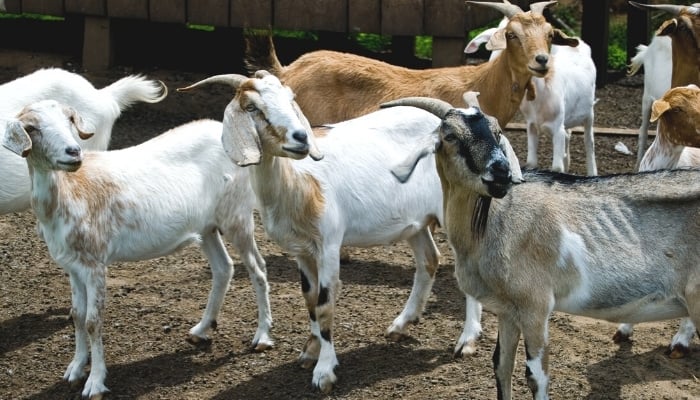 North Carolina Zoning Laws
While it largely depends on which county in which you live, in general, NC is very friendly to homesteaders.
Most often, you will need to check with your county administration office to get a residential or commercial zoning permit (depending on if you will sell your homestead's extras or not).
The complete law is covered here in CH160D, but the only way to really get the question answered is to check with the county office you are living in.
In general, zoning laws and building permits only apply to buildings of a certain size, so if you're clever, you can get around them.
The main point for zoning laws is to make sure you aren't drinking poisoned water or poisoning someone else's water, you aren't living in a building that will fall over in a stiff breeze, and you aren't going to have poor enough sanitation that a new cholera outbreak will begin at your place.
It is always easier to ask forgiveness than permission, so if you are doing all of the building yourself, build it well, and then have the inspector come out to show you how to make compliance.
If you are hiring a contractor, they will take care of all of that for you.
North Carolina Cottage Food Laws
According to Cottagefooclaws.com, North Carolina does not have any such food laws. However, there are ways to get around that lack of regulation and start selling your own home-produced food.
Click the link above for a more complete rundown, but in NC you can start a food-selling business so long as you have good labels and are selling one of these types of foods: bread, candy, condiments, dry goods, pastries, snacks, and preserves.
North Carolina Homestead Exemption
The Homestead Exemption Act allows you to protect your homestead should you have to file for bankruptcy.
This is truly amazing for homesteaders because we are all about creating sustainable lifeways on our own land.
So even if the economy experiences ups and downs and we get caught up in it, the homestead exemption will allow us to continue living sustainably even after bankruptcy.
You can exempt up to $35,000 under this policy or $60,000 if you are age 65 or older.
For more, check here.
North Carolina Gun Laws
Homesteaders need a gun or two in much the same way they need shovels and cast iron pans.
They're tools that should be maintained and used responsibly for their explicit purpose: humane hunting, the defense of your livestock from predation, and, the defense of your family from human predators.
In North Carolina, gun laws recognize a difference between hunting weapons and so-called "self-defense weapons."
Basically, this boils down to the difference between rifles and shotguns vs. pistols.
Sales of rifles and shotguns are relatively unrestricted, but pistols require a permit, a gun-safety course, and a mostly clean criminal record.
The NRA has more information here.
Available Land in North Carolina
The types of land available in North Carolina range from coastal areas like marshlands and swamps, flatlands in central NC that are good for large livestock and cash crops, and mountainous regions that are good for subsistence gardening, hunting, and small livestock like poultry.
If you are considering off-grid, the mountainous region is absolutely your best choice simply because of water availability. That being said, the central flatlands will give you better solar access. It's a toss-up.
North Carolina Land Prices
If you are buying undeveloped land, you are looking at spending anywhere from $1K to $15K depending on where in the state you are.
As a general rule of thumb, the closer to the population centers you are (the coast and central NC), the more you can expect to pay. Up in the mountains, however, the prices will be much lower.
North Carolina Climate
Here is a quick and dirty rundown of basic climate information:
Winters are mild, and summers are hot.
NC is very, very humid all across the state.
Rainfall averages about 1 inch per week, but this may happen in bouts of dry vs. bouts of wet.
Mountainous areas can get 5 inches of snow per year.
According to the Koppen climate scale, North Carolina is cFa in along the valley and coast, and cFb in the mountains. This will affect what plants will grow well and how you should prepare your homesite to deal with watershed and light availability.
Hurricanes
North Carolina does have extreme weather events; namely, hurricanes.
Hurricanes can affect every part of the state, producing flooding, high winds, and possibly tornadoes. These can even affect the mountains, y'all, so make sure you are prepared.
Hurricanes can be dealt with, however. Like all homesteaders, you should have a multiplicity of systems for water, power, and food.
Hurricanes will test your planning and systems even as they test the larger social infrastructure we rely on for food, communication, medicine, and the like.
The hurricane season is expanding with warmer ocean temperatures.
In the past, hurricane season ran from early summer to late fall; however, as temperatures rise and fuel stronger storm systems, we could expect hurricanes to become a year-round phenomenon by 2040.
That's only 18 years from this publication — anyone who has raised a child knows that 18 years can go by very quickly.
North Carolina Growing Season
Depending on your location, the last frost of spring and the first frost of autumn will determine your growing season.
If you are in central or coastal NC, early March will be the start of your season. If you are in the mountains, it could be as long as mid-May before the ground stops freezing overnight.
The first frost of fall could be in early September for the mountains or late November for central or coastal NC.
This is quite a range, and the knowledge of average frost dates will absolutely impact your homestead.
Make sure the hardiness of both your garden plants and your livestock will fit within these expectations.
Number of Homesteaders in North Carolina
According to the USDA's 2018 State Agriculture Overview, North Carolina has 46,400 farms.
Now, we know that not all farms are homesteads, and not all homesteads are farms.
However, legally the similarities are high, and based on this number, we can assume that North Carolina has a lot of homesteaders.
You will definitely be able to find a community no matter where in the state you are.
Is North Carolina Good for Off-Grid Living?
Absolutely! North Carolina is a relatively free state as far as regulation is concerned, making it a legally welcoming state to homestead.
In addition to loose regulations, NC has enough water to keep your garden growing, your livestock moving, and your family clean and hydrated.
Can You Homeschool in North Carolina?
Homeschooling and homesteading go hand-in-hand. In North Carolina, you do have to notify your local school district of your intent to homeschool, and you have to have your student take the state-wide standardized test.
These restrictions may seem like a lot and may be intimidating, but there are many ways to meet the school division requirements. Here is the actual law.
That being said, if you have internet and a decent computer, The North Carolina Virtual Academy is a great choice that blends the two options.
Your child can stay home, and they can be a part of a public school that will meet all of the state's requirements.
How To Find Land for Homesteading in North Carolina
When looking for land to purchase, you will need to decide if you are starting from scratch and building your own home (if so, off-grid may be your best option, just saying) or if you want to buy an older property and maintain it.
If you are the former, whitetailproperties.com is a great source for finding undeveloped land. They allow you to search by water and grid availability.
If you are the latter, landsearch.com will be useful for finding properties that already have a fair amount of infrastructure in place.
Tips for Homesteading in North Carolina
Homesteading is not like any other lifestyle. Normally, our culture requires us to specialize in a trade or in a specific field.
Homesteading, however, requires us to be generalists. We have to be amateur to fair carpenters, plumbers, ranchers, flock-keepers, merchants, gardeners, loggers, tech-savvy electricians, and hunter/trackers.
And that's only if we don't homeschool our kids at the same time!
For North Carolina specifically, make sure your research going into it is specific to the county and region you plan to homestead.
Don't get information that's great for growing plantains and oranges if you plan on putting your homestead in the mountains. Those types of fruits will only grow in the southern coastal region of the state.
With such a wide variety of climates, it would be easy to get your data mixed up.
Related Questions:
How Many Acres Do You Need for Homesteading?
It's possible to homestead on a single acre! It's also possible to homestead on 300. It really depends on what your goals are and how much land you need to accomplish them.
Alternatively, the driving decision behind how much land you need could be how much space you want between you and your neighbor. We won't judge.
After homesteading for a few years, you'll drive through town one day and wonder how you ever managed to live within sight of someone else's home. Where's the privacy?
Is North Carolina Good for Hunting?
North Carolina is amazing hunting land! Depending on the season and your location, you could hunt anything: flies, hops, bounds, runs, swims, hides, or sprouts (mushroom hunting is a thing!).
Legally, North Carolina is very friendly to hunters. There is limited regulation for hunting guns, no regulation for archery, and hunting/fishing licenses are easy to come by.
There is no need for registration if you are hunting on your own or on a friend's land (with their permission, obviously).
Conclusion
Homesteading is a journey in rooting yourself to the land in a reciprocal relationship that binds you to something bigger than yourself, bigger than your career, and bigger than the government even.
It binds you to the land, which was here before us and will be here after us.
North Carolina is an old land with mountains that have been around longer than humans.
To dig in deep to those Appalachian mysteries and to the people who call it home will be the ultimate journey of your life.
May it go well for you.