Foliar spray is a technique for watering and delivering minerals and nutrients to plants. The method is somewhat controversial even though it is used very successfully.
Is foliar spray good for plants? Foliar spray is good for plants because it helps them absorb more water, minerals, and nutrients. Foliar spray is used with great success on plants ranging from tomatoes to fruit trees and countless species in between. In theory, foliar feeding helps plants breathe as well by cleaning the stomata.
Read on below and discover everything you need to know about foliar sprays and how to use them!
Foliar Sprays Explained
Foliar sprays revolve around the technique known as foliar feeding – applying liquid minerals and nutrients directly to the foliage of plants.
The school of thought behind foliar feeding is that plants may absorb a higher level of beneficial liquids and cleaner air through stomata (leaf cuticles with pores).
Why Foliar Sprays Are Effective
Foliar sprays are effective because the liquid is fed to the plant via a fine mist directly on the foliage.
Nutrients that are typically not being absorbed in high enough rates through the roots are being absorbed directly through pores in the leaves and distributed through the plant.
How Effective Are Foliar Sprays?
Foliar sprays are not exactly the most effective way of delivering nutrients and minerals to plants as not all of the spray is absorbed, but foliar feeding does work.
More specifically, it helps treat deficiencies in iron, zinc, magnesium, and more.
According to groworganic.com, foliar spray is absorbed by plants up to 20 times faster than nutrients fed through the soil.
Types of Foliar Sprays
There are countless ingredients used in foliar sprays, making them more ideal for specific purposes than for others. We discuss three of the most prominent types of foliar sprays below.
Foliar Feeding Sprays
These types of foliar sprays are for feeding plants nutrients, minerals, hormones, and other essentials that they would otherwise struggle to uptake on their own.
Foliar Sprays for Pests
Another popular foliar spray is the pest type. These potent sprays both kill insects and prevent other pests from taking interest in your plants.
Foliar Sprays To Fight Diseases
Some foliar sprays are used specifically for fighting disease or preventing it. These sprays typically work as all-purpose protection from plant disease and harmful bacteria.
What Plants Benefit From Foliar Spray?
Fruits and vegetables, as well as any other plant that has leaves with pores to absorb liquid, benefit from foliar spraying.
Not only does foliar spray provide much-needed nutrients and minerals, but it also helps prevent pests and protect plants from drought and high temperatures.
Can I Foliar Feed Everyday?
Depending on the type of foliar spray and specific plant,you may be able to foliar feed every day. Using foliar spray at least every three days or so is recommended.
Many gardeners spray as little as once every 2 to 3 weeks.
Can You Foliar Spray Too Much?
If your plant's leaves are dripping when you're finished spraying their foliage or the plant is showing signs of over-fertilization, give it a day or two before you spray again.
Otherwise, spraying daily or every other day can be beneficial, especially if your plant is stressed.
Is There an Organic Foliar Spray?
You may be able to find an organic foliar spray on the market, but you can definitely make your own.
For example, try mixing 4 cups of powdered calcium and 1 gallon of water.
It doesn't get much easier, and this simple spray provides nitrogen, magnesium, calcium, collagen, and phosphorus!
Can You Use Cal-Mag as a Foliar Spray?
Cal-Mag, the Plus variety specifically, works most excellently as a foliar spray. Its basic makeup helps correct common deficiencies, just like any other foliar spray worth its salt.
That said, it should be avoided during flowering phases with certain plants to avoid causing mildew or mold in tight-forming flowers.
We cover Cal-Mag and its many benefits extensively in this article.
Is Foliar Spray Good for Hydroponic Plants?
Foliar spray is great for hydroponic plants.
Most foliar sprays work well for pest prevention, fight harmful bacteria, and provide extra nutrients not present in the system's water supply.
Furthermore, foliar spraying is proven to increase hydroponic yields.
If you've never experimented with hydroponics, know that it's a lot easier than you think. Learn all about hydroponic methods and techniques here.
Is Foliar Fertilizer Good for Indoor Plants?
Foliar fertilizer works wonders for many indoor plants. It provides them with much-needed nutrients they have no way to get when in a pot in your home without you adding it to the soil.
Spraying indoor plants is the cleanest and quickest way to ensure they are pest free and growing as healthy and fruitful as possible.
A word of caution: Not all fertilizers are recommended for foliar feeding houseplants. Always read the product's instructions before applying to indoor plant leaves.
How Fast Does Foliar Feeding Work?
Foliar feeding works pretty fast anyway that you look at it. If applied properly, effects begin in as little as four hours but usually aren't visibly noticeable for around 48 hours.
When applied poorly, the foliar spray may take days to weeks before it starts working properly.
How To Apply Foliar Spray for Feeding Plants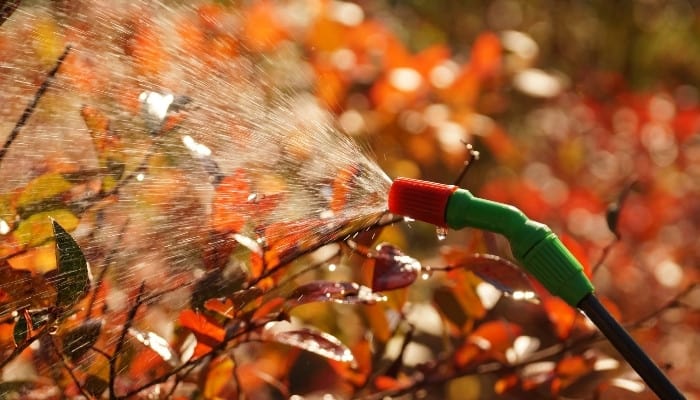 Applying foliar spray for feeding plants is way easier than it sounds.
Here are the steps:
Mix your foliar spray into a sprayer according to package directions.

Shake well before use.

Adjust the nozzle on your sprayer to a fine mist spray setting.

Spray the top of the leaves from the top of the plant to the bottom.

Spray the bottom of the leaves from the bottom of the plant to the top.
Best Time To Spray Foliar Fertilizer
The best time of the year to foliar spray is whenever your plants are in need of extra nutrients, minerals, or protection from pests or disease.
In other words, plants benefit from foliar spray all year round.
There is a best time to foliar feed plants daily: when the stomata are open, typically from 7 a.m. to 10 a.m. or after 5 p.m. in the evening.
Keep in mind for both the time of the year and time of day, temperatures higher than 80°F may cause the spray to be less effective in general.
How To Apply Foliar Spray To Fight Pests & Disease
Applying foliar spray to fight pests and disease is only slightly different than spraying for fertilization purposes.
That's because when spraying for pests and disease you lay the spray on a bit heavier, making sure to thoroughly soak the underside of leaves and stems or branches as well.
Best Foliar Sprays for Fertilizing Plants
For fertilizing plants, providing otherwise hard-to-get minerals and nutrients, our top picks for the best foliar sprays are:
The MicroLife Organic Super Seaweed foliar spray is completely organic and provides over 100 various minerals, hormones, vitamins, and other essential nutrients for plants.
It is a multipurpose formula made for benefiting any type of plant in nearly any growth phase.
This foliar spray is fast acting, effective, and considered professional strength. Furthermore, it has been on the market for slightly over three decades.
That means the producers must know a little something about making good foliar spray!
Pros:
Large quantity for an affordable price

100% organic

Professional strength

100+ vitamins, minerals, hormones, and other essentials

Beneficial for all plants

Manufactured for over 30 years
Cons:
Maybe more foliar spray than you need or want

Costly, if you prefer buying a smaller amount of foliar spray
The second fertilizing foliar spray on our list is Canopy Boost, a quart package of spray packed with a patented formula for improving photosynthesis, reducing yellow wilting leaves, and stimulating metabolism and root development.
In other words, Canopy Boost is an all-around sustainable organic fertilizer for plants in the form of foliar spray. It doesn't get any better than that.
Pros:
Improves photosynthesis

Reduces dying and wilted leaves

Stimulates root growth and metabolism

Organic hormones and nutrients

Sustainable formula
Cons:
Could be expensive to buy large amounts
The 13 Essentials fertilizer is another popular and effective foliar spray for fertilizing plants. This product is proof that big things come in small packages.
The 13 Essentials foliar spray consists of iron, boron, calcium, sulfur, zinc, magnesium, manganese, cobalt, copper, molybdenum, phosphorus, and potassium.
This foliar spray increases fruit and vegetable yields and makes plants bigger and stronger in general if used regularly.
It's also noteworthy that it doesn't take too much of the product to make a decent amount of spray.
Pros:
13 essential ingredients plants need

Increases yield

Strengthens plants

Includes 10 micronutrients and two macronutrients

Easy to use
Cons:
Best Foliar Sprays for Pests & Diseases
If it's disease or pests that you want to spray your plants for, three of the best foliar sprays include:
Weighing in at slightly over 1 pound, this pure neem oil spray from Plantonix is an extremely popular foliar spray for preventing pests and disease.
It is made with 100% OMRI listed and certified organic cold-pressed natural neem oil.
This neem oil foliar spray is nontoxic and works well both inside and outdoors on all plants.
Pros:
Made by a trusted brand

100% organic

OMRI certified

Nontoxic

Works inside and outside

Effective for a wide variety of issues
Cons:
May be more expensive than other choices
The Mammoth CANNCONTROL is one of the best foliar sprays for pest and disease control, period.
That's why the manufacturer includes a 2-year guarantee for the product. It's advertised as three times more powerful than competitor products.
This foliar spray kills mites, fungus, aphids, flies, gnats, and more. It also helps prevent disease and harmful bacteria from infecting plants.
It works well with plants in any growing medium. The main ingredient is organic thyme oil.
Pros:
Works very well

Three times more powerful than similar products

Made with natural thyme oil

Kills pests and prevents disease

Works well in all growing mediums
Cons:
250 milliliters may not be enough foliar spray for you
This convenient copper fungicide from Bonide comes in two 32 ounce spray bottles, ready to go right out of the package with no mixing necessary (after shaking up nicely, of course).
The spray works well for delicate plants and plants growing in organic soils as well as for sturdy, established plants.
This copper fungicide helps control harmful plant bacteria and potential disease on most flowers, fruits, and vegetables. It also works effectively with most houseplants as well.
Pros:
32-ounce spray bottle (x2)

Proven to work well

Great for organic gardening

Works well for delicate plants

Protects plants from pests, disease, and bacteria
Cons:
May need to reapply after heavy rains or overhead watering
How To Make Foliar Spray for Plants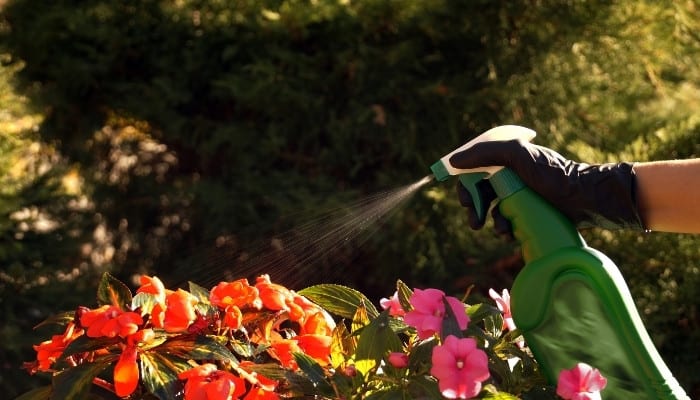 Making your own foliar spray for plants is a quick and easy process, and chances are good that you already have the ingredients needed for a basic spray on hand.
Here are a few types of popular homemade foliar sprays:
Kelp spray –

This homemade foliar spray made from concentrated kelp mixed with water is best for applying to plants showing signs of stress.

Fish emulsion –

The main intent and purpose of fish emulsion is for providing quick boosts of nitrogen to your plants. It is made of fish, including bones, guts, skin, so prepare for an odor.

Compost tea –

The main ingredient in this hot brew is compost from the garden. It provides plants with loads of much-needed nutrients.

Garlic sprays –

This homemade repellent spray for plants is easy to make – just mix garlic, dish soap, water, and mineral oil.
Related Questions:
Can You Spray Urea on Plants?
Urea works well as a foliar spray. As fertilizer does to soil, it supplements nutrients to plants that are struggling to take up water, minerals, nutrients, or nitrogen from their growing medium.
What Happens When You Spray Vinegar on Plants?
Vinegar works as a fast-acting organic pest and weed killer. The problem is that it also dries the plants out that you're trying to protect.
That means you'll need to use a foliar spray or water them more often if you spray vinegar on your plants.
Can I Spray MiracleGro on Plant Leaves?
MiracleGro isn't made for use as a foliar spray even though some gardeners have claimed to use it as such.
Spraying MiracleGrow on plant leaves may cause spots that look similar to those found on underwatered plants, plants with deficiencies, or plants with fungus.
A Final Word About Foliar Sprays
Foliar sprays are no doubt beneficial for most plants. The trick is using the right type of spray and applying it only at the best times to do so.
Foliar feeding before 10 a.m. once per week is more than enough to give your plants a boost as well as providing temporary protection from pests.