Fallen in love with a flower beginning with D lately, or perhaps you want to surprise a Daphne, Daisy, or Dianella in your life with their floral namesake?
However you stumbled across this list, get ready to be charmed by these distinctive, dreamy flowers beginning with (yep, you guessed it) the letter D…
1. Daffodil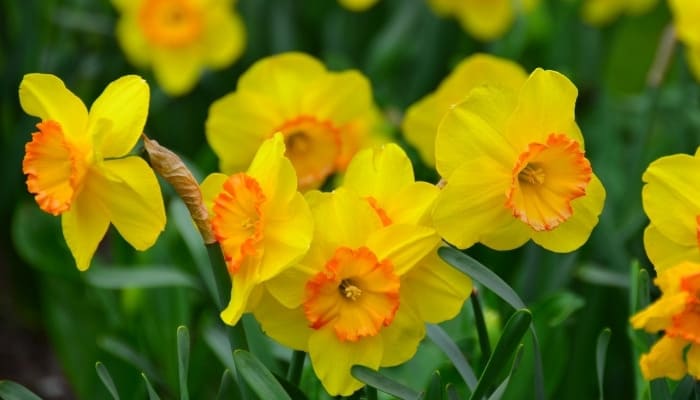 These cheery springtime symbols have bright yellow-white trumpet-shaped blooms on dark-green stalks sitting 6 to 30 inches high.
Daffodils bloom in spring and late winter and also come in peach/orange/red varieties. Plant them in full sun and slightly acidic soil.
2. Dahlberg Daisy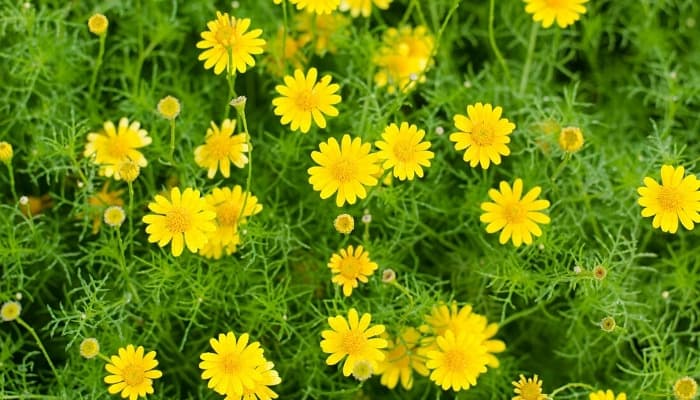 At 6 to 12 inches, these dainty golden-yellow daisies in feathery green foliage provide stunning and fragrant groundcover.
They bloom from late summer to fall and also come in deep orange tones. Start them indoors for earlier blooming.
3. Dahlia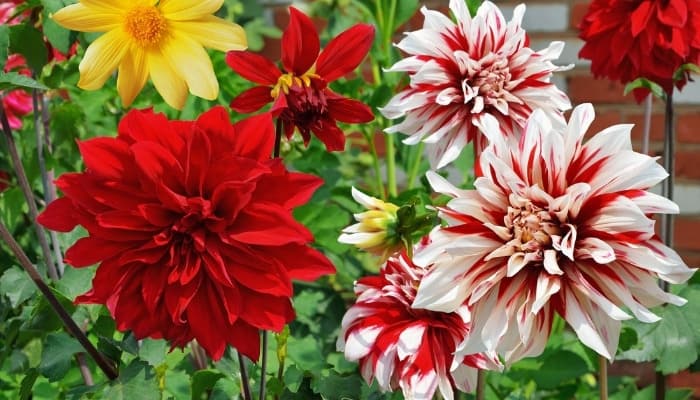 These vibrant blossoms range from 6 inches to 5 feet tall, featuring small pompom-sized heads to large dinner-plate-sized starbursts in every color of the rainbow!
Dahlia's bloom in summer and need deep watering – with so many varieties, be sure to choose the right one for your grow zone.
4. Daisy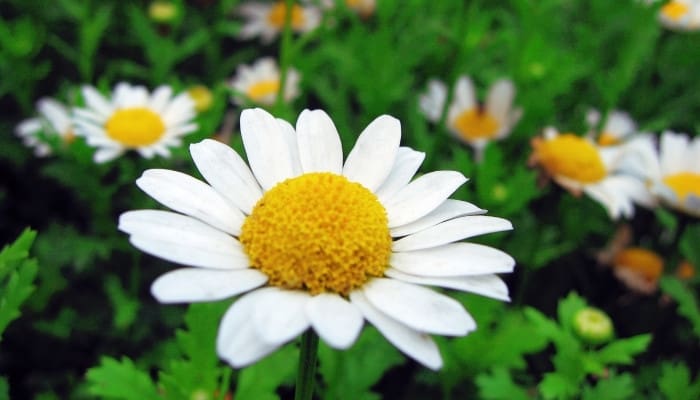 Classic daisies bloom in summertime and can feature single or double white petals with a sunny, yellow center borne on dark green stalks measuring 10 inches to 2 feet tall.
They also come in pink and red varieties and won't tolerate soggy soil.
5. Dalmatian Bellflower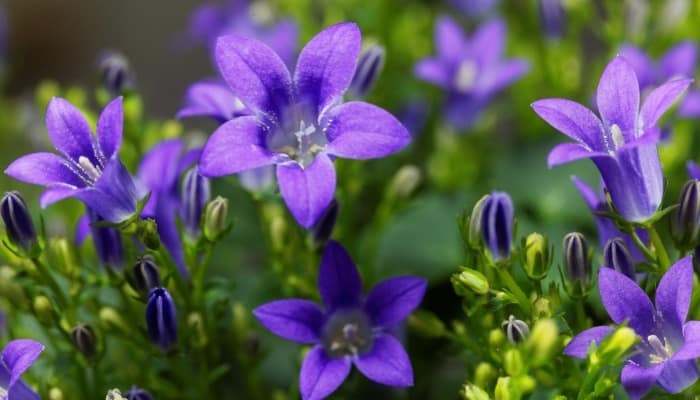 These 3 to 6 inch-high blossoms make charming border flowers with their violet/blue bell-shaped heads among medium-green leaves.
Dalmatian bellflowers bloom from late spring to fall and perform best in climates where night temps don't exceed 70°F.
6. Dalmatian Iris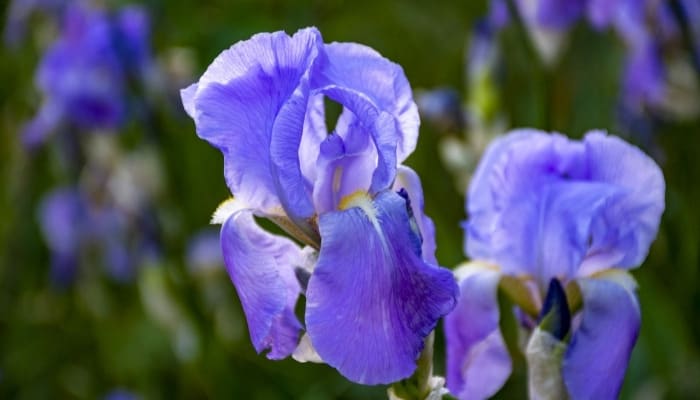 A tall, showy flower, Dalmatian irises feature pale-blue blossoms amid gray-green leaves and stand 24-36 inches tall.
These bloom in late spring through early summer and also come in lavender and deep-purple shades. Give them a full sun spot and well-draining soil to help them prosper.
7. Dandelion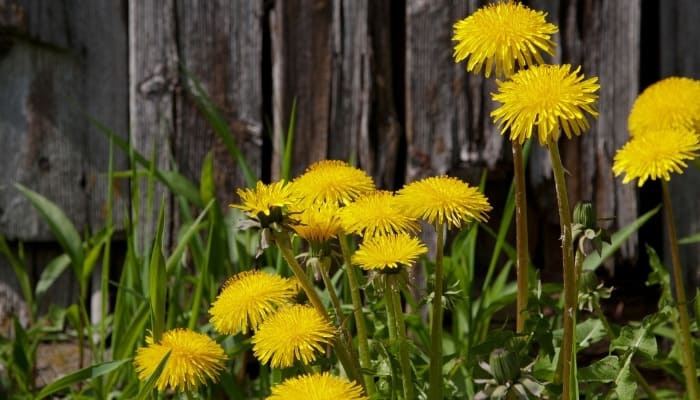 The prettiest weed there is – dandelions bloom throughout spring and fall and feature a rosette of golden-yellow petals on 2- to 6-inch dark-green stalks.
They also come in rare white/peach/purple varieties and do best in garden climates that stay consistently at 70°F and above.
8. Daphne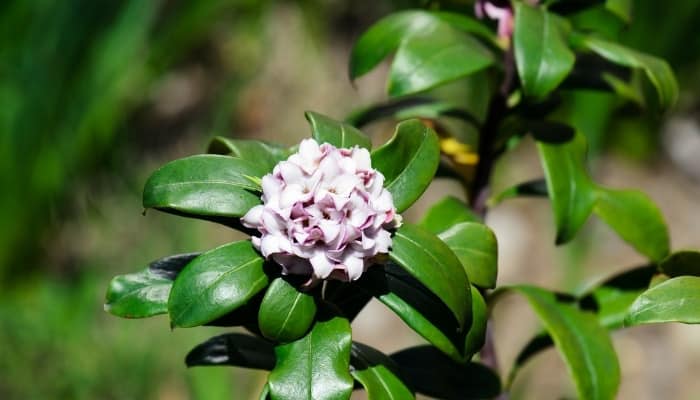 This pretty shrub plant features clusters of tiny pink/purple/cream flowers on evergreen leaves and blooms in early summer.
Daphne blossoms will grow up to 1.5 meters tall and do best when grown in moist soil in zones 5-9.
9. Datura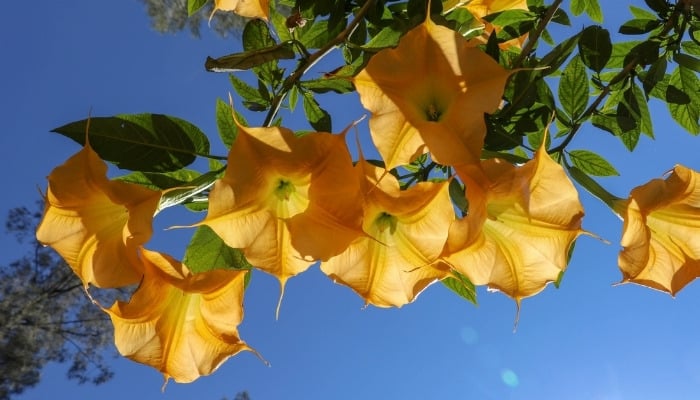 Datura features showy white trumpet-shaped blooms among bushy, dark-green foliage which grows around 3 to 4 feet tall and wide.
Flowers can also be purple/red/yellow and bloom from summer through to frost. Plant in rich, loamy soil for the best success.
10. Daylily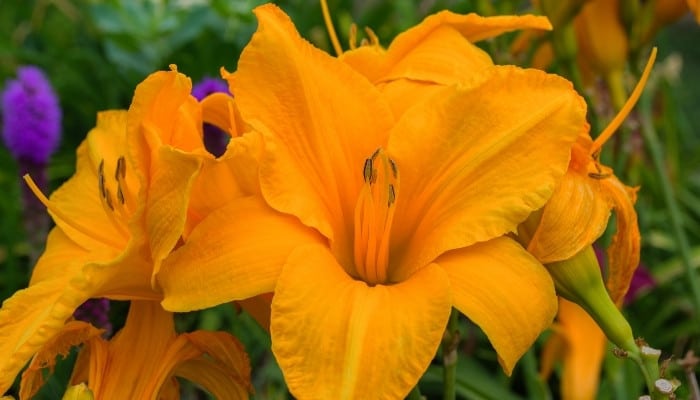 These dainty orange lily-shaped flowers bloom from spring to fall on 24 to 30-inch medium green stalks, though single blossoms last only one day, hence the name.
Daylilies also come in pink/purple/red varieties and need nutrient-rich soil and full sunlight.
11. Delosperma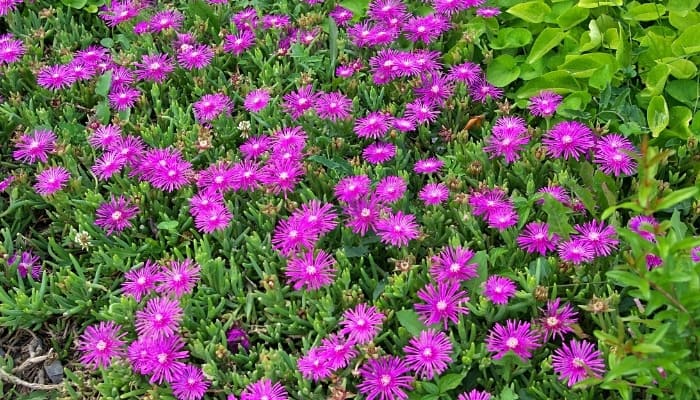 This 3 inch tall succulent produces bold daisy-like blossoms in petals of popping pink/white/orange or purple with yellow or pink centers.
Delospermas or "ice plants" bloom spring to fall and prefer sandy, well-draining soil.
12. Delphinium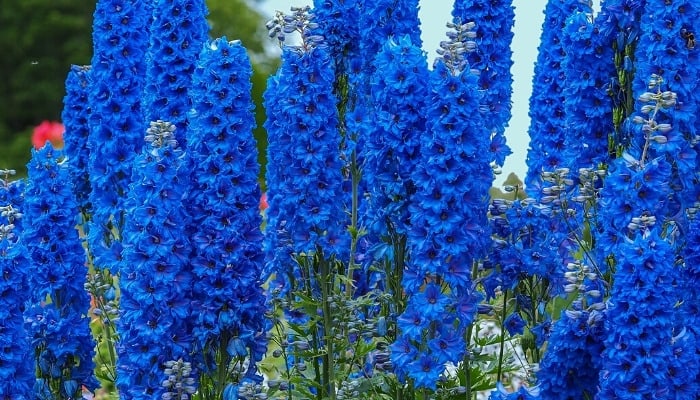 Delphinium flowers grow in tall spikes of violet-blue and white star-shaped blooms in summer but also come in red/yellow/purple varieties.
These reach 3 to 5 feet tall and perform best when grown in Zones 3-7.
13. Desert Candle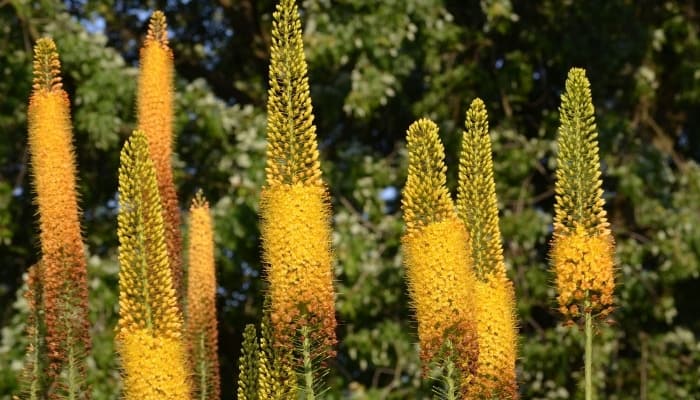 Desert candles are 2 to 10 feet tall bottlebrush-shaped spikes that bear hundreds of minute yellow, white, copper, or orange flowers.
These bloom from late spring to early summer, require succulent soil, and are perfect for Grow Zone 8.
14. Desert Marigold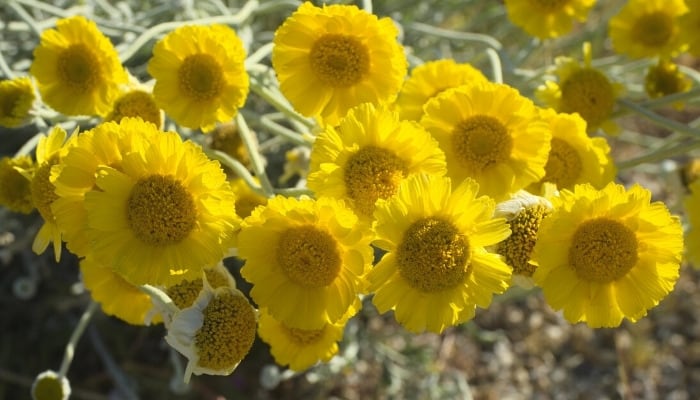 These small but beautiful mound-forming flowers feature bright golden daisy-like heads growing 12 to 18 inches high.
Desert marigolds bloom in spring and come with either pale-yellow or bronze centers. These prefer dry, sandy soils.
15. Desert Rose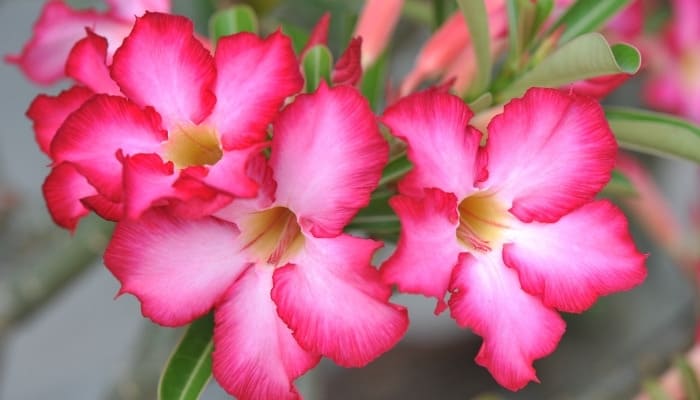 The exotic desert rose boasts white and hot-pink trumpet-shaped flowers among emerald-green leaves and grows 3 to 9 feet tall.
These bloom early spring through midsummer and also appear in crimson/purple/white shades, loving direct-sun climates between 70 and 100°F.
16. Deutzia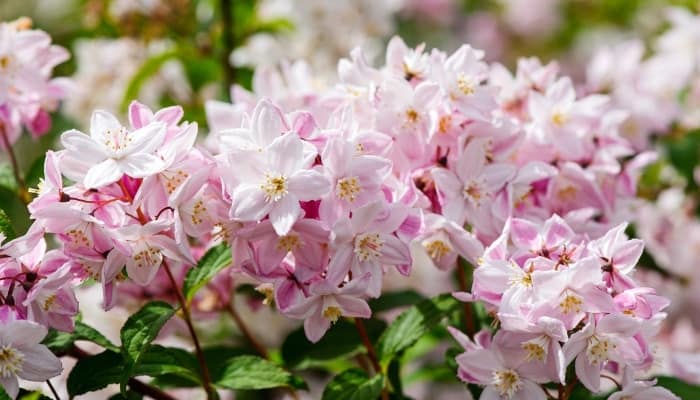 These pretty shrub plants bloom in mid to late spring with branches of tiny white star-shaped flowers.
Deutzia also appears in red and pink-toned varieties and grows up to 4 to 6 feet tall. Keep them in partial shade in temperatures no lower than 40°F.
17. Devil-in-a-Bush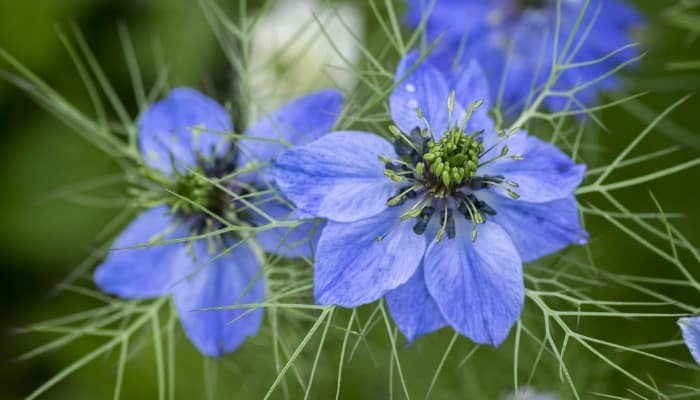 This unusual plant blooms in early summer, producing blue spiky, star-shaped blooms above medium-green thread-like foliage.
It also comes in pale-purple, pink, and white varieties and reaches 8 to 20 inches. Plant in richly organic soil and full sunlight.
18. Dew Flower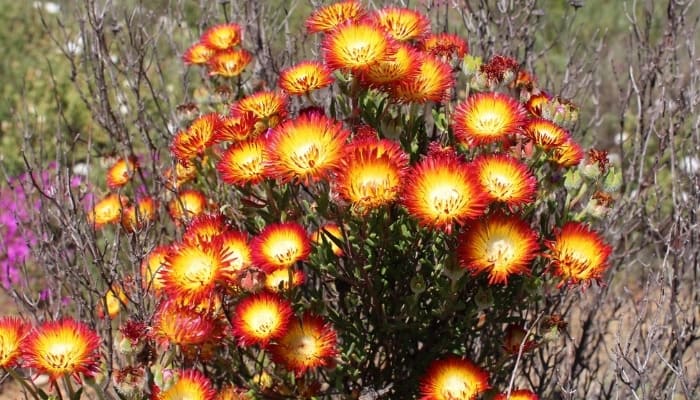 These fiery orangey-red flowers with white centers bloom spring through summer and grow up to 2 feet tall around fleshy, succulent leaves.
Dew flowers also have red and yellow varieties and grow best in soil with added perlite or horticultural grit.
19. Dianella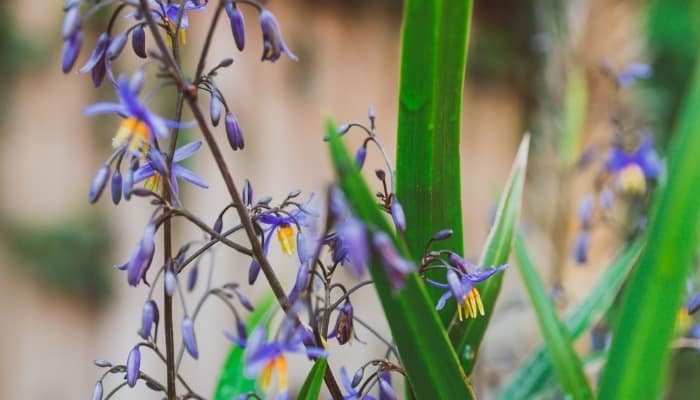 Dianella is a grass-like plant producing dainty bluish-purple/white star-shaped flowers with golden anthers and glossy purple berries.
These bloom from spring to summer and reach over 3 feet tall, performing best in Zones 7-11.
20. Dianthus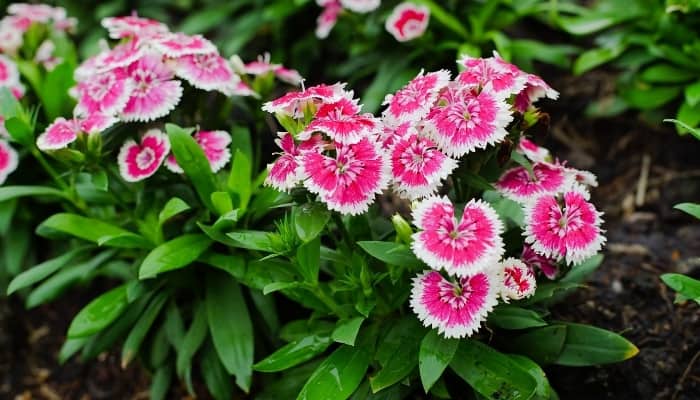 Dianthus flowers feature white star-shaped blooms with subtle pink specks and fringed petals. These bloom from spring through fall, reaching 3 feet tall and also come in deep-pink, purple, and red shades.
These prefer full sun and slightly alkaline soil.
21. Diascia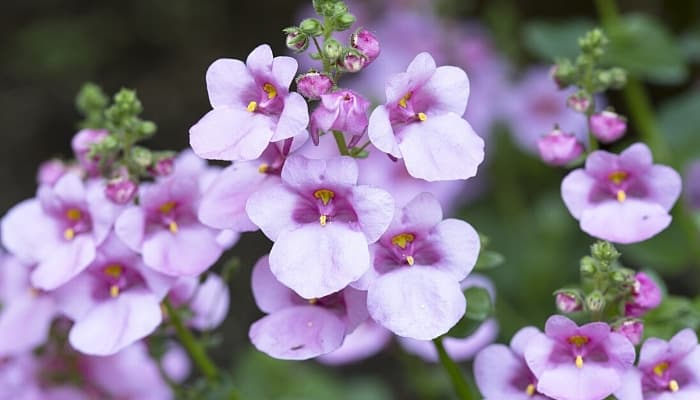 These pretty orange blossoms feature one petal longer than the rest and grow 6 to 12 inches tall surrounded by dark-green oval leaves.
Diascia blooms midsummer to late fall and has red and purple variations. It grows best in acidic soil.
22. Dicentra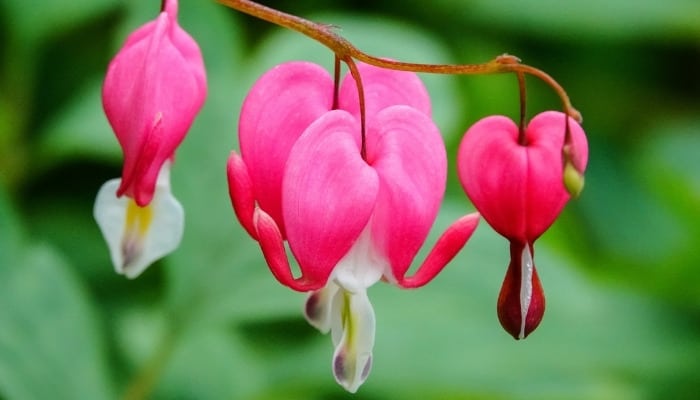 These delightful heart-shaped blossoms dangle together from slender stems and come in pink, white, red, and purple shades.
Dicentra blooms midspring through early summer, reaches 3 feet tall, and thrives in moist soil rich in compost and leaf mold.
23. Dietes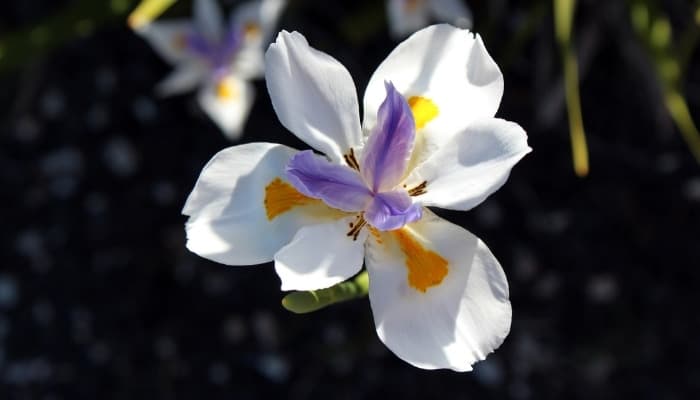 Dietes or "African Irish" produces showy white blooms with purple/yellow centers on spiky dark-green foliage.
This blooms spring to summer and grows up to 4 feet tall. This flower loves moist soil – planting in a boggy area is ideal.
24. Digitalis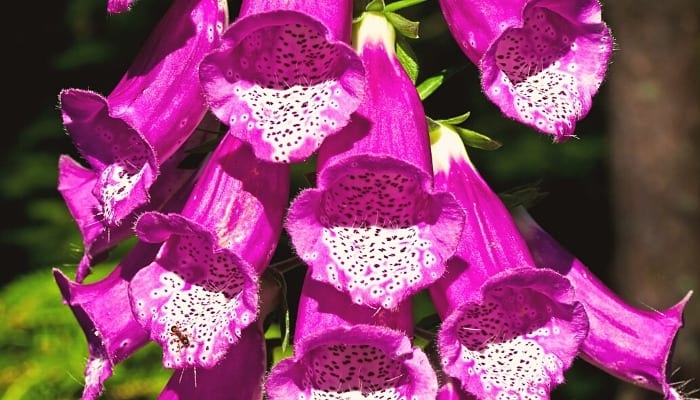 Digitalis or "foxgloves" feature pretty clusters of purple bell-shaped flowers on 2- to 5-foot-tall stalks.
These bloom late spring to early summer and come in yellow, white, pink, and red variations. Use support stakes for taller varieties.
25. Dipladenia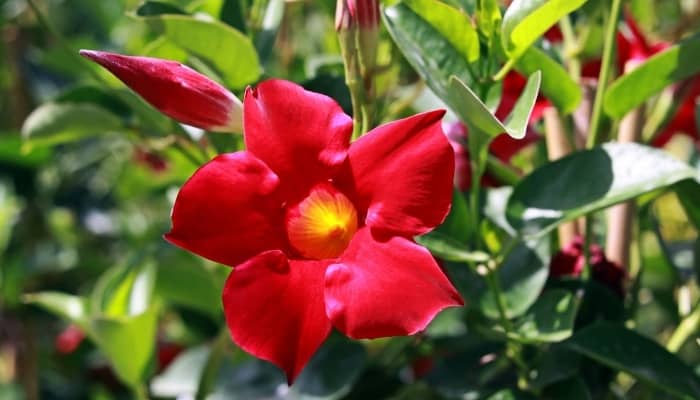 These white trumpet-shaped flowers with sunny-yellow centers bloom around midsummer and also come in pink and red shades.
Dipladenia reaches 1 to 2 feet tall and should be moved to a sunny indoor area once temps dip below 45°F.
26. Dittany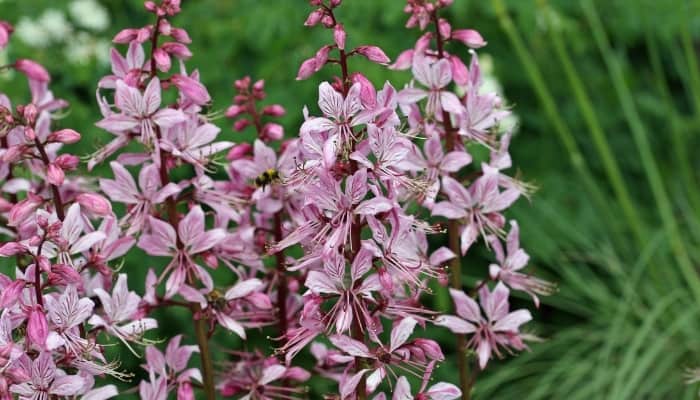 Dashing dittany flowers produce showy pinkish-purple blossoms with dark-purple vein detailing on the petals. These reach 2 to 3 feet tall and bloom midsummer.
Dittany has white, lilac, and red varieties and prefers sandy, well-draining soil.
27. Dracula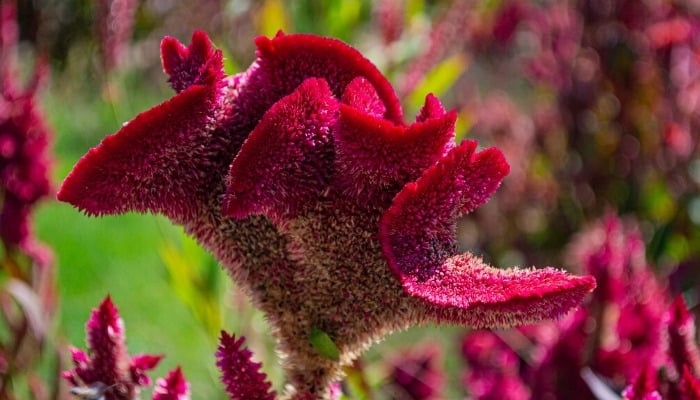 This unusual flower features burgundy fan-shaped blossoms with a ruffled, velvety texture atop dark-purple foliage.
This blooms mid to late summer and grows up to 16 inches tall. Keep Dracula in a full-sun location in moist soil.
28. Dragon Flower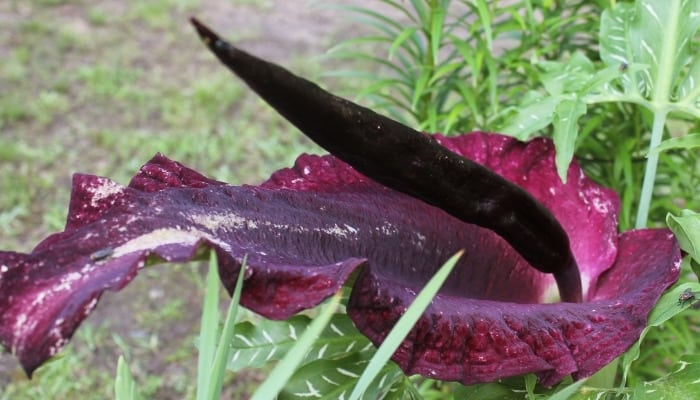 The striking lily-like blossom has a long black spike surrounded by a deep-purple bract and grows up to 4 to 6 feet tall.
Dragon flowers bloom late spring through early summer and come in purple and maroon bracts. These do best in Zones 7-10 in full sun.
29. Drumstick Flower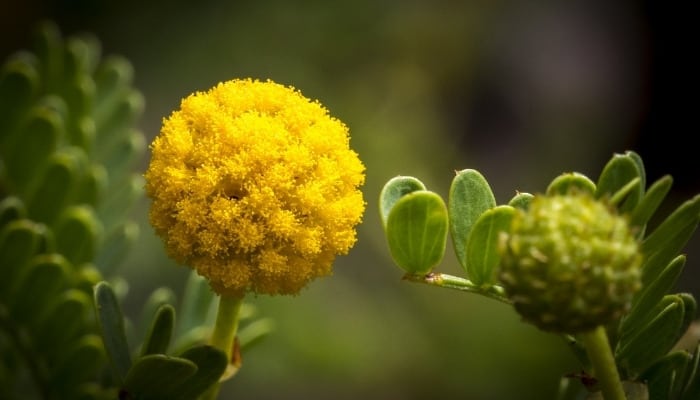 Botanically known as Craspedia globosa, this quirky plant produces spherical heads of yellow flower clusters.
These bloom in summer, reach 3 feet tall, and perform best in full or partial sun.
30. Dryas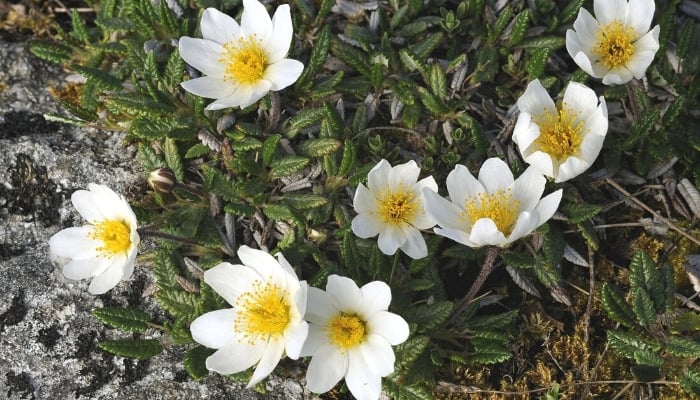 This pretty creeping species grows to just 4 inches tall and sends out large cup-shaped creamy white flowers with yellow centers around early or mid summer.
Dryas flowers can also be yellow and prefer gritty, sandy soils.
31. Dyer's Chamomile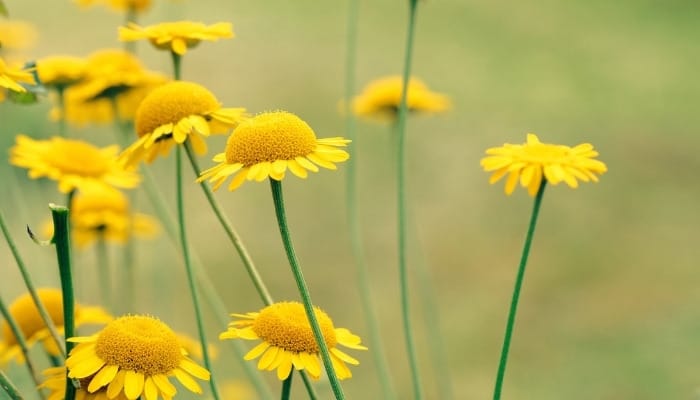 This bushy plant produces golden-yellow cone-shaped flowers in late summer and grows 2 to 3 feet tall.
Dyer's chamomile also has lemon-yellow and cream varieties and is best grown in slightly alkaline soil in full sun.
32. Dutch Iris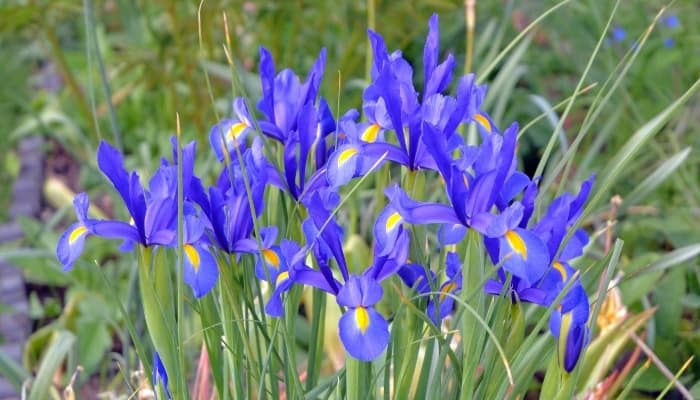 This striking iris species has cornflower-blue petals with sunny-yellow lower petals borne on stems measuring 1.5 to 2 feet tall.
Dutch iris blooms in spring and also appears in purple, white, and yellow shades. Plant in sandy soil rich in organic matter.
33. Dutchman's Pipe Cactus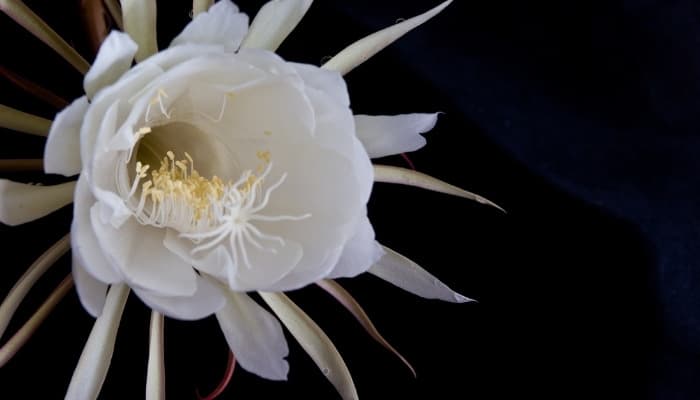 Also dubbed "orchid cactus," this showy succulent produces a layered rosette of broad and slender white petals and grows 8 to 10 feet tall.
This blooms for one night only in spring and grows best in partial shade in Zones 10b-12a.
34. Dutchman's Breeches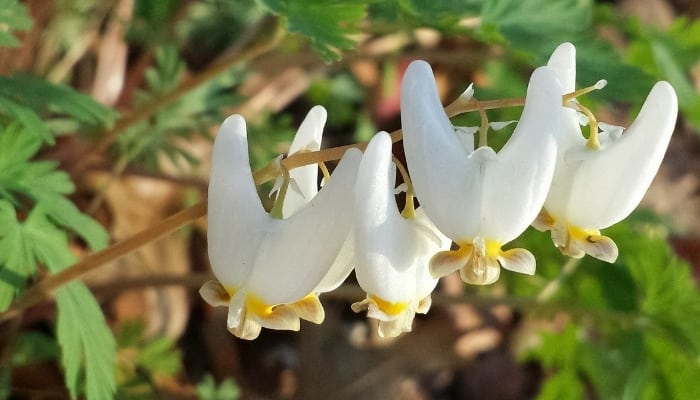 This quirky wildflower grows 6 to 12 inches tall and features white blossoms shaped like upturned pantaloons.
These bloom in late spring and some varieties have a pinkish-purple tinge. Plant Dutchman's Breeches in humus soil in dappled shade for success.
35. Dwarf Crested Iris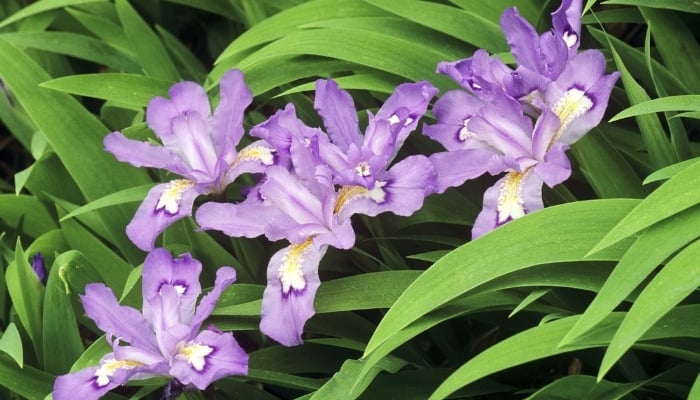 This pretty mat-forming plant grows 6 to 9 inches, producing pale-violet flowers with white/yellow markings atop bright-green leaves.
They bloom midspring and come in blue and purple shades, excelling in light shade.
Conclusion
Many of these D-lightful flowers have super simple growing needs and can be planted in garden soil or enjoyed as fresh-cut flowers.
Whether you prefer classic or unusual statement blossoms; tall or groundcover plants, the above flowers have something to please everyone!