When considering which plants to plant with your azaleas, you should think of plants that flourish under the same conditions, which would mean acidic soil and shady areas.
You are not limited to only flowering plants. You can choose trees, shrubs, and low-growing plants as options as well.
Azaleas thrive in well-draining acidic soil with a soil pH between 4.5 and 6.0. They need a soil texture that retains some moisture but not so much as to drown the plant.
Partial shade is ideal for azaleas as is, if possible, a place where they can get the morning sun and afternoon shade.
Indirect sunlight is perfect for azaleas, and they like humid, mild conditions. Keep them out of any harsh winds and extreme freezing conditions.
Many plants would be good companion plants, but we will concentrate on the top 20 picks.
1. Dogwood Trees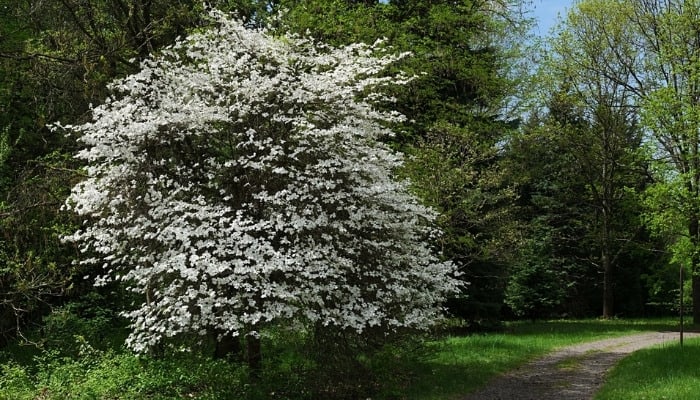 Dogwood trees are part of a group of deciduous trees and shrubs. They belong to the Cornus genus and have spectacular branches that add year-round interest and pretty flowers in the spring.
Average height: 15 to 40 feet
Colors available: The most common color is white, but pink is popular as well.
Bloom time: Depending on the variety, dogwood trees flower from mid-March through May.
Popular varieties: Common dogwood, mountain dogwood, kousa dogwood, Cornelian cherry, Canadian bunchberry
2. Coral Bells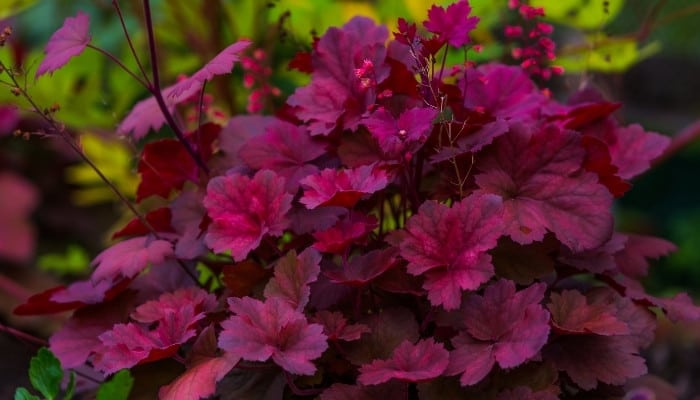 Heucheras are known for their neat low mounds of foliage in exciting colors. They have a woody stock and produce small bell-shaped flowers on tall, elegant stems that make lovely cut flowers.
Average height: 8 to 18 inches tall
Colors available: Foliage available in deep purple/mauve, pink, bronze, bright lime, green, and pewter-gray. Flowers are tiny white, pink, or red in the summer.
Bloom time: Bloom early summer to midsummer
Popular varieties: Autumn leaves, chocolate ruffles, green spice, marmalade
3. Soapwort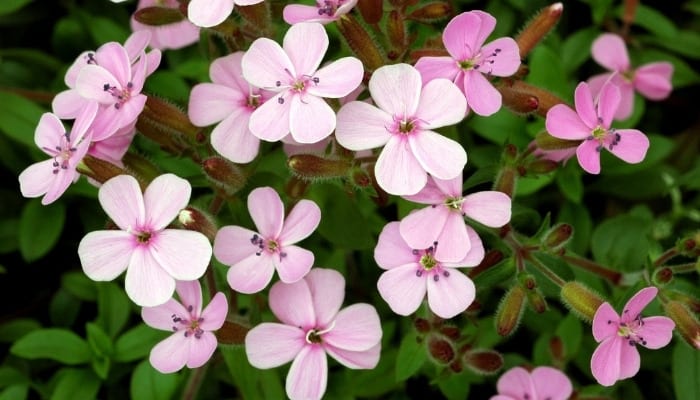 Soapwort is a perennial plant with upright stems carrying oval leaves and blooms with clusters of fragrant pale-pink or white flowers.
It makes a lovely addition to any partially shady garden and even has a place in your herb garden.
Average height: 50-70 centimeters
Colors available: White, pink, or purple flowers
Bloom time: Flowers June to September
Popular varieties: Boston pink, Bouncing Bet, Fuller's herb, rock soapwort, Wild Sweet William
4. Hostas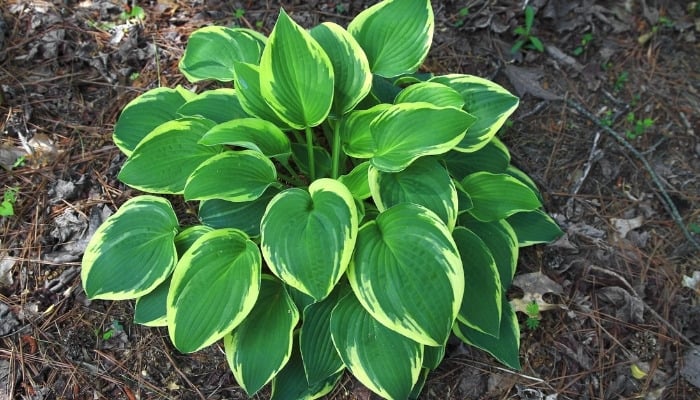 Hostas are shade-tolerant foliage plants with origins in East Asia and clusters of mauve or white flowers in spring. They are slug and snail resistant, which is what every gardener desires.
Average height: 40 centimeters
Colors available: Blue, lavender, or white trumpet-shaped blossoms; wide range of foliage colors
Bloom time: Between May and September for three weeks, depending on variety
Popular varieties: Blue Mouse Ears, Golden Tiara, Whirlwind, Komodo Dragon
5. Mountain Laurel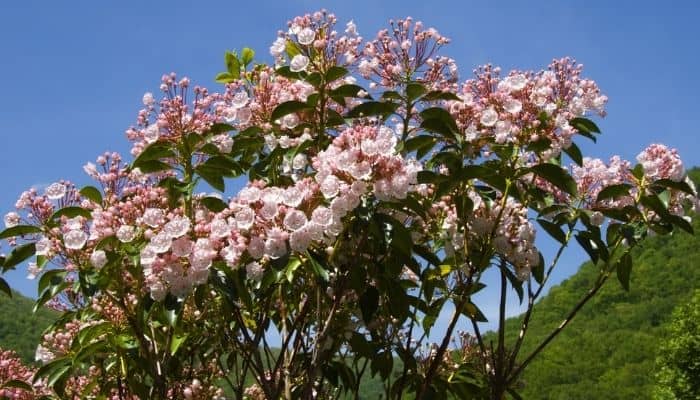 This dense, bushy shrub with glossy evergreen leaves produces attractive blooms in large clusters.
Average height: Approximately 1 meter
Colors available: Off-white, pinks, scarlet, rose, and burgundy
Bloom time: Late spring and early summer
Popular varieties: Bay laurel, California laurel, English laurel
6. Columbines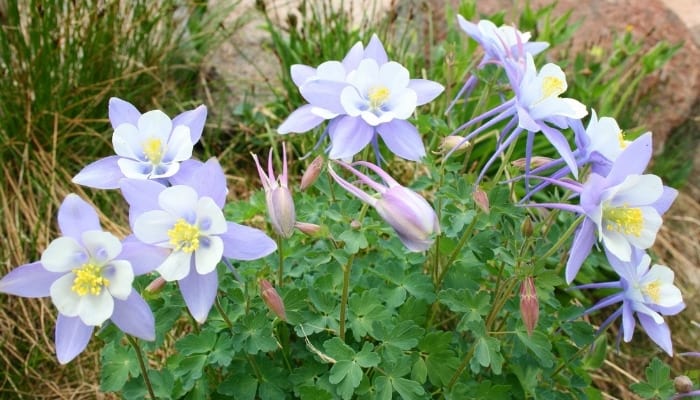 This pretty plant can be found in woodlands and belongs to the buttercup family.
Columbines produce delicate multi-colored flowers on slender stalks, perfect for attracting butterflies and hummingbirds.
Average height: Flower height 20-30 centimeters, plant height 30-60 centimeters
Colors available: Many colors, including red, yellow, blue, white, pink, and purple
Bloom time: Midspring to early summer
Popular varieties: Crimson star, McKana hybrid, Rocky mountain, Clementine salmon-rose
7. Boxwoods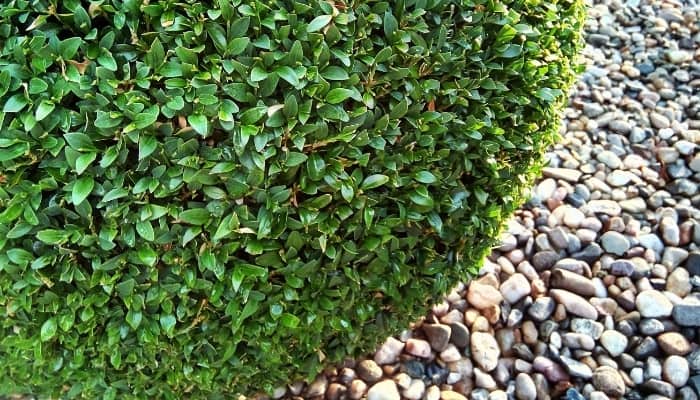 This shrub is known for its characteristic round or oval shape. It is one of the oldest recorded plants used for ornamental gardening.
Boxwood is slow-growing but can be cut or trimmed often without dying back.
Average height: 2 to 12 meters tall
Colors available: Yellow-green flowers and evergreen foliage
Bloom time: Tiny flowers in spring
Popular varieties: English boxwood, American boxwood, Fastigiata boxwood, Vardar Valley boxwood
8. Hydrangeas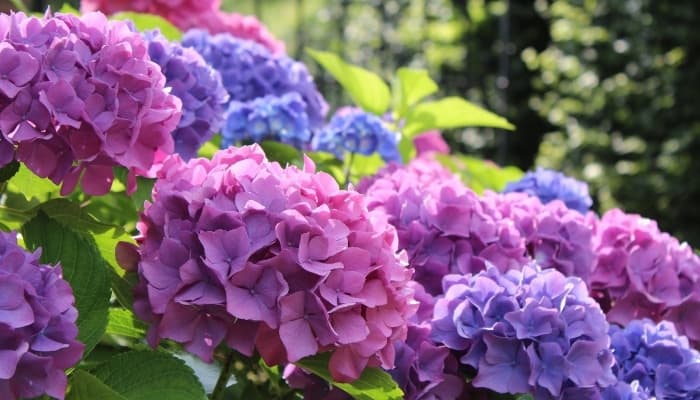 These plants can grow in most climates and are well known for their beautiful clusters of flowers, which come in various colors depending on the soil pH.
However, they do require a lot of water to flourish.
Average height: Up to 1.2 meters
Colors available: Pink, blue, green, white, lavender
Bloom time: Midspring through summer into late autumn
Popular varieties: Hydrangea anomala (climbing hydrangea), Aspera, Limelight, Nikko Blue
9. Sedges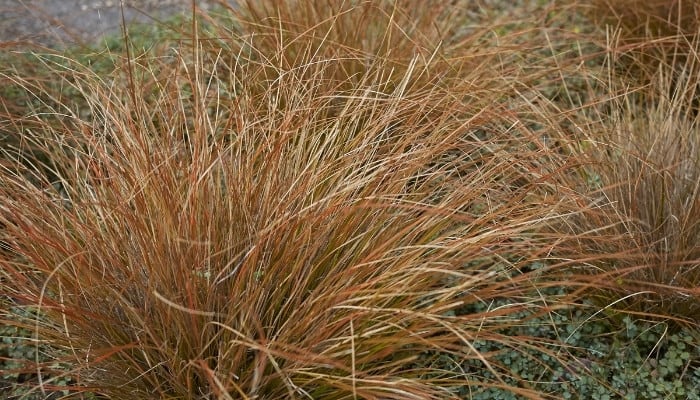 A sedge plant has strappy leaves and resembles different types of grass. It is an evergreen plant that reproduces from seeds and rhizomes.
They grow in cool conditions and will go dormant in sweltering weather.
Average height: 30 to 120 centimeters
Colors available: Green, gold, copper, blue-green
Bloom time: Spring and early summer
Popular varieties: Spark plug palm sedge, Leatherleaf sedge, Bowles Golden Tufted sedge, Golden Fountains sedge
10. Ferns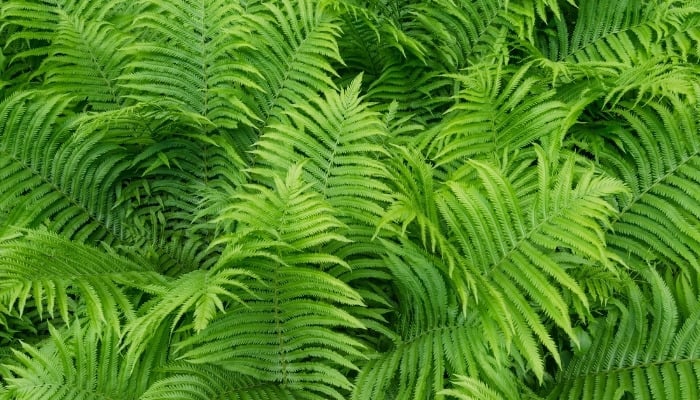 These plants are deciduous and evergreen. They prefer damp conditions to thrive and will appreciate the shade provided by taller azaleas.
Average height: 1 centimeter to 25 meters, depending on the variety
Colors available: Light green to dark green foliage, unless they are a colored foliage variety which can be red, yellow or brown
Bloom time: No flowers
Popular varieties: Maidenhair fern, Ostrich fern, Royal fern, Boston fern
11. Daffodils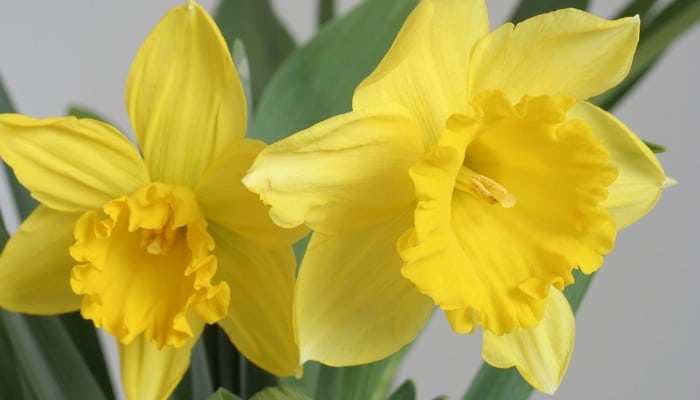 Their botanical name is Narcissus, and they are one of the most popular signs of spring arriving. Once planted, they will bloom every year with little maintenance.
Average height: 41 centimeters tall
Colors available: Golden Daffodils come in yellow and orange, pink flowering daffodils in coral, peach, and apricot colors, and white flowering daffodils in pale yellow fading to creamy white.
Bloom time: Early spring
Popular varieties: Hawera, Angel's Breath, Thalia
12. Barberry Bushes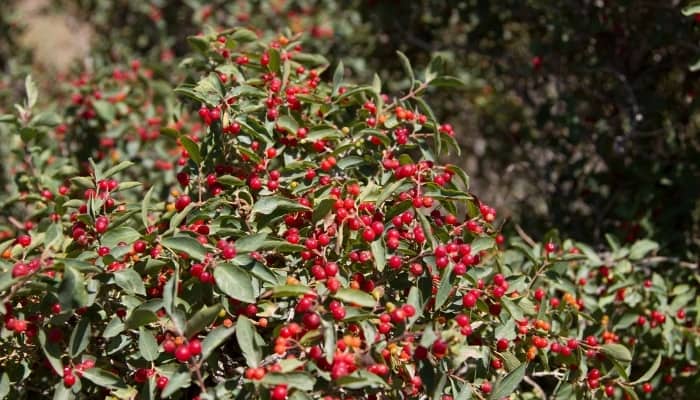 This is a versatile and useful shrub; they are hardy and grow easily with low maintenance. Barberry bushes make fantastic hedges and are a favorite with wildlife because of their berries.
Average height: 20 centimeters to 4 meters tall
Colors available: Yellow or green foliage and yellow or orange flowers
Bloom time: Late spring
Popular varieties: Golden barberry, Crimson pygmy, Rose Glow, Sunjoy citrus
13. Lantanas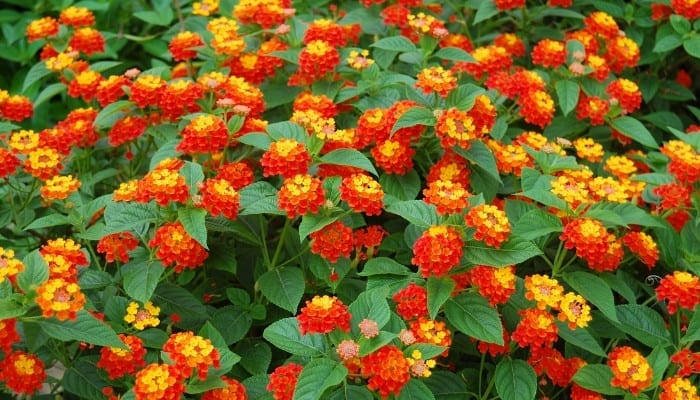 Lantanas prefer warm temperatures and should be planted after the threat of frost or cold weather conditions. They need well-draining soil and prefer a sunny position to thrive.
Average height: 1 to 1.5 meters
Colors available: Purple, red, pink, orange, and white flowers
Bloom time: Autumn and summer bloom times, depending on variety
Popular varieties: Dallas Red, Weeping lantana, Evita Red, Calippo Tutti Frutti
14. Viburnums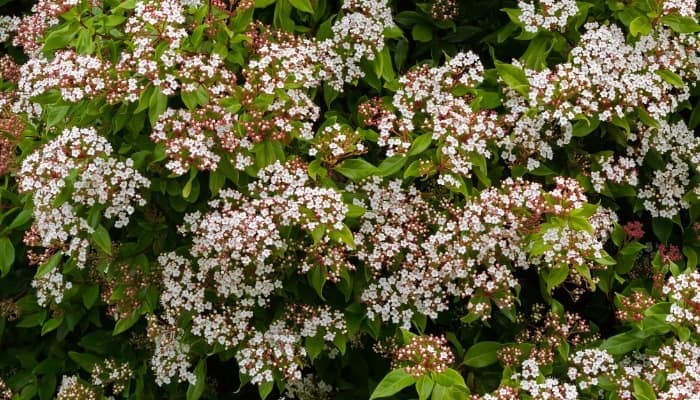 These are easy and versatile shrubs to grow. There are many to choose from – evergreen or deciduous and large or small growing types.
They have dark green leaves and small flowers followed by pink berries.
Average height: 2.5 to 4 meters
Colors available: Clusters of white or pink flowers
Bloom time: During winter, spring or summer, depending on the variety
Popular varieties: Viburnum tinus, Lisarose, Arrowwood, Blackhaw, Cinnamon-leaved viburnum
15. Ninebark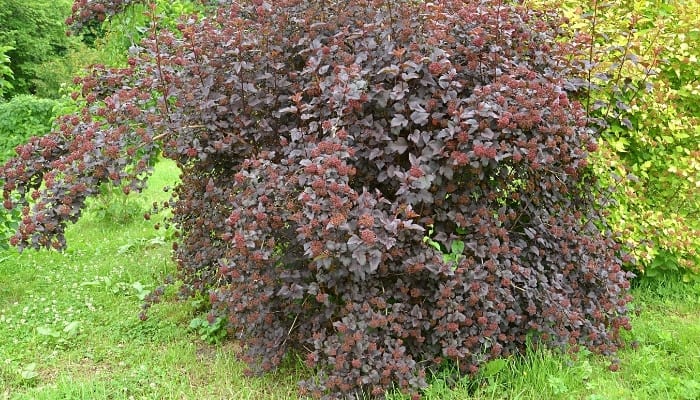 Ninebark is a deciduous, branch-arching, cascading shrub with dark-green or red leaves. It produces flowers in clusters and has red fruit, which birds love.
Average height: 1.5 to 2.5 meters
Colors available: White or pink blooms with dark green or red leaves
Bloom time: Late spring and summer
Popular varieties: Amber Jubilee, Red Robe, Darts Gold, Tiny Wine
16. Hellebores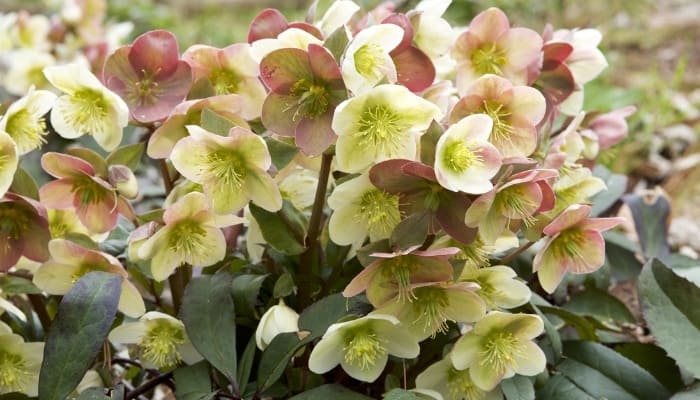 Hellebores plants are poisonous winter-flowering plants related to the buttercup family. It has coarse leaves and has white, green, or purplish blooms.
Average height: 30 centimeters to 1 meter high
Colors available: Green, white, ruby, or pink blooms
Bloom time: Winter to spring
Popular varieties: Double Ellen white Orientalis Spotted White, Double Ellen Flash, Golden Lotus
17. Japanese Andromeda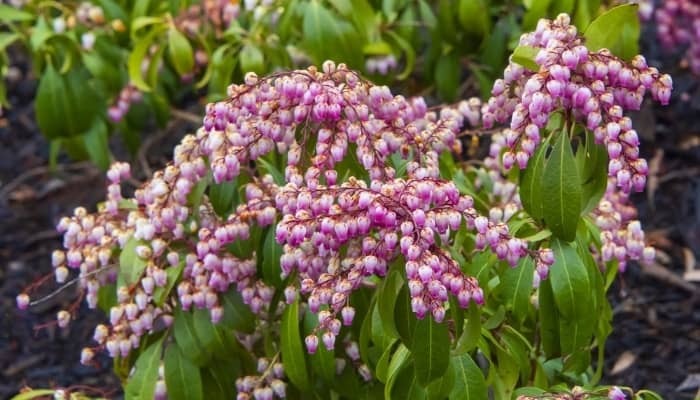 This shrub is well suited to growing in a pot, and it has evergreen foliage that changes color depending on the seasons.
Japanese andromeda is hardy and does not need much pruning except to keep it neat and in shape.
Average height: 1.5 to 3 meters
Colors available: Deep red, creamy white, and pink
Bloom time: Spring
Popular varieties: Pieris Brouwer's Beauty, Lily of the Valley, Katsura
18. Abelias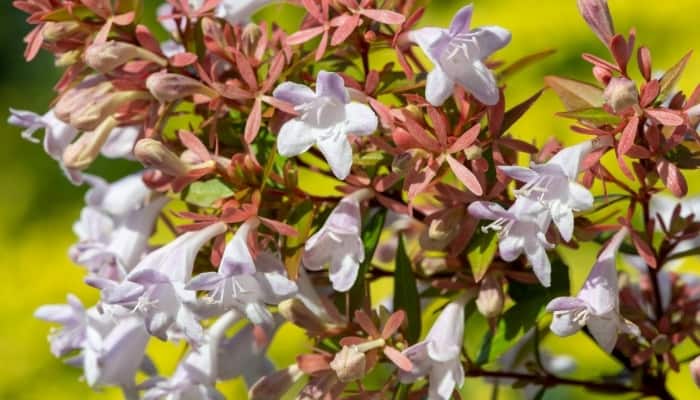 With glossy leaves and masses of flowers, it is easy to see why it is a favorite for gardeners. Moreover, abelias do well in a sunny but sheltered position in well-drained soil.
Average height: From 90 centimeters to 5 meters
Colors available: Pink and white flowers with variegated or golden leaves
Bloom time: Summer until late autumn
Popular varieties: Grandiflora, Edward Goucher, Kaleidoscope, Radiance
19. Camellias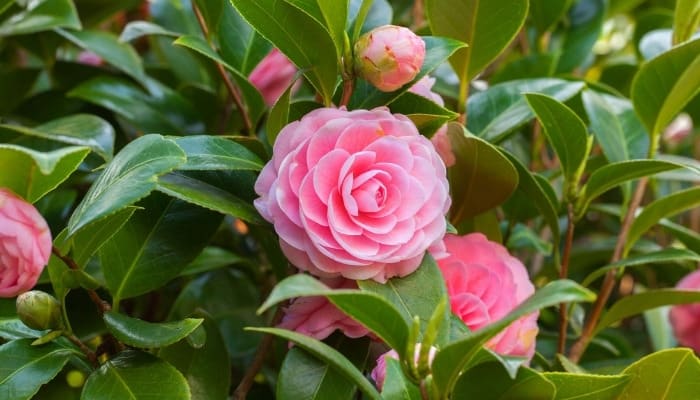 These evergreen glossy leafed shrubs are one of the most glamorous shrubs. They make impressive shrub borders but can be grown successfully in containers alongside your azaleas.
Average height: Depending on the variety, 5 meters tall
Colors available: Red, white, or pink blooms
Bloom time: Late autumn to early winter
Popular varieties: Spring Festival, Nobilissima, Japonica Black Tie
20. Hollies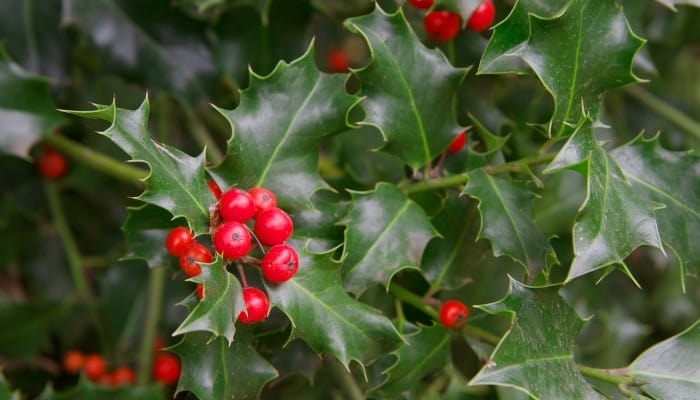 Hollies can be grown as shrubs or hedges, and there are many varieties to choose from. These plants are well known for their distinctive shiny spiky green leaves and brilliant red berries.
They are hardy and prefer well-draining, slightly acidic soil.
Average height: 60 to 80 centimeters high
Colors available: Flowers are greenish-white, shiny evergreen leaves and red berries after blooming
Bloom time: Late autumn to mid-winter
Popular varieties: Argentea Marginata, Golden King, Variegatus
That's a Wrap!
With the list above of the top 20 plants well suited as companion plants for azaleas, you can choose from a wide range and variety.
They all can add color, shape, and beauty to your garden while highlighting the beauty of your azaleas.