Daffodils come in a variety of colors that can complement every garden! With their delicate petals and slender green leaves, they signify spring and warm weather, only blooming once the seasons begin to change.
Do daffodils come in different colors? Daffodils come in an array of colors such as white, cream, yellow, pink, and orange. While there have been new genetic additions to the color spectrum, purple, red, and blue daffodils do not actually grow naturally. Daffodils not only vary in their colors but also in their appearance with flower types.
Grown from bulbs, daffodils are perennials that can bring a lovely understory to most gardens. Read on to understand the different colored varieties, color combinations, and unique shapes of their flowers that truly make them one of a kind!
Daffodil Colors
Planted by the father of botany himself, Theophrastus, daffodils have been cultivated since 300 BC.
With their naturally occurring colors usually being on the softer side of the spectrum, hybridization has been used to increase their diversity of color.
Yellow Daffodils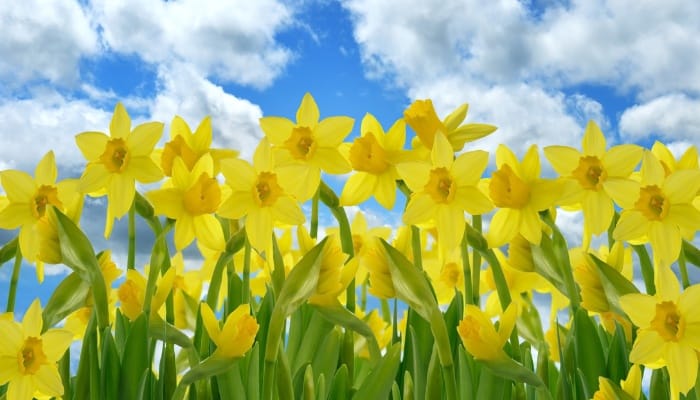 Yellow daffodils are one of the most common color varieties. The most planted varieties of yellow daffodils are the Dutch Master and Yellow River varieties.
They each have full yellow flowers and will naturalize easily in your garden. This makes them a great choice if you're hoping for them to spread and cover an area quickly.
Orange Daffodils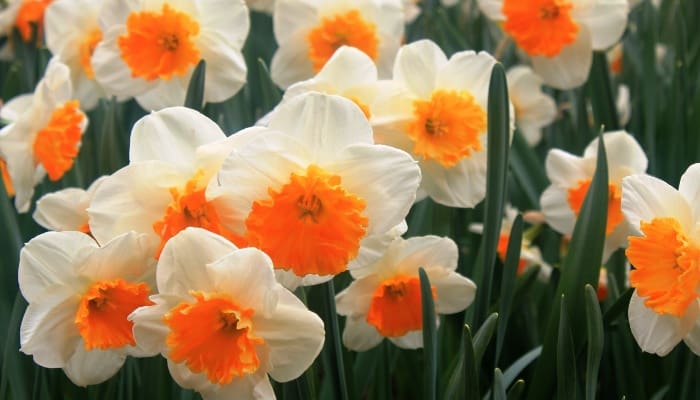 Orange daffodils are unique because they usually have white, yellow, or cream petals while the center cup is a bright and vibrant orange or a subtle peach-colored orange.
The best varieties to plant are the Barret Browning for warmer climates and Orange Progress for climates with less-than-favorable weather conditions.
White Daffodils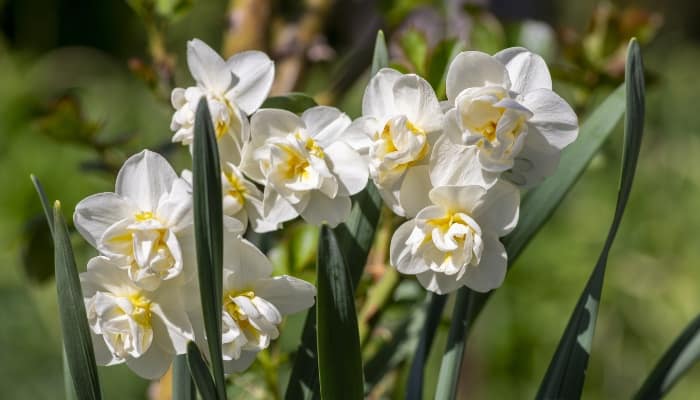 If you're looking for white daffodils, you have plenty to choose from! While many sport white petals and uniquely colored center cups, a great variety that is completely white is Cheerfulness.
It has a unique appearance with its double flowers and even gives a lovely fragrance similar to gardenias. Another great white variety is called Golden Echo, it has white petals with a striking gold cup in the center.
Pink Daffodils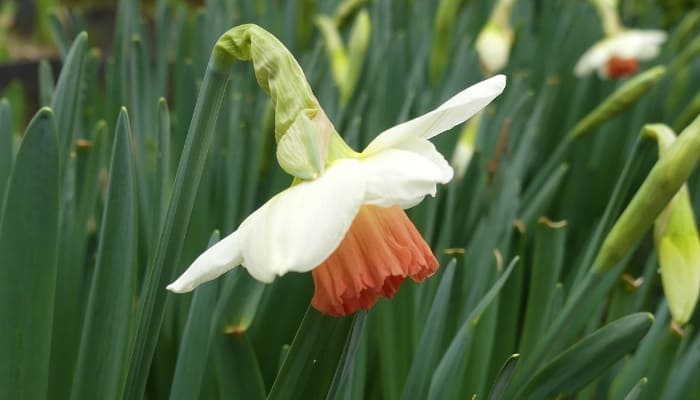 Ranging from vibrant pink to a lighter coral pink mix, the best varieties to plant are Pink Pride, Pink Charm, and the Replete varieties.
Pink pride is a show stopper with its coral pink cups and crisp white petals! As far as pink daffodils go, you'll find a wide variety of them to choose from.
Green-Tinted Daffodils
If you're looking for a unique variety of daffodils, this is for you! It doesn't share the same unique daffodil look but instead sports a slender petal arrangement with a very small cup.
It is found in Spain and Morocco and has inset cups with thin petals. While this variety is unique, growing them can be difficult.
Color Combinations
While many daffodils will be of one color, many have beautiful color combinations! The most common combinations have white petals with yellow, orange, or pink cups or yellow petals with white, orange, or yellow cups.
Some great varieties that are sure to catch admirers' eyes are the Sorbet, Sovereign, Tahiti, and Petit Four varieties.
Purple Daffodils
As beautiful as they would be, purple daffodils do not exist. As much as it seems feasible, there are only similar-looking purple flowers that resemble daffodils.
Try planting Violet Ranunculus or Purple Flora Gladiolus bulbs instead.
Red Daffodils
Red is a common flower when it comes to tulips, zinnias, gladiolas, or cyclamen. Unfortunately, red daffodils don't exist in the wild.
Try planting tulips or gladiolas to still add a spring bulb and a pop of color that can be harvested for a vase.
Types of Daffodils
While they all grow similarly, the biggest difference in daffodils is shown through their cup, or corona, size.
The corona is where the reproductive organs are, which help to attract pollinators with a bright color or unique fragrance. See all the different types of daffodils below.
Trumpet Daffodils
Growing best in USDA Zones 3-7, trumpet daffodils will have cups longer and larger than their petals. They are usually more vigorous than other varieties and naturalize easily.
Dutch Master
Mount Hood
Yellow River
Goblet
Large Cup Daffodils
Growing in a trumpet shape, bowl shape, or flat center shape, these daffodils naturalize easily and grow one flower per stem. While their cup is large, they also exhibit an overall larger flower size than most species.
Ice Follies
Professor Einstein
Orange Progress
Red Devon
Pink Pride
Small Cup Daffodils
With a tendency to bloom late in the season, small cup varieties have a petite cup that is about ⅓ the size of the petals. They also produce a lovely fragrance among the many blooms they produce per stem.
Barrett Browning
Segovia
Altruist
Double Daffodils
These daffodils do not resemble the regular type, and with a series of petals, they are much more complex in their shape. Instead of a corona, the petals form multiple layers that produce a strong fragrance in most varieties.
Golden Ducat
White Lion
La Torche
Double Smiles
Lingerie
Tahiti
Triandrus Daffodils
A more delicate-appearing variety of daffodils, Triandrus will produce two or more flowers per stem. They have a smaller growth habit, making them ideal underplantings since they are shade tolerant.
They produce a lovely fragrance and exhibit a drooping flower that sometimes resembles a teardrop in certain varieties.
Thalia
Hawera
Ice Wings
Canterbury
Liberty Bells
Fairy Chimes
Cyclamineus Daffodils
The Cyclamineus variety blooms in early spring, and they have reflexed petals, being pulled back from the center cup. Exhibiting a smaller cup than most daffodils, they are shade and moisture tolerant.
Jetfire
Tete a Tete
Baby Boomer
February Gold
Itzim
Jack Snipe
Peeping Tom
Jonquils
This is a unique type of daffodil because it grows with several flowers per stem with a strong fragrance. These types of daffodils are good for northern and southern gardens because they are a long-lasting, heat-tolerant type.
Martinette
Beautiful Eyes
Golden Echo
Silver Smiles
Pipit
Difference Between Daffodils and Jonquils
Easily confused for each other, daffodils and jonquils look extremely similar! While they have similar flowers, you can quickly tell the difference by examining their leaves.
Daffodils will have thin leaves that resemble the tip of a sword while jonquils will have slender leaves that are rounded at the end.
Related Questions:
How Many Years Will Daffodils Bloom?
Daffodils grow from bulbs that go dormant in the winter months and sprout in the spring. A bulb will usually last about 3 to 5 years, but they will self-propagate and grow new bulbs nearby that should continue to grow season after season.
Will Blind Daffodils Flower Again?
Your daffodils have most likely not flowered (have become blind) because they lack the nutrients to grow abundant flowers. If your daffodils have not flowered this season, don't worry!
Try adding a specialized fertilizer to the area, and you should have better results next season when the bulbs begin to grow again.
Conclusion
Daffodils are one of the most lovely perennial flowers that you can plant in your garden. With a vast array of colors and color combinations, you will surely find a variety to plant.
Be careful, though, because soon enough, you'll have a garden full of beautiful spreading daffodils, which definitely isn't the worst thing!