With its colorful blooms and pleasing aromatic quality, low-growing creeping thyme makes a lovely substitute for grass on your lawn or patio garden – and it's even low-maintenance too!
If you're wondering how to grow this pretty ground cover from seed packet to reality then stick around.
I'll recommend the most popular varieties, where to source the best seeds, plus a provide a step-by-step guide to growing and caring for creeping thyme from start to finish.
Creeping Thyme at a Glance
Popular Creeping Thyme Varieties
Creeping thyme belongs to the mint family of flowering plants 'Lamiaceae' and has a heavenly aroma when stepped on, possessing a similar fragrance to its kitchen herb cousin Thymus vulgaris.
Most forms of creeping thyme are rabbit and deer resistant and drought tolerant, and will tolerate a low amount of foot traffic (if your landscape experiences higher traffic, it's a good idea to add in some paving slabs).
The key difference among varieties of creeping thyme is flower color, height, and growth rate.
Let's take a look at 8 popular kinds:
White creeping thyme (Thymus paocos 'Albiflorus') –

1.9 inches tall, tiny bright-green leaves, pure white blooms, minty fragrance, slow grower.

Woolly thyme (T. pseudolanuginosus)

– 6 inches tall; dense foliage of tiny, hairy, silvery leaves; small pink blooms; best for patios/rockeries; slow grower.

Creeping lemon thyme (T. citriod)

– 2 inches tall, large lemon-scented leaves, small pink flowers, moderate grower.

Snowdrift thyme (T. serpyllum 'Snowdrift')

– 3.9 inches tall, mid-green leaves on trailing stems, produces white flowers, fast grower.

Pink chintz thyme (T. serpyllum 'Pink Chintz')

– 2 inches tall, dark-green foliage, small salmon-pink flowers, great for container growth, slow grower.

Spicy orange creeping thyme (T. citriodorus 'Spicy Orange')

– 3-4 inches tall, needle-shaped leaves, light-purple flowers, strong orange fragrance, mounding (not flat) habit, moderate grower.

Caraway thyme (T. herba-barona)

– 3-6 inches tall, pinkish-purple blooms, small dark-green foliage, caraway scent, moderate grower.

Archer's gold thyme (T. citriodorus 'Archers Gold')

– 7-8 inches tall, small bright-golden foliage, lemon-like scent, moderate grower.
Best Places To Buy Creeping Thyme Seeds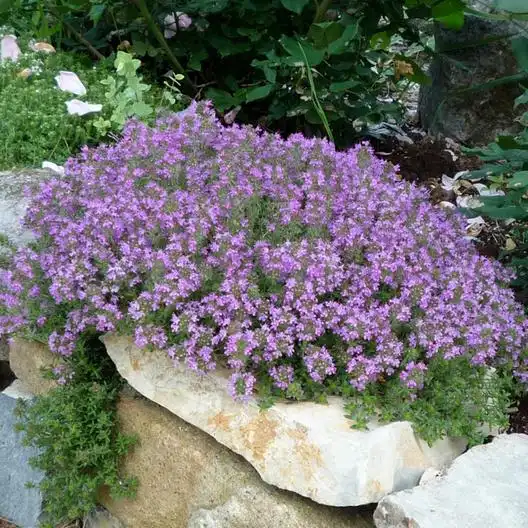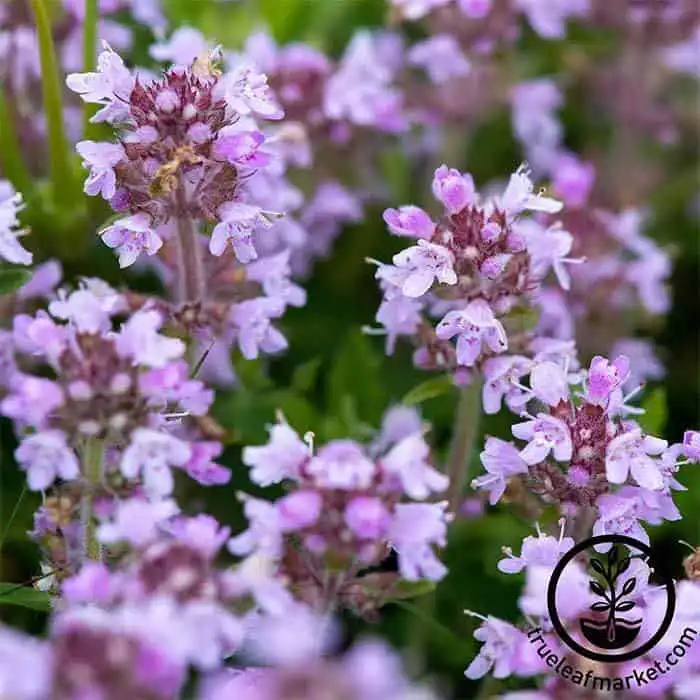 Creeping Thyme Seed Planting & Germination
Supplies:
Organic potting soil

Fine mist spray bottle

Pruning shears
1. Fill Seed Starter Pots With Soil & Plant 4-5 Seeds Per Pot
Beginning in March (or at least 6 weeks before your last expected frost), fill several nursery pots with organic potting soil close to the brim.
Next, sprinkle 4-5 seeds into each pot, and cover the seeds very lightly with soil.
2. Place Pots Under Grow Lights & Provide 65-75°F Heat
Place the seed pots 6 inches beneath grow lights, keeping them in the lights for about 6-8 hours a day. Also, rest the pots on a heat pad set between 65-75°F.
Moisten the soil in each pot using a mist spray to keep the soil damp. Allow the pots to routinely drain to prevent soggy soil and rotting seeds. Germination should occur within 14-21 days.
3. Prepare a Weed-Free Planting Site in Full Sun
While awaiting germination, prepare a loamy, well-draining soil bed in a full-sun location in your garden. Ensure it can accommodate several seedlings planted 12-18 inches apart.
Rake out any clumps in the soil, and remove weeds.
4. Thin Seedlings & Harden Off Outdoors
Begin watering the pots as normal once the seedlings emerge. As they grow larger, thin the seedlings down to 2-3 per pot by pinching out the weakest ones with your fingernails at soil level.
Once all seedlings measure 4-5 centimeters tall – and making sure all risk of frost has passed – take the pots outside for an hour or so each day to acclimatize them to the elements.
Do this for a week before planting, increasing the time spent outdoors each day.
5. Plant the Seedlings & Water Thoroughly
Dig each hole about an inch deeper than the nursery pots, leaving 12-18 inches of space in between, and water the holes until damp.
Plant the creeping thyme seedlings and backfill around the gaps with soil, gently tamping down around each plant with your fingertips.
Water the area well to keep the soil moist. Prune the thyme in late spring to maintain a compact appearance using sterile pruning shears.
5 Tips for Growing Creeping Thyme From Seed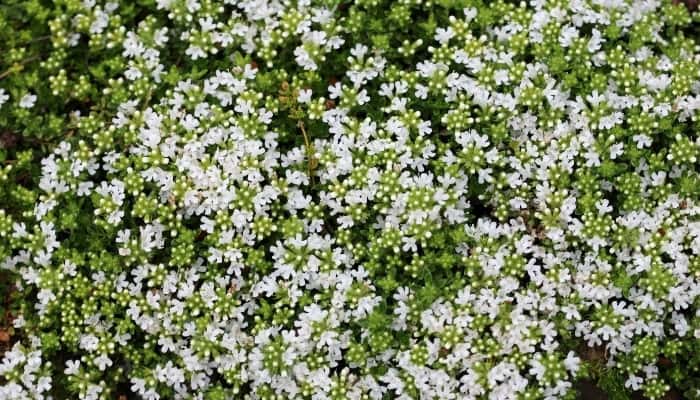 If you don't have a heat pad, cover germinating seeds in a sealed polythene bag to maintain a warm, humid climate. Alternatively, a

heated propagator

can combine warmth and a seed cell tray to get you started.

Creeping thyme seeds are very fine, so incorporating some grit,

such as

horticultural sand, into the organic potting soil may help struggling seeds handle germination better.

When thinning out the seedlings to 2-3 per pot, remove weaker shoots with a pair of tweezers instead of fingers for more precise removal.

Only move to regular watering (with a watering can/cup) once the seeds have germinated as anything heavier than a light mist can cause the developing roots to rot.

To help you iron out any future issues, be sure to keep a record of your seed growing progress, such as germination times, temperatures used, and so on.
Growing & Caring for Creeping Thyme
Congrats on growing your creeping thyme from seed to garden plant – but now's not the time to sit back!
To help your seedlings develop into a beautiful mat of flowers, you'll need to provide its ideal growing conditions from proper watering to the perfect soil:
Ideal Soil
Creeping thyme is fairly tolerant of poor soil, but to give it the best shot, opt for pH neutral to slightly alkaline loamy soil (I recommend testing with this monitor).
This balance of sand, loose rock, and silt holds plenty of moisture while providing excellent drainage to give developing roots a breather.
Drainage is especially important in relation to growth rate as creeping thyme will spread particularly slowly in waterlogged soil.
Lighting Requirements
As a Mediterranean plant, creeping thyme experiences its most vigorous growth in areas of full sun – around 4-6 hours a day.
While tolerant of partial shade, this will result in leggy stems, so steer clear of tree/canopy shade spots for best results.
Watering & Fertilizing
Water once weekly in mild climates or up to 3 times weekly in sweltering heat – ensuring the roots stay moist but are not sitting in water as this risks crown rot.
Water the roots well for the first 3-6 months until they become established.
Once the thyme has matured (about a year after planting), watering should only be necessary twice a month, depending on the amount of rainfall.
Use a rain gauge instead of guessing whether or not it rained recently.
A single application of slow-release fertilizer in early summer can make up for poor soil. Otherwise, creeping thyme shouldn't need fertilizer when grown in ideal soil.
Harvesting
Wait until the second growing season/year for your creeping thyme to become established before harvesting.
You can then pick the leaves from the stems by hand or snip the stems at soil level using sterile pruning shears.
Hang bundles of thyme upside down in a dark, well-ventilated area, and be sure to harvest in the morning as the thyme's essential oils will be at peak strength.
Creeping Thyme Common Questions:
How Long Does It Take for Creeping Thyme To Grow From Seed?
When grown in the appropriate environmental conditions, creeping thyme will germinate in 14-21 days.
After being transplanted outdoors, it will then take about a year to become established and bloom, so expect mature growth in the following season.
Is Creeping Thyme Easy To Grow From Seed?
Yes, creeping thyme has a decent germination success rate when the seeds are placed in consistent 65-75°F (18-23°C) temperatures and exposed to grow lights to replicate full sunlight.
The soil medium must also remain moist to ensure healthy development.
Is Creeping Thyme an Edible Herb?
Creeping thyme is edible and can be used dry or fresh in teas or to garnish salads and meat dishes.
However, unlike common garden thyme (Thymus vulgaris), creeping thyme is much smaller and tedious to harvest, making it better suited to ground cover.
It may also be unsanitary to harvest an herb for culinary use that experiences moderate foot traffic.
Does Creeping Thyme Go Dormant in the Winter?
As a semi-evergreen plant, creeping thyme will retain some of its foliage during winter but will die back in colder regions with poor care.
Mulch should be placed over the thyme for winter protection in colder growing zones.
Potted creeping thyme can be overwintered indoors and grown as a houseplant near a sunny, south-facing window.